Bread has always been the most basic and homely of foods. Yet what was once a daily tradition is rapidly becoming a luxury. We're no longer happy with loaves in plastic bags. We now crave artisanal breads with organic ingredients and rare grains. There's certainly a market, we'll pay for quality products, but it really does have to be quality. With all this variety on offer, where do you start? Well, here's my guide to the best of bread. I have searched for the artisanal one, omitting commercial bakeries and mass production facilities. I'm sure Moulin D'Or, Wooden Bakery and Pain D'Or produce a fine quality but they won't be part of our current survey.
Paul Who doesn't know Paul by now? The French chain of Bakery/Café restaurants which first opened in 2002 at the entrance of Gemmayze, when the area was still quite. One thing is for sure, if you ever tried Paul in Paris or anywhere else, you will know that the bread's taste and quality is essentially the same all around the world. Quality, taste, menu, decoration and spirit follow strict international standards with all the ingredients imported from France. Today, Paul Lebanon has seven branches, the latest being the one on Bliss. The strategy is clear: Import all raw materials from France and try to always have a kitchen at premises. Paul bakes three times a day, the morning bake, the noon bake and the last one before sunset. Even though I'm not a big fan of its hard texture, one cannot deny its success. The bread has a subtle and fresh smell that clearly reflects its fine quality. Handmade, Paul is indeed one of Lebanon's artisanal bakers.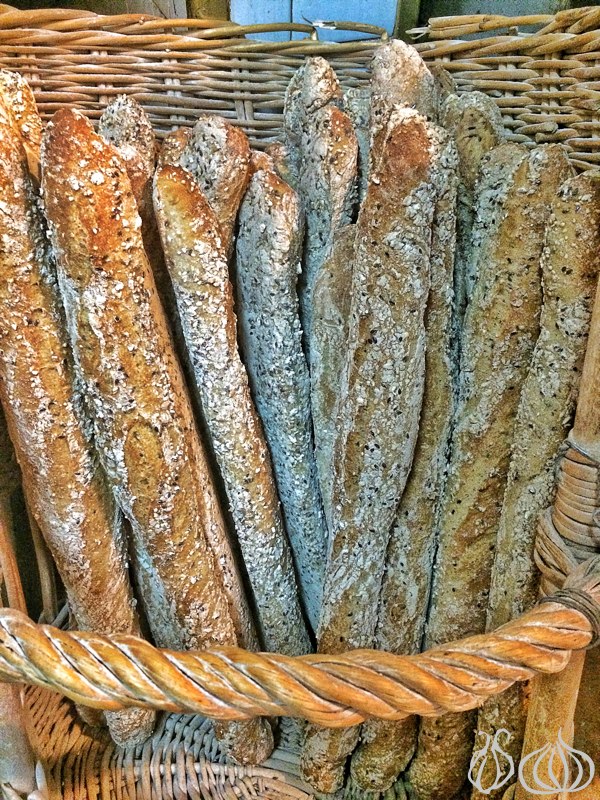 Bread Republic Bread Republic is indeed a place to visit and discover. The place has been around for a while, so I headed in to find out what all the fuss was about. Bread Republic is one of the places on my list that you should visit. Bread at Bread Republic takes more than 24 hours to make using liquid sourdough, salt and water with no yeast. Bread Republic bakes a large selection of Pain de Campagne – popular large pieces of bread sold in the villages of France, as well as a selection of muffins, cakes and specialty bread with walnut, dried fruits and nuts. Bread is taken seriously here, large buns that reach up to a kilo each and are perfectly produced. An enjoyable crunchy crust covers a fluffy and super airy heart that's moist and melts under your teeth. A unique bread experience… Now I understand why people are so in love with Bread Republic.
The French Bakery The French Bakery is proudly Lebanese, a local name that has been created to provide fine quality baked, half-baked and frozen bread to restaurants and hotels. Customers, on another hand can call for any order out of 70 different varieties of bread, cookies and cakes. The recipe is simple, inside all their bread is a French savoir-faire, using French technics developed for centuries by French bakers who made their ateliers in Lebanon. The French Bakery uses levain (sourdough), lots of it mixed with premium flour bought locally, salt and water. I started with the baguette and the baguette rustique. A rich aroma caresses your nostrils as you bring it to your mouth. Another variety uses whole wheat mixed with nuts or dried fruit. I love it how the bread core is moist, how the air bubbles are many and well-formed and authentically French taste. All of their breads remind me of France in some indefinable way, they're truly wonderful.
Al Mandaloun Bakery On the internal Dbayeh road you'll see an old house that has been retouched and fitted with state of the art baking ovens, offering a fine selection of bread, pastry, cookies and gifts: This is Mandaloun. I decided to start with a bread tasting, beautiful long baguettes with wonderful golden colors. Before indulging in them, I just enjoyed the fresh smell of baked bread… An extremely crunchy envelope hugging a tender heart that melts under your teeth, the multi-cereal put a smile on my face. Its concentrated flavors leave a pleasant aftertaste that accompanies you for a long time. My journey continued with a nut and Emmental brioche. A subtle sweetness, the enjoyable crunchiness of the nuts married with hollow caves of melted cheese and a dough that's so moist and tender. Wow. A must try. I was happy to spend time in this newly developed space. It's a treat for all your senses. I am planning another visit soon as I know that there is much more to appreciate.
Tartine Bakery Walking along Mar Mikhael, you can't but be driven towards the rich aromas coming out of a new, modern Tartine Bakery. Hidden behind a tree, a huge window display is decorated with delicious looking pieces of bread in many shapes and forms.Tartine Bakery was created with the notion of bringing something new, something unique to Lebanon. Why should bread be hard? Why does it have to be chewy? Shouldn't it be affordable for all? What bread to eat do you eat with what kind of food? With our premium know how, can't we Lebanese compete with the best? Tartine Bakery has proven we can. The bakery's breads are nothing short of wonderful, from their pain au levain, which isgreat for cheese and wine parties and a good choice for cold cuts as it's pure and unique in taste. The pain de seigle should be paired with something acidic like labneh and enjoyed. The raisin and nut bread was fantastic, filled with nuts and raisins; it should be paired with something sweet like jam. I don't have the words to describe the ficelle apero chorizo comte, it was simply excellent, and something you have to try.
Roger le Boulanger Two years ago, Roger Nasr a photographer and cinematographer who worked all his life producing documentaries decided to start a new chapter in his life. He learned the chemical and scientific details of bread production all by himself making him one of the few, not to say the only artisan baker I know to personally produce bread on his own using ancestral techniques. Roger started baking at home, a practice that soon turned out to be appreciated by friends and family. After some extensive research, this passionate man opened his small place in the center of the capital baking cookies and cakes as well as bread, one single kind of bread called "Pain bis au Levain Naturel" and what's also called ingenious yeast, a mix he personally prepares – a process that takes 15 days. This magical potion, is this baker's secret to success. Every couple weeks, the sourdough's power fades out and it's time to start the process again. "Let me tell you a secret Anthony. The method is even more important than the ingredients. I only use salt, water and flour and surely many do the same. What makes the difference is the technique and passion out in every bake. Like our grandparents used to say, Al Nafas bel akel." I was amazed at how he prepares his bread. He uses the art of hypnosis, photography and cooking as he describes a process that's more than meets the eye. And the taste… what can I say…The bread has a certain moisture, a certain purity, a unique aroma that's one of kind. Eat it as is or simply toast it for a couple minutes and spread Labneh, add some olive oil and sprinkle some thyme… Ouf! I can eat this all year round.
Eric Kayser Touring around the local bakeries, many have talked about "Liquid sourdough" or "Liquid Levain", but did you know that Eric Kayser invented it in 1994 with the help of Patrick Castagna? On September 13, 1996, Kayser opened his first bakery in Paris. The opening of many more bakeries in Paris and in various countries abroad followed very quickly. Today, there are over 80 Maison Kayser locations worldwide. The products and services in the bakeries vary from country to country, each adapting to the local tastes and flavors. This dynamic touch has helped the growth of Maison Kayser throughout the world. Each Maison Kayser location freshly produces its products on-site daily. At City Mall or in one of Monoprix' supermarkets, Kayser proposes a large variety of products from the simple French baguette passing by the pain de champagne to the mouthwatering selection of cakes and viennoiseries. Everyone's favorite: Rye Bread. This gives a perfect blend of oriental spices, pine nuts, honey and aniseed. The texture is soft?and spongy with a center that melts in the mouth and leaves a pleasant lasting subtle chestnut flavour. This bread is great for afternoon tea with honey or jam, and also with?sea food. It also accompanies mature cheese very well.My favorite is the figs bun. A sweet and savory bun, perfectly cooked, crunchy on the outside and moist on the inside with large air bubbles showing the time it takes to carefully prepare every piece.