It happens a million times everyday - all around the world in every Starbucks: A connection is made. A customer receives their ordered drink from a Starbucks employee. It happens every minute of the day...
Starbucks is one of those places we make a stop at without thinking or planning... It's one of those places we think consider a home away from home... It's one of those places that have become famous worldwide for their coffee quality and simple yet innovative decoration and service. Yesterday, I decided to go Downtown for a meeting. Where to go, where to sit and have coffee. The only decent place left there after Costa recently closed down its branch there is Starbucks. The whole area has lost its charm in my opinion - it has become forgotten by many especially that the army is everywhere in the area. As you go in and out of Downtown you're asked a million questions. People now avoid it altogether. We hope it doesn't close any time soon. Starbucks sells drip brewed coffee, espresso-based hot drinks, other hot and cold drinks, coffee beans, salads, hot and cold sandwiches and panini, sweet pastries, snacks, and items such as mugs and tumblers. Many of the company's products are seasonal or specific to the locality of the store.
The food choices in Lebanon's Starbucks:
Double chocolate muffin, skinny blueberry muffin, cheese croissant, chocolate twist, raspberry muffin, apple cinnamon muffin, blueberry muffin, chocolate chip cookie, double chocolate cookie, oatmeal raisin scone, chocolate brownie, lemon biscotti, marble biscotti, strawberry cheesecake, blueberry cheesecake, dark chocolate sable, apple almond tart, chocolate fudge cake, Oreo cheesecake, granola and mango yoghurt, chicken pasta salad, and a choice of 7 sandwiches (turkey and cheese, chicken Caesar, spicy chicken wrap, Arabian gallium I, light than brown sub, four cheese and roasted tomato focaccia, steak and cheese)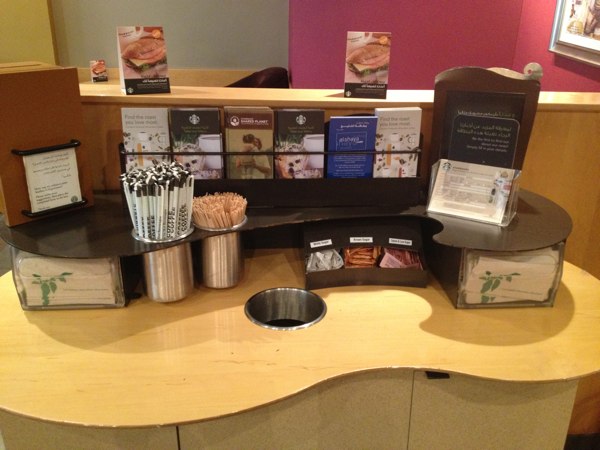 Why do I prefer Starbucks to other coffee shops in town:
Starbucks follows an international standard of quality and service.
Drinks taste the same all over the world.
The Frappuccino signature drink is one of my favorites: The Mocha Light Frappuccino blended coffee is a sweet beverage which combines the mocha sauce and new richer coffee roast with nonfat milk to satisfy your craving.
The decoration and ambiance are soothing.
Sofas are relaxing and pleasant to spend time in.
One of the tastiest muffins are served here.
The sandwiches are generous, fresh and tasty.
It's a non smoking place
They have a very nice serving station with the choice of various sugar types, sticks to mix your drinks, napkins. After stirring my coffee, I am always toying around the stick... its a habit.
International stores to date: 17,651
Argentina, Aruba, Australia, Austria, Bahamas, Bahrain, Belgium, Brazil, Bulgaria, Canada, Chile, China, Costa Rica, Curacao, Cyprus, Czech Republic, Denmark, Egypt, El Salvador, England, Finland, France, Germany, Greece, Guatemala, Hong Kong/Macau, Hungary, Indonesia, Ireland, Japan, Jordan, Kuwait, Lebanon, Malaysia, Mexico, Morocco, New Zealand, Netherlands, Northern Ireland, Oman, Peru, Philippines, Poland, Portugal, Qatar, Romania, Russia, Saudi Arabia, Scotland, Singapore, South Korea, Spain, Sweden, Switzerland, Taiwan, Thailand, Turkey, United Arab Emirates, United States and Wales.
It is expensive...you are paying for a complete experience after all..