A while ago I heard that Casper&Gambini's introduced their sushi menu to their international variety of cuisines offered. Although when they launched the concept, I was very excited to try it and see what they have done. Unfortunately, they had rolled out the marketing campaign before they actually started. That turned me off from trying it for a while… Many people talk about this new concept, and let me just say, not in a positive way at all… I honestly avoid listening to people and don't like being influenced by what they say… I waited a while longer to try it. It's inevitable and decided to discover the truth for myself.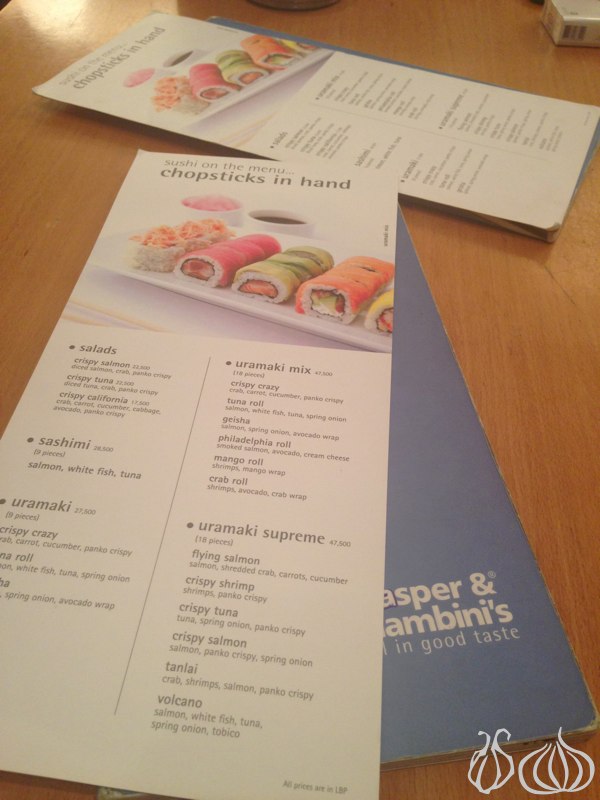 I happened to be at Beirut Souks last night and I thought it was finally time to go and discover their Japanese cuisine, which was recently added to their "rich and international menu". Although many of my friends warned me that it was a failure and that I'm not going to be happy with it. Arriving at Casper&Gambini's Beirut Souks, eight waiters running around, bumping into each other like headless chickens with nothing to do… and none of them seemed to enjoy doing their job for some reason. No expression of excitement on their faces. I stood there looking lost and confused while anxiously waiting for someone to approach me and suggest a place for me to sit down.
Here, a waiter looked at me all surprised like I was an alien who just landed from outer space…
He said: Sit here. I said: Here? I was staring at a table with no chairs. "Men jeblak kersten, ma to3tal hamm" I then just decided to seat myself as I moved indoors and sat down on a table next to the bar. Another waiter, preparing the setup of the table, brought us two menus and didn't suggest anything about their Sushi menu. I had to ask him for it.
The sushi menu at Casper is dull, minimal and unclear:
You are obliged to order a set menu, even though many do not eat a certain ingredient
None of the pieces can be removed and changed: you are obliged to eat the whole deal
No pictures on the menu explain what you are ordering, even though that is part of our local traditions and a picture is a must in all Japanese restaurants
The prices are way too expensive, unjustifiably so
I then asked for the waiter to come help clarify some points. Unfortunately he knew nothing about sushi and the selection proposed! My questions were left unanswered…They need more training with regards to the sushi part of their menu and service.
Let's order:
The Sashimi selection (salmon, white fish, tuna)
The Uramaki selection (Crispy crazy, tuna roll, geisha)
The Supreme mix (Flying salmon, crispy shrimp, crispy tuna, crispy salmon, tanlai, volcano)
We waited 40 long unjustified minutes -since the orders were already prepared- to receive four plates containing 27 maki rolls and 9 sashimi slices.
Expect to eat something bad:
All the pieces are prepared in their central kitchen and left in the fridge all day long
The rice is undercooked and crunches under your teeth. It tastes like a basmati rice
All the pieces literally taste the same
They are cold and unpleasant to eat
Cold to the extent that the crispy crumbles that covers some pieces scratches your palate
Some pieces have a sour taste (lemony taste), a few have a metal after taste while others tasted sweet although no teriyaki sauce is used
Sashimi is disgusting. Thin unappetizing slices of poor quality sashimi that smells bad and tastes nothing like raw premium fish
The sashimi are warm, as if they were removed just 20 minutes earlier from the fridge
Lemon? Lemon with the sashimi?
The pieces tasted of pure lemon masking the real flavor of the fish if there is any
Look at the pictures of these cheap cuts, your cat won't even eat
The crab sticks taste sweet and unappetizing. Like if they were out of date
The Volcano order tastes like...
The manager, who saw me taking too many pictures and jotting down notes, came and asked me for my opinion of the food. I invited him to a challenge, which I also ask you to take the next time you're there… Close your eyes, taste the selection in front of you. I bet that no one can tell the difference between one piece and another. The salmon, crab and tuna and others all taste the same. We ate 27 pieces of rolled rice and raw fish: Fade, dull and taste like nothing.
All of this without adding soy sauce. With soy sauce, all pieces taste simple salt. Very unpleasant…
The only plus:
Ginger is super generous. Thank you.
In a nutshell:
"Life is pretty simple: You do some stuff. Most fails. Some works. You do more of what works. If it works big, others quickly copy it. Then you do something else. The trick is the doing something else." Leonardo da Vinci Casper&Gambini's is an idea creator, a pioneer in what they do. Their selection of coffees, their sandwiches and salads are all great… They have introduced great concepts, which many have tried to copy… so why are they stepping into other grounds that many have already established and succeeded in, why do something that's not 100% complete…
My honest opinion:
Remove the sushi from the menu before someone gets killed. I won't give you the details of what happened to me when I got back home. Let's say, I spent a horrible night.
I don't recommend it and don't suggest you do so…
What's next, introducing Hummus and Foul to the menu? Just because it's the latest trend? PATHETIC!
After paying $40/person tonight eating tasteless pieces of raw fish, I reconfirm that paying $60/person at a premium sushi restaurant where you eat decent food is fair.