I've been tagged on Instagram, on several occasions, on dishes from a place called Beazbee. Interesting and mouthwatering preparations that enticed me to want to come have a closer look at the place. I tried going there last Saturday evening to find it closed - the place closes on Saturdays after lunch. Just a few days later, on a beautiful Tuesday morning, I found myself back again at Beazbee to enjoy a hefty breakfast before starting my day.
What's the meaning of Beazbee? Apparently the owner has written a story called The Beauty and the Bee. Interesting name... so let's see what's behind these glass facades on Clemenceau street.
A small tea room/coffee house and patisserie nestled in Gefinore Center, located between AUBMC and Rotana Hotel. Reach a wide spacious courtyard to find two restaurants among several business outlets and office: Beazbee and Gruen Eatery. Walk into a small English style coffee shop where little nick knacks are placed around - cookies, cigars, and chocolate boxes, champagne among other things. Your eyes will have a feast. A prominent glass fridge displays mouthwatering creations including bagels, cakes, sandwiches, cookies and freshly squeezed drinks...
The place described:
Outside is a small space filled with outdoor furniture; tables can host four persons each
Inside, large grey tiles cover the floor and white ceiling
The place is nice and cozy with its white round tables, squared greige ones and a sofa corner for more intimate meetings
The chairs are relaxing, some of which are upholstered withe portrait design and the Beazbee logo
On the right side is the display fridge while on the left is a display of gift items
The menu:
The morning tray
Morning tray delights
Thirst quenchers
Our fresh juices
Our coffees
Our greens
Sandwiches
Hot dishes
Homemade pies
Tea formula
Beazbee's special desserts
It was 9am and I was hungry. Let's have breakfast
Manoushe and this is not your ordinary manoushe, not like any you eat everyday. A generous quantity of Zaatar meticulously spread on a puff pastry square and baked. The dough absorbs the olive oil making it moist and tender. Bite into it and feel the crunch and the richness of the mix. Bravo! The two pieces are served with a side plate of labneh, cherry tomatoes, sliced cucumbers and green olives. Delicious.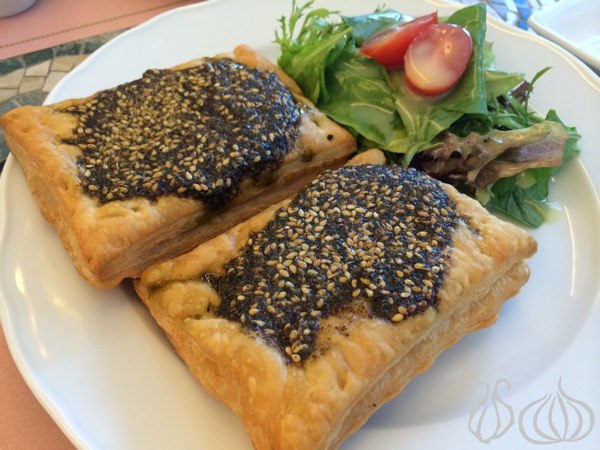 Eggs Benedict: I am not sure what it was, but it was good. But it definitely wasn't Eggs Benedict. It's tasty preparation of poached eggs with salmon on slice bread. No salt, no pepper and no Hollandaise side sauce but some mayonnaise on the side. These eggs are served with a salad and three fresh asparagus. It's better they change the name or learn how to do real eggs Benedict.
Desserts or the sweet part followed with an order of French toast and a cinnamon roll
Cinnamon Roll: WOW! The cinnamon roll was very good. It reminded me of Cinzeo's tasty buns. A ball of rolled dough covered with glazed sugar. Each bite melts under your teeth like butter. Rich and full of flavor.
French Toast: Well here was a dilema. I asked if what French Toast and was told that it's Pain Perdu. But what I got was neither. Don't get mistaken between French toast and Pain Perdu - there's no literal translation. We ordered French toast but received their version of it that looked more like pancakes. Three round pieces of pancakes presented one on top of the other with banana and Ricotta cheese filling. Ricotta cheese also covers the whole thing and topped with red berries, blackberries and blueberries. I personally was expecting something else but instead tasted something that was a mix of sweet and sour. I was not a fan, but it is a unique creation indeed.
I loved:
The small Sohat glass bottle
The innovative creations and tasty food
The general ambiance and soothing music
The variety on international items on the menu - where there is a tea time formula that starts at 2pm with mini sandwiches and there's a cheese and wine one which starts at 11am...
I would fix:
I liked the fact that the place offers an innovative approach towards more common plates, but I think more knowledge on that should be available if a client asks. When asked if the French toast is a Pain Perdu, I would have appreciated an explanation. And when I asked why the Hollandaise sauce was missing from the eggs Benedict, I didn't want to hear the fact that the chef decided to serve mayonnaise and herbs instead.
I suggest you bring in more croissants. It was 9:30am and there was no more croissant left
I would personally remove some items around the place. It's overcrowded with boxes and items for sale. Too much clutter!
I liked Beazbee. It's a calm place in the heart of Beirut city. I started my morning with good food in a smile in a nice setting prepared with love and passion. I enjoyed breakfast and I would definitely recommend you try Beazbee.
I am surely coming again for lunch.