The Butcher Shop & Grill is all about a large space that's packed head to toe with designer elements including a wooden floor that reaches up to a ceiling made of stretched fabric helping to reduce echoes in the interior. Boubess Group's latest offering is out to impress. It's a franchise from south Africa.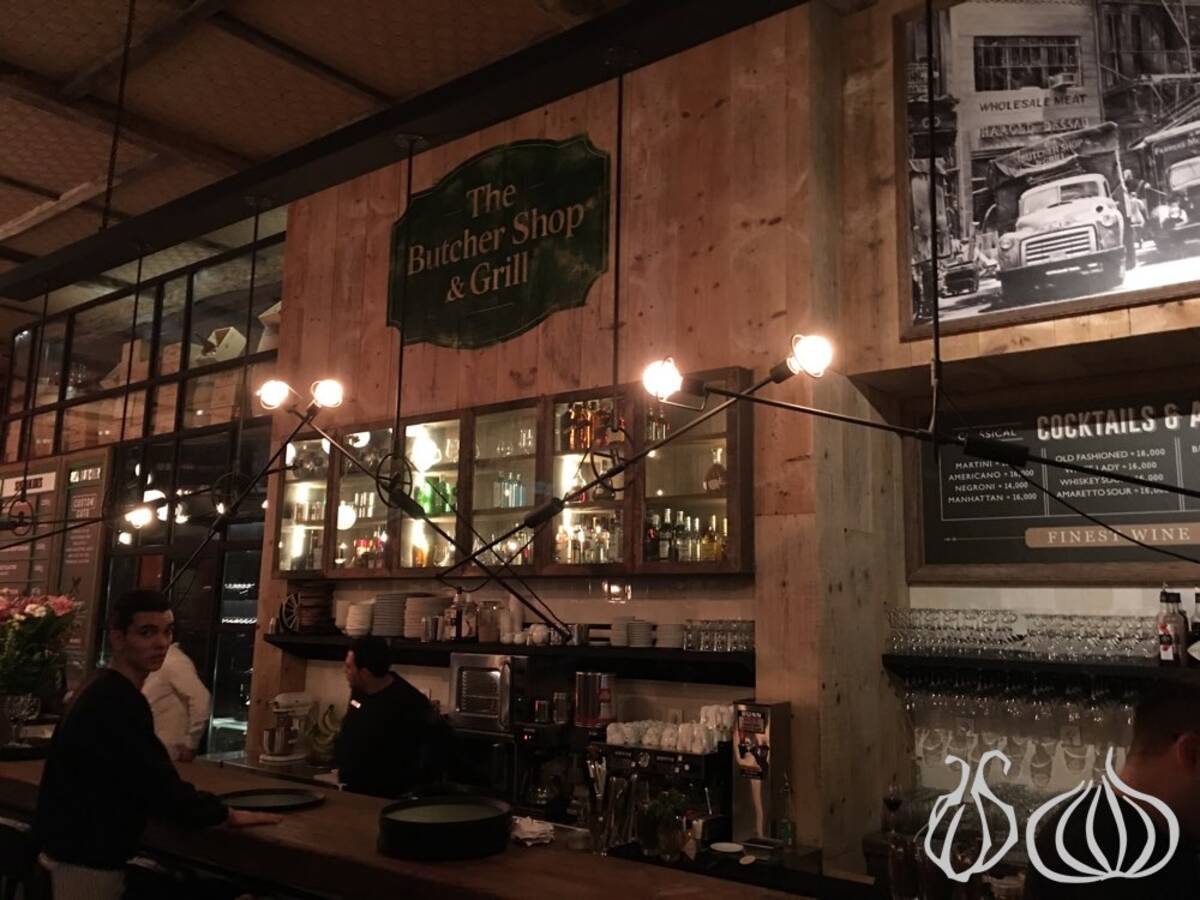 Located in the heart of downtown Beirut, at the entrance of Beirut Souks, sits The Butcher Shop & Grill. A restaurant where the bar, the butcher's and some neon lights create a unique ambiance that sits somewhere between the Sixties, Texas, old London and a something of a vintage feel. Wood is literally everywhere!
To the right is the bar, a welcoming area before coming to seating, benches and long wooden tables. I believe we had the best table, the one occupying the left side, the round marble one that can seat up to six guests. In the middle is a tree, a chart detailing cuts of beef, another chart exhorting you to 'know your knife', the butchery deli and lots of wood. Take a moment to enjoy the details, everything has been thought out and the red neon lights certainly make an impact.
The menu is interesting. Created by Wondereight, the menu is made up of two large papers that list cocktails, appetizers, salads, burgers, steaks, specialties and desserts.
Half a dozen cocktails, appetizers with some to share, eight burgers, some specialties and the steaks are all taken seriously and explained meticulously.
First Impressions:
Elie started, Ziad followed, both waiters are professional and gentle.

Sohat in glass bottles is used.

The light is too dim. You can hardly read the menu or see what's on your plate.

The decor is fabulous.
The waiter approached us for the order:
Beef sushi served with avocado dip and potato chips

Boneless chicken wings glazed with Louisiana sauce, served with blue cheese dip

Breaded mozzarella chunks, served with cocktail sauce

Fried baby calamari with lemon dressing and wild rocket

Lobster rolls served with potato wedges

The butcher's cut, 8oz Australian Black Angus beef topped with double aged cheddar, lettuce, tomato, pickles and cocktail sauce.

Angus beef and the Espetada.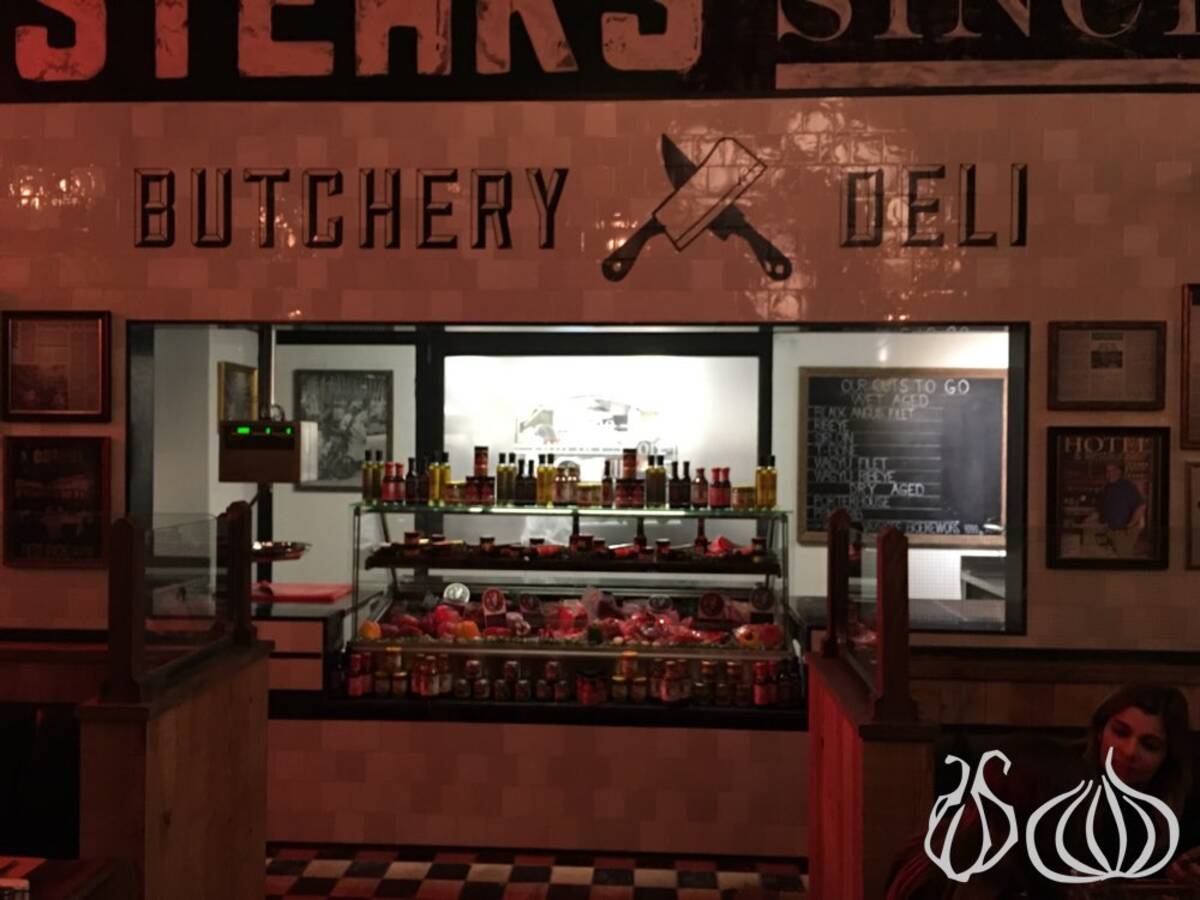 After you order, a wooden board of toasted bread is offered with chunks of ground beef sausage floating in a tomato sauce. Take some bread, spread on the butter and add the meat and tomato. Served warm, the sauce is flavorful and lightly acidic, the meat is tender with a subtle envelope.
Dinner started with the appetizers served in metallic baskets and a paper wrapping. The lobster rolls, four buns stuffed with a mix of lobster and mayo, a good filling, a super tender bun but the balance between bun and lobster is off. The bread overwhelms the less-than-generous filling.

The mozzarella cubes were lightly crunchy but unpleasantly chewy. They have no flavor at all unless they're dipped in the accompanying cocktail sauce.

Calamari, battered, fried and crunchy with a sweet sauce on the side. That's a plate I have to recommend.

The beef sushi was honestly disgusting. A gooey glob of unpleasantly melting meat with no texture and a rice my kids wouldn't eat. A big disappointment. We didn't receive any potato chips with them.

Boneless chicken wings: Not bad but I've had better.
Until that point, the food was junk and the portions too small to be shared. Heavy, fried, too spicy or too peppered, sauces gave the missing taste to each dish. Let's see about main courses.
The main courses arrived, beautifully presented on slate and wooden platters:
The burger is one of the most disappointing ones I've had to date. It looks bad before you even tuck in. A firm bun sticks to your teeth with a burst of sweetness that spoils your enjoyment of a meat that's condensed like kafta. An unsuccessful blend; don't try the meat alone! What a letdown! Next to that was a coleslaw bathing in mayonnaise, a salad that my wife does way better, fries and pickles. Not what I expected at all. Craving a burger, the one sold on the parallel street is a hundred times better.

The meat: I expected some tenderness from the Angus... Instead the meat was hard and firm. It was flavorless. Angus?! No salt, no pepper and no richness whatsoever.

Mixed espetada: It's an interesting ritual, two skewers hanging on their stand with a plate of diced potatoes below. Served warm/cold, the meat was served raw, I could hardly swallow it, and a chicken that tastes of garlic and not much else. Not worth it.
Now dessert... 15 minutes later:
Caramel apple crumble: It feels and tastes like children's food. A purée of sugar with cinnamon and apples served extremely hot and guaranteed to give you heartburn.

Chocolat mou: I loved the presentation so much. A bowl where crunchy puffed rice is laid alongside dark chocolate ice cream and whipped cream. It's a perfect plate for sharing, a chocolate mou with rich flavors, light sweetness and just ready to be enjoyed. That's a favorite.

Devil's chocolate cake: Nothing to write home about.

Chocolate molten cake: A cake that looks just like the one at Chili's, a molten heart and a lightly crispy envelope with vanilla ice cream on top. Not bad, but a bit too sweet.
Last impressions:
Good service and a beautiful decor.

Too dark: I couldn't take photos for social media.

The food is below average.

The price is reasonable: $65/person, including a bottle of wine.

"the one and only" is the tag line... I'm not sure about that.
Conclusion: The kitchen staff needs serious training.
I enjoyed a dinner of French fries that night. I'm sad to say it, but the food is just not acceptable for a place like that, one that's built around meat. A beautiful decor, but I won't come back for the food. An overrated place.