Salvatore's "21-plus pizza" pies are made with enough alcohol to necessitate the regulation. The first of the bunch, the Vignola Cherry Pizza, is topped with fresh mozzarella, Gorgonzola, prosciutto, orange blossom honey and Italian cherries soaked in -- what else -- raspberry vodka. Ordering the new pizza offered by a Boston-area chain may be the first ever to require an ID.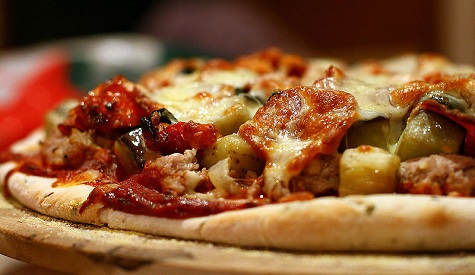 The chain's corporate chef, Victor Paone, explained to the Boston Herald that the recipe was the product of a series of experiments with cherry pizza. When the dried cherries proved too touch, they tried rehydrating them in liquor:
"We realized that it was a great pizza, but the alcohol content was too high, so we came up with the idea of having a 21-plus pizza," Paone said, noting the alcohol didn't "cook off" in the oven. "You don't get that blast of alcohol where it's too much, but you can definitely taste (it)."
The Herald notes that Boston doesn't actually have any regulations about alcohol in food, although Salvatore's does ask for age identification. However, Salvatore's employee Chick Barbato did concede to local news channel WCVB that "Too much would be like two to three pizzas worth. So I think you'd be pretty full before you got a buzz."
Salvatore's isn't the first eatery to experiment with alcoholic food. Last year, D.C. area restaurant PS 7's introduced a "Cuptail" menu with alcoholic versions of seasonal cupcakes.