The Grill Room is a place I would take any good friend out for exquisite food. It was my best friend's birthday and what better way to celebrate it than take him somewhere, where good food and good wine are served by a professional and smiling staff...
I've already been to The Grill Room at the Four Seasons hotel twice already,
once to try their unique burger
and another for the
Chaine des Rotisseurs dinner
and both were experiences I can still remember to date. On the second floor of one of Beirut's most luxurious hotels is
The Grill Room
, a restaurant featuring prime steak cuts including real USDA beef, French Charolais, Australian Wagyu and Black Angus, lamb entrecôte, bunless US Prime beef burger, grilled grouper and fin tuna for sea food lovers.
The decoration is simple and clear, very classy and elegant without having the flames and smoke images normally seen in "Grills". You'll enjoy the smooth carpet, comfortable chairs, leather table top, sufficient lighting, high ceiling and happy welcoming waiters. The wine glasses are large and thin making you enjoy your drink.
I like it when the menu is presented on a single paper, without having to travel between pages. A single large sheet of paper, on a leather platform that is straight to the point and divided into salads, appetizers, meat and fish, side dishes and side vegetables. A menu that caters to different tastes.
You can't but pull yourself away from the crowd for a moment to enjoy the great decoration this place has to offer:
Sitting down for dinner, the tables are perfectly managed with standards competing with fine dining restaurants. Bread was served and we started our journey of appreciation. The bread is so special, with its crunchy envelop and hot core, served with salt and pepper grains, fleur de sel and salted butter on the side, allows you to prepare yourself for the start of an outstanding culinary experience.
The place's little details:
You enter a long room with a private bar on the left, a couple sofas on the right in front of the terrace. The main dining area in the middle facing the display of wine bottles
At the end is a circular room with its circular table that give a breathtaking view of the sea and Zaitunay bay
High ceiling gives the space a relaxing feel
In the middle, on the wooden wall, four cow heads remind you that you are in a grill restaurant
A DJ plays fine tunes to accompany your meal in style. The choice of music was perfect: Bravo
Wood separators are decorated with Arabic calligraphy
Relaxing brown carpet with squares make walking around feel like floating on cotton
Round and square tables depending on the customer's preference
The chairs are so relaxing with their arm rests, you'll feel like you're enjoying coffee in at the Versailles Palace.
A large glass facade separates the space from the kitchen. Behind it are wine coolers with a choice of 200 different European bottles
Dim lights makes your dinner cozier
The details at the table:
Paderno branded professional meat knives which helps cut your pieces with style.
Two forks on the left and two knives on the right with a butter spreader on a small bread plate
The bread wood platter with its knife add the required style
The tables have two levels. The center part is higher hosting the bread basket and its side bowls
Leather covers cover all the tables, protecting the wood while adding a more relaxed feeling for the hands
Burgundy color is everywhere
Dinner started with a choice of Aqua Panna or San Pelligino water served with two choices of homemade bread. Some fine exquisite bread homemade in a metallic mold and served with butter, salt and ground pepper. The brown walnut bread, crunchy on the outside and tender on the inside is extraordinary. Few bakeries master such a creation. I could eat only this bread for dinner. We then received the menus and discovered that they were changed since my last visit more than a year ago.
The menu sections:
Salads, Appetizers, Meat & Fish (Side orders, Sauces, Steak Temps)
We ordered:
Alaskan King Crab Leg Tempura 33,000L.L: A mix of textures and flavors inside this simple yet innovative plate that deserves an article itself. We enjoyed it so much that we ordered another one. Crunchy and non oily fresh crabs done in a tempura way and covered with a sweet mango sauce. On the side, a drop of mayonnaise and another of wasabi make all the difference as you dip your bites into them. Three sautéed watermelon cubes add the needed finesse to make of this plate a fine dining choice.
US Prime Beef Burger 31,000L.L: For only 31,000L.L in a five star hotel you can enjoy one of the best burgers this country has to offer. A simple non pretentious burger where a thick and juicy piece of meat is layered on three homemade fries and topped with cheese and a poached egg. Close the bun to hear the egg explode around the red juicy premium meat. It's time to bite into this superb creation which combines homemade feel with a touch of fine dining. Don't forget to order the special truffle and Parmesan fries to end up the experience in style. Why should scathing burgers cost more around the city?
American USDA Prime 49,000L.L: A piece of medium cooked meat, tender like butter and served with a kind of conical piece of bread that tastes like ice cream biscuit. A simple plate when combined with the cauliflower gratin or the cream spinach, will just make your mouth water. The side dishes are all creative and very tasty
Iceberg Wedge 21,000L.L: Sweet pears, sundried tomatoes, walnuts, Roquefort dressing. Simple and tasty
Endives Salad 21,000L.L: Ruccola, grapefruit, honey, lime dressing and covered with pomegranate, pine nuts, grilled almonds and rocket leaves. I think the picture says it all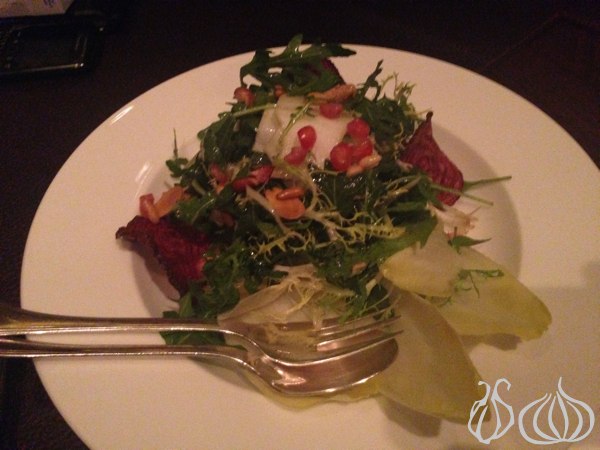 Seared Yellow Fin Tuna 42,000L.L: That's very yummy indeed. If anyone doesn't want to eat meat at the grill room, this is a plate I definitely recommend. The juicy tuna is served with vegetable tempura, fruit and ginger casserole combining sweetness to this premium piece of fish
Dessert bites were offered, prepared by Lebanon's best pastry chef, Charles Azar:
Black Forest mousse
Sakher Chocolate cake with currants
Caramel chocolate mousse
Chocolate eclair
Chocolate milles feuille
Chocolate gateau mousse
A unique way of preparing chocolate bites only a few master in Lebanon.
The Pluses:
Their bread is a story by itself. So tasty, so crunchy and so fresh. It's extraordinary
All the waiters are wearing black overalls, complementing the decorations as they pass smoothly around the tables without attracting too much attention
The manager, kept going around the tables and taking care of the little details. I appreciate your professionalism.
I love the wine glasses: Thin and light
The water glasses are even special. They do not use the simple wine ones but thick water cups that go along with the table setup. Paper coasters are discretely dropped under the cups
The professional cutlery used makes your dinner even more enjoyable
The dessert is simply extravagant
Waters were smiling and helpful
St Pelligrino and Aqua Panna are always used at The Grill Room and nothing less
The minuses:
Only three waiter serving this large space. Although professional, the service was way too slow until I pointed it out
Tonight's dinner reconfirmed that The Grill Room is one of the finest restaurants in town serving premium food at affordable prices. I recommend you pay them a visit.