Stylish where it matters and affordable where it counts, The Lafayette Hotel, Swim Club & Bungalows is more than just a place to stay and see Southern California attractions. It's a wingman you can count on, an adaptation of an earlier era, and an experience you look forward to.
It was my second trip to the states, and Lafayette was the choice for the couple days conference. A recommendation.
The Lafayette Hotel and Suites is a hotel in San Diego, California that opened July 1, 1946. It was listed on the National Register of Historic Places July 31, 2012. The Lafayette's original name was Imig Manor, owned by local entrepreneur Larry Imig. The LaFayette was originally built at a cost of $2 million on El Cajon Boulevard. When Imig Manor opened in 1946, its first guest was Bob Hope; other celebrities followed. "The buildings and the pool are steeped in the history of Hollywood's heyday, the 1940s and '50s," according to the developer. By 1960, Interstate 8 replaced El Cajon Boulevard as the main east-west connector of San Diego, and hotel operations ceased due to the loss of through traffic on El Cajon Boulevard. The building was passed through several owners, until Hampstead Lafayette Partners purchased 11,000 m2 in North Park, including the Lafayette Hotel, for $11.5 million in March 2004. Hampstead Partners is restoring the Lafayette as a boutique hotel. In 2010 a year-long, $4 million facelift was announced, aided by a $2.4 million loan from the city's Redevelopment Agency. District 3 City Councilmember Todd Gloria said the revitalization is a return to the hotel's "glamour and opulence." The hotel has an Olympic-sized swimming pool designed by Johnny Weissmuller, a ballroom, and 131 guest suites, each named for a great name in film history. Its Red Fox Restaurant is a longtime San Diego favorite.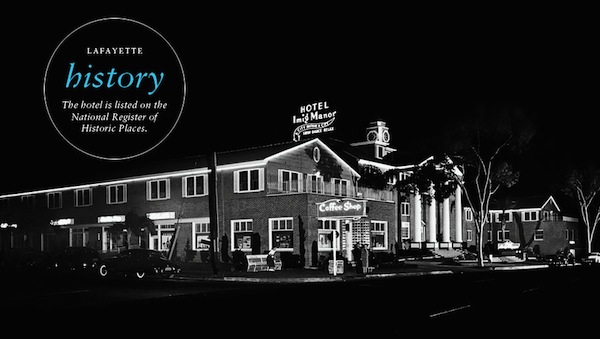 The hotel:
Historic Weissmuller Olympic Pool
Complimentary parking
Complimentary high-speed wireless network
Two restaurants; Imig's Kitchen & Bar, The Red Fox Steakhouse
Complimentary coffee and water served daily in our lobby
Pool towels
Twenty-four-hour front desk
Multilingual staff
Complimentary copier and fax services
The room:
37" LCD television
Complimentary wireless Internet
iPod/MP3 ready clock radio
Pillow top mattress
Triple sheeted linens
2 USB charging ports
Expanded cable channel lineup
Showtime Networks
Bath amenities
Iron & ironing board
Laptop compatible safe
Adjustable thermostat
Coffee maker
Hair dryer
I love this city!