I've been here before, and I'm very happy to say that not much has changed. Trattoria Garga is not just a feast for your belly but for your eyes as well. Surrounded by traditional art work all over… It's a memorable place on so many levels.
"La Cucina del Garga" arrives in Florence with Alessandro Gargani's return after eight years of experience in New York City. Alessandro decides to return to his native town to continue the family restaurant tradition born at the Trattoria in Via del Moro, an institution in the Florentine culinary scene renowned both locally and internationally since 1979 where his parents Sharon and Giuliano instilled in Alessandro their passion for cuisine. With their help and especially that of his wife Elizabeth, Alessandro moved that unique ambience and a distinctive and creative cuisine to the new location here in Via San Zanobi 33/r leaving in Via del Moro just the memories of a great culinary and artistic journey.
Located behind the Mercato Centrale of the San Lorenzo district, "La Cucina del Garga" welcomes customers through the brightly colored doors and as tradition all the rooms are decorated with art work by Florentine artists Rapisardi, Vadala', Giambaccio, mamma Sharon and babbo Garga. The central dining room with low vaults has an open kitchen from which appear simple yet alluring dishes, prepared by Alessandro with passion and love. The menu is created to satisfy all tastes. There are both traditional Florentine and Tuscan dishes, the famous "Garga" creations and his own innovative dishes.. "La Cucina del Garga" will give a unique experience in Florence "The most important thing for me is that people feel at home when they come in and are happy when they leave!" This is Alessandro's philosophy.
Small, colorful, delicious, funny are just a couple adjectives I would use to describe this restaurant. Having tried Garga in 1995, it was a sense of relief that, now in 2010, the food, ambiance and decoration haven't changed.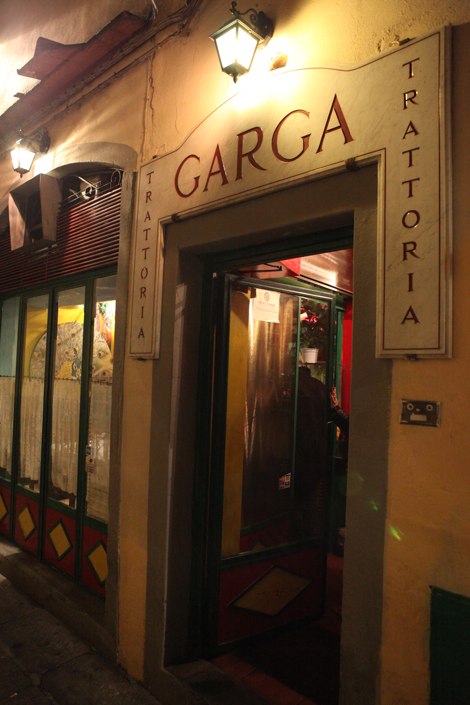 One more thing that made me sure Garga was an excellent location, was its reputation among the locals, and that it was rarely heard of by tourists. That's always a good thing!