I love Cinema VIP experiences. Lebanon is offering quite a few choices these days. I tried the one at ABC Dbayeh and another at Empire Premiere Sodeco. Both were good and offered a premium service. CineMall at Le Mall was next on my list since I visited its theaters on the opening day and loved the way they are built.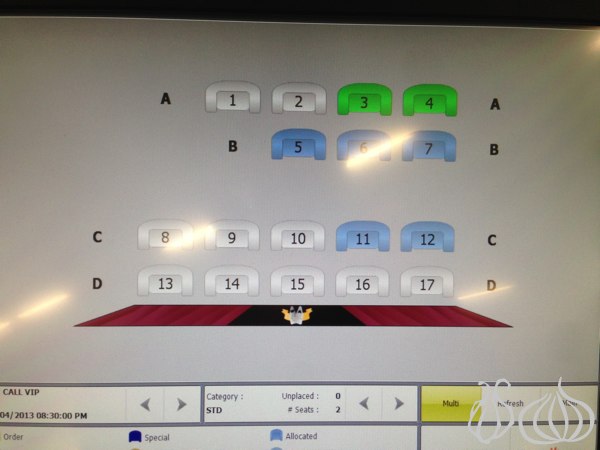 Unfortunately CineMall's experience was not worth it at all. You pay $30 only to rent a sofa and not for a luxurious experience. We arrived at 8pm to the counter where a couple of girls were chitchatting and having fun behind their screens. We asked for two VIP tickets that were delivered in seconds and that was it. No one explained where to go, what to do and what would be offered with the price. Afterwards, we went upstairs and following my instinct I reached a long corridor closed with a barrier: Here was the VIP area.
The VIP lounge:
A long corridor of leather sofas, the same as the ones available around the cinema

A very dull ambiance
It's not a closed space. So you would have to bare with the mall's noise and music
No one proposed a drink or anything special
One hostess, wearing normal clothes was sitting looking at us like two aliens
I asked the hostess just to have some answers:
Which one is better CineMall or Grand ABC: I don't know about any cinema other than ours
What do we have with the $30: 1 popcorn and 1 drink priced at 9,000L.L
Can we order food: Only hotdogs
Can we get food from the mall: NO
Should I get my order or you would: I will get it for you
Where are the VIP bathrooms: There are none, you would have to walk to the end of the other corridor
The unprofessional and bad experience:
The hostess knows nothing about service or luxury
The staff needs more training and a minimal knowhow o the competition
The side tables are fixed in a bizarre way where you have to share one with your neighbor. Every two chairs should have a table in the middle to be shared between a single couple not with a person you don't know. A restructure is needed
I ordered a diet coke and asked about the size just to know if I pay extra for an upgrade: She answered that the coke size is medium, showing me with her hands the size of the McDonald's medium draft cup. I received a can of Pepsi with a glass of ice. Isn't the whole cinema experience enjoyed in a paper cup filled with a draft beverage and a straw? A glass of ice in a cinema? A very bad feeling
Ordering a hotdog: I received, 45 minutes after the movie started a polystyrene box with a hotdog soup inside. The worst ever hotdog I've ever tasted in my entire life. What a shame
Before even the movie ended, and while watching the last 20 minutes of action, the hostess entered with the cheap receipt. A simple piece of paper on which is written the amount to be settled. Couldn't she waited that we finish and go out?
The Food:
Popcorn is average

Caramel popcorn is too chewy and definitely needs more caramel sauce
Hotdog is a disaster: An unacceptable low quality sandwich: I received a low quality Lebanese bread soaked in salad and ketchup. As soon as I grabbed it, it went into two distinctive chunks. No chips and I personally didn't feel the cheese if there was any. The hotdog meat is thin and small occupying 1/4th of the sandwich. Disgusting!
Happily it was dark and didn't see this ugly sandwich
For the money you pay, it is not worth it at all. Next time, I will definitely be going to ABC Grand Cinemas - since I live in the Metn area, and pay $30 for a premium service in a luxury setup, coupled with a glass of champagne and two canapés.