I'm in Paris now. I passed by Virgin Megastore Champs Élysées and went in to look around the grand place that was once strong, while admiring the last of its existence in the French capital. A sad place indeed. You walk in, you feel the emptiness, the place looks haunted, dark, dimmed lights, a few people working... Very touching... Indeed the fall of an empire. I took some pictures to share with you... Here are the last pictures. In January 2013, Virgin Megastore France filed for bankruptcy. At that time there were 26 Megastores in France, employing 1,000 people, after two years of cutting over 200 staff and several shops. The company had taken steps to terminate the lease on its flagship Champs-Élysées store in Paris after 25 years on the famous street.
Virgin Megastores is an international entertainment retailing chain, originally founded by Sir Richard Branson as a record shop on London's Oxford Street in early 1976. In 1979 the company opened their first Megastore at the end of Oxford Street and Tottenham Court Road. The company expanded to hundreds of stores worldwide in the 1990s, but has lost a large number of stores in recent years, largely with the sale, and eventual closing of the UK, US, Irish, Italian, Spanish, Canadian, Australian and Japanese stores. Current operations are mainly in France, Greece, and the Middle East, consisting of over 100 stores. Virgin's first formal store opened on London's Oxford Street in January or February 1971. In 1979 the company opened their first Megastore at the end of Oxford Street and Marble Arch. Virgin Megastores and Virgin Records operate as entirely separate entities, like many of the other Virgin companies. Throughout the 1980s and 1990s Virgin Megastores opened over 100 stores in the UK, and many others around the world. Simon Wright – Chief Executive of the Virgin Entertainment Group from 1999 to 2009 was very instrumental in the worldwide growth of the stores in particular developing the stores in Asia, the Middle East, Australia and North America before their eventual disposals under license detailed under Ownership.
FRANCE: There are 35 Virgin Megastores in France. 12 additional stores in France are branded Furet du Nord, and about 10 international stores are owned by the same company. Lagardère Group bought the chain in 2001. In December 2007 Butler Capital Partners announced their intention to mount a majority takeover of the French arm of Virgin from Lagardère. This deal was finalised in February 2008. According to the Lagardère 2007 report, 80% of the Virgin stores was to be sold by Lagardère Services at a value of €76.4 million, and 20% would be kept. Prior to this sale 51% of VirginMega, France's number 2 music download website, was transferred to the Virgin Stores company (sold to Butler), and the remaining 49% was kept by Lagardère Active. In March 2008, the French Megastores enlisted Kyriba Corporation's real-time, on-demand cash and treasury management solution. In July 2012, LS Travel Retail announced that they will phase out the Virgin Entertainment brand in France, commencing 2013, converting all remaining Virgin travel outlets into larger sized Fnac formats stocking the same range in addition to more product lines.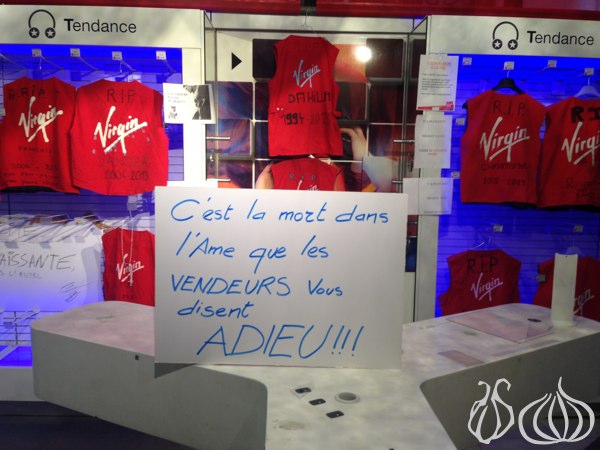 BBC reports The Guardian Reports