Last month, I got invited to lecture in Algiers, the Algerian capital. I knew nothing about this country. I was truly intrigued to go discover it - the country, its people, its food... After visiting Tunisia, which I found resembles Lebanon even though the food was bad, I sort of grasped an idea of what to expect to see and experience in the Northern African part of the world.
Algiers is the capital and largest city of Algeria. According to the 1998 census, the population of the city proper was 1,519,570 and that of the urban agglomeration was 2,135,630. In 2009, the population was about 3,500,000. An estimate puts the population at about 3,574,000 as of 2010. Algiers is located on the Mediterranean Sea and in the north-central portion of Algeria. Sometimes nicknamed El-Behdja or alternatively Alger la Blanche ("Algiers the White") for the glistening white of its buildings as seen rising up from the sea, Algiers is situated on the west side of a bay of the Mediterranean Sea. The modern part of the city is built on the level ground by the seashore; the old part, the ancient city of the deys, climbs the steep hill behind the modern town and is crowned by the casbah or citadel, 122 meters above the sea. The casbah and the two quays form a triangle.
Hakim, my new friend, picked me up from the airport and told me a lot of about this city and its traditions by answering the hundreds of questions I asked while we were stuck in traffic. Here I knew that the upcoming days are going to be just full of adventures. After checking-in at the hotel -the best thing Algiers has to offer- we went on a discovery expedition of the country before work starts the next morning.
Opened in 1889, the Saint George hotel gives you a vivid impression of the history of Algeria, its culture and art. Built on a site of a former Arab-Ottoman palace and surrounded by a luxuriant botanical Arden, the hotel is a jewel of the national cultural heritage. Having one of the rooms over viewing the »more…
The first stop was in an area called Kouba Ben Omar where the dental course was taking place.
Kouba is a suburb situated on a height just south-east of the central city of Algiers in northern Algeria. It is home to the Kouba city council and the church of Kouba which was built during the French colonial times. Its name refers to "Qubba" which means "dome".
I wish this was not the first impression: A restaurant called Mouh Tawil, where we stopped, offers coffee and cakes: You really don't want to see what happens inside this shop. Dirty as hell, Mouh Tawil displays some cakes and pastries for sale. They are filled with black thick flies and wasps. Dozens of wasps stuck to the sugar layers decorate the pieces and customers do not seem to care. One entered, paid the price of one, chose the piece he desires, grabbed it with his hands then shook the insects away and ate it as if nothing unusual happened.
Two days have already passed where I learned endless things about Algeria's traditions. Unfortunately good food is definitely not one of its wonders. I am desperately searching for something good and decent to eat… And I am still searching… And will continue searching… Waking up for the second day in this country, it »more…
First day in here, I learned and discovered a lot:
Bizarrely, white cars are a trend around here, like in Saudi Arabia. I felt like I was driving around a continuous wedding
People buy their cars taking into consideration the resale price only regardless of whether they like it or not. They do not look into the model, not the comfort and not its outside look
All churches have been transformed into libraries
The country has no tourism and no services for that. One day into the capital is enough to discover it completely
There are no Japanese (Sushi) restaurants in Algiers
They deal with lots of cash. Thousands of dollars in paper money: Few use credit cards or cheques here. I carried a 100,000euros bag and walked on the street normally
Every household has its own satellite receiver: Imagine the millions installed on all the balconies and how ugly they are
Excuse me to say it that way but this city is unacceptably dirty
All the restaurants I've tried... None amazed me:
I'm in Algeria this weekend… We took a 20-minute drive from Alger's center to reach the touristic compound of Mazafran. That is where the Safir Hotel is located. A restaurant that is supposed to be one of the best in town… You walk into long lobby, dimmed lit place followed by a corridor to the»more…
The experiences in Alger have been worse one than the other until we landed at Le Tantra. This fine restaurant everybody in the country talks about. Located just next to La Veranda, in the same area of premium restaurants, Le Tantra has lots to offer. A good first impression, a nice entrance and a beautiful »more…
La Veranda is located in the region of Bois des Arcades where many supposedly fine restaurants are located. Considered to be one of the good places in town, was the first place I tried during my visit to Algeria. Upon arrival, my thoughts were: "Am I at an after hour night club or a restaurant?" »more…
Al Yasmine Snack was my first encounter at an Algerian restaurant. Here I understood it all and knew that I was up for a treat in the next upcoming days. Even though it is called a 'Snack', it doesn't have the level of service of a five stars hotel. Lunch started with four pieces of bread »more…
This article is a call for immediate action to be taken by the international franchise: Dear Hippopotamus France, a horribly dirty mess represents your brand in Algeria! A disgrace, a shame to the hospitality industry. This place pretends to be a restaurant and it's far far far from it. It should be closed down and »more…
My main interest was discovering Algiers street food. I asked Khaled, my newest friend to show me around and he succeeded of changing the bad impression I already constructed of this city. We started by eating fresh seafood on the sidewalk, followed by tasting the country's special chickpeas:
I am so passionate about street food and I wanted to discover as many hidden traditions in Algeria as time allows me during my three-day trip. Kouba, one of the areas of Alger, the capital of Algeria, has a lot hidden in its tight streets. In Old Kouba is Le Petit Navire, a two-door restaurant »more…
It was out of the question to leave this city without trying and experiencing some of Algeria's real food. I wanted to know more about this country… and since the food I have tried in so called 'popular' restaurants were not at all up to my expectation, I thought it would be great to walk»more…
Algerian Cuisine:
Algerian cuisine differs slightly from region to region. Algerian cuisine has strong Berber but also Ottoman Turkish influence due to the Ottoman occupation. The main varieties are Algiers, Oran, Constantine (largely, Kabylie and Sahara. Dairy products come mainly from Kabylie. Breakfasts, which exist since the French colonization, is generally light. Tea or Turkish coffee are served with some pastries. At noon, street stalls which sell often shawarma, are very common in the cities. The dinner, which is very copious, is often eaten late in the night, especially during the month of Ramadan. Every region has its own cuisine like Kabylie (tikourbabine, ftir oukessoul, berkoukes, felfel, aghrum aquran abazine, tahabboult s elmerqua) Algier (mtewwem, chtitha djej, sfiria, khdiwej, chorba bida, momo fi hjer mmo, tagine khokh, tagine mechmach, couscous, mhamsa....) Constantine (rechta, rrfiss, chebah el soffra, trida, tlitli,......). Pork consumption is forbidden in accordance with Sharia, religious laws of Islam.
Different Dishes Prepared:
The khabz, traditional flatbread, is the base of Algerian cuisine and eaten at all meals. An Algerian dish is merguez, a spicy lamb sausage, that originate from the Atlas mountains. Other common dishes include berber couscous, chakchouka, Karantita, marqa bel a'assel that is a speciality from Tlemcen and the Chaoui dish chakhchoukha. Spices used in Algerian cuisine are dried red chillies of different kinds, caraway, ras el hanout, black pepper and cumin, among others. Spices like cumin, nutmeg, coriander, fennel, ginger, mace, star anise, chillies etc. are very popular in Algerian cuisine. Algerians also use tagines, handmade in many parts of the cities in Algeria, frequently Algerian food is cooked in clay recipients, much like Maghrib cuisine, Algerian cuisine represents the region north of the sahara desert and west of the Nile. Algerian chefs take a lot of pride in cooking skills and methods and their many secrets lie in the variety of ways they mix special spices . There are many different types of Algerian salads, influences by the French and Turkish, and can include some very individual ingredients such as beetroot or in some salads anchovies.
I think so far now you got the picture. I was really hungry most of time during my stay in Algeria, until I experienced some yummy street food. Then I happily discovered Nour El Hani. I think Idri Malika, the person behind this concept should be a saint or a hero – an actually good »more…
I enjoyed many things that will make me come back:
They have delicious black olives
Their local beer "Tango" is a must try. I've had dozens in couple of days
I liked the restaurant and shopping district in the city of Sidi Hydra
Their seafood is good and affordable
The French left a beautiful area in downtown next to the port, unfortunately left unattended. This can be the main touristic attraction of this country
Unfortunately, the country still lives in the sixties:
The food is really not good. Under the minimal acceptable average

The capital is too dirty
Nightlife is close to inexistent. Streets are scary at night
The last night, we went to "Cafe Liberte" to try the local strong tea next to the port. Couple of days where, think, I discovered it all. The capital has nothing extraordinary to discover unless you want to blend with the locals and enter the old souks. It was time to leave. I will be visiting in september, and promise you more unseen action next time.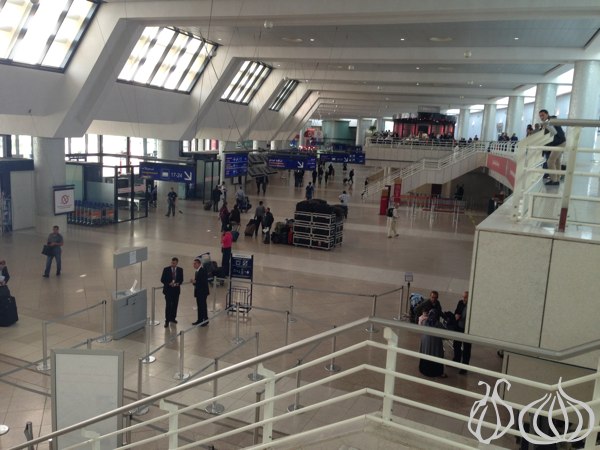 What can I tell you about this airport? The first and last impression of a country. Small, tiny, minuscule duty free, with a trail of cigarettes smell all over the place. Badly conceived and dirty are a few of the synonyms that can be used to describe Alegria's Houari Boumediene International Airport. Upon arriving to »more…
I was thinking to myself, what are the minimal requirements for a business lounge: A reasonable choice of food, a decent relaxing sofa to sit on, some private corners to relax in before a flight, a welcoming staff and an acceptable choice of beverages. LOL with capital letters. This is the worst business lounge I »more…