I was recently invited to a dinner party and all we talked about was 'food', and where to have the best 'this' and the best 'that'. I left with a long list of places to discover... One of which was Lawzieh at "Yahia Rabiha Charafeddine" in Aley. The next morning I found myself driving to Alley to try some Lawzieh...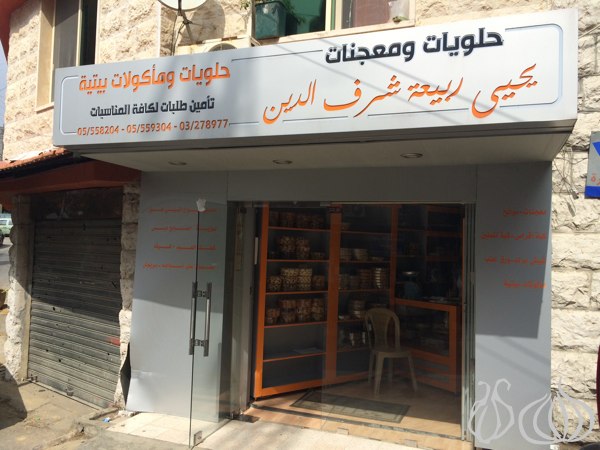 I am going to give you direction the Lebanese way...Reach the end of Aley souk and take a left up the road until you reach the Saraya. After that, to the right is a church facing Al Watani hospital (a blue building). Follow the road after that to reach Yahia Rabiha Charafeddine. It is located just behind the hospital.
We landed in front of a tiny place, far away from the main road and any commercial aspect. The small shop displayed a variety of cookies. Welcomed warmly into the place, a nice lady took all her time to explain what they have to offer while handing us some to taste... She was not even the owner. The owner, Rabiha Yehya Charafeddine, has been personally making these cookies for the last 20 years or so. Her reputation grew bigger beyond the borders of Aley... so here I am today, trying these bites.
A one-door shop with shelves filled with biscuits: Lawzieh, bendkieh, 2ouloubet, kaiak bi 7alib, ghraybeh and kaak bi debes.
As a welcome gesture, we were offered some kaak bi debes to try. Shaped like fingers, these biscuits are soft, slightly crunchy and covered with sesame seeds. But I was not here for them, I wanted to try the Lawzieh and see what it tastes like.
The plastic round shaped box is sold at LBP20,000 a kilo. The cookies are covered with powder sugar and are semi-lunar in shape. The Bend2ieh, uses the same biscuit but is filled with hazelnuts and they are sold at LBP22,000 the kilo.
These boxes are sold with or without sugar topping.
I wanted to taste one. The gentle saleswoman insisted on opening a new box for me. That's the utmost levels of welcoming, professionalism and generosity. Now was time to eat:
These biscuits look so fresh and appetizing. A light white color topped with sugar powder. Bite into it and feel its richness and generous amount of crushed almonds while the biscuit melt under your teeth like butter. Tasty but not too sweet, the biscuits are awesome. One followed another and a third, these are too addictive. I loved their airy feel, their freshness, their lightness, their crispiness, their strong almond taste and their mouthwatering aromas. Doing some extensive research, I've discovered that Lawzieh is close to the Arabic shortbread Ghraibeh only these are with crushed almonds.
Graybeh or Graybeh is a Lebanese shortbread cookie. Simple as can be, browned butter mixed with powdered sugar, flavored with vanilla and a drop of almond extract, then flour. No eggs and no leavening.
Behdkieh (hazelnuts) or Moukassarat (a nuts mix) are two different version of the same cookie using the same dough but with two different fillings. Both are exquisite to say the least. I went back home with a box of each.
To complete today's tasting, I tried their Kaak bi Debs as well as their newly produced Kaak bi 7alib which were totally different from the one I enjoyed at
Salon el 3a2ilat
. These are hard like a cookie so you don't really feel the milk. Zahle does them better.
Thanks Jocelyne for this suggestion. A tasty discovery that will make me go up to Aley again and again. You can also place an order to be delivered to Beirut by calling Mrs. Charafedine at +961-5-558204.