After publishing a review on "Safsouf's Maamoul Mad Bi Ashta" many have asked to point out some of Lebanon's most special bites. I don't mind doing so at all... I enjoy plunging into the vast amount of authentic and traditional bites this country has to offer. Whether sweet or savory, we have many places around and each establishment has something original to offer. Some names include Daouk, Safsouf and Chidiac...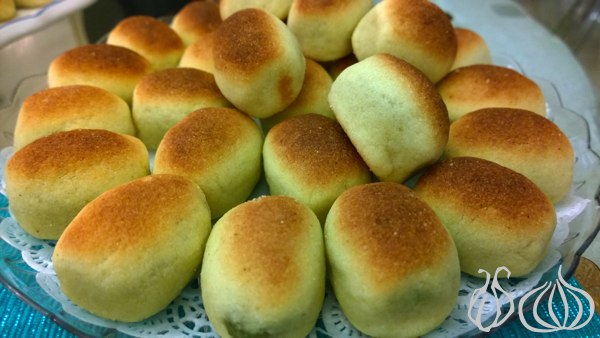 Karabeej Halab is a type of ma'moul filled with pistachios or walnuts, and served with Natef. Those Karabij usually look like Maamoul or stuffed with the same filling making them lose their unique taste. At Chidiac, things are different, a Karabij is a Karabij, respected and created meticulously. I have been planning to visit Chidiac for a while, but never got around to it. I have been traveling a lot and spending long days at the clinic; a trip up to Wadi Chahrour wasn't easy. Thankfully it came to me... Inviting some friends for dinner, Roula got some Karabij with her and I'm glad she did. I placed the tray in front of me and started appreciating its simplicity and fine curves. Every piece of Karabij is meticulously crafted - identically designed oval shaped sweets with a touch of golden baked color on top. You will feel a spark when you first take one in your hand. A heavy piece generously filled with pistachio puree. I enjoyed looking at every creation from all sides, admiring it and smelling it … mouthwatering… until I decided to bite into it.
My teeth plunged into a thin piece of dough that melts as it touches your tongue. The soft dough pleasantly chews in style as the pistachio filling starts caressing your mouth. Moist pistachio puree, produced by people with intense know-how, cleaned to perfection and mixed together beautifully. Adequately sweetened, you can enjoy the smell of fresh pistachios in every bite stuffed in fresh dough... It started with one bite, followed another... until I found myself eating seven pieces in a row. My wife had to remove the tray from the table for me to stop. It's the first time I am taken by something like that, but believe me you would be as well. The next morning, I woke up dreaming of them. I went straight for the tray... I enjoyed them just as much as I did the day before. The same exact feeling run through my veins... the same passion and exact taste.... If you ask your parents or relatives, many will agree that Chidiac's Karabij are the best and by far.
As for the natef, the white foamy meringue cream served with Karabij, Chidiac's is incredibly delicious... they are made without eggs and can safely be kept unrefrigerated. Take one Karabij, plunge into the natef container and put it as is in your mouth... That's heaven on earth! The different textures and different aromas can provoke a heart attack. But if you want my advice, the pieces of karabij are so good that you don't even need any natef.
I'm not sure if I expressed myself enough; you have to give these little pieces of heaven a try!
Patisserie Chidiac, Wadi Chahrour, +961 5 942252, +961 3 766887