Oh my Gosh, I think I just stumbled upon the most heavenly dessert ever and the more interesting part is that I found it in one of the most unexpected places in town...I couldn't wait to share my amazement with you. It's the 'Chocolate Halawa' at Sharwamji - the latest fine-fast-food restaurant - a yummy, one of a kind, mouthwatering creation indeed.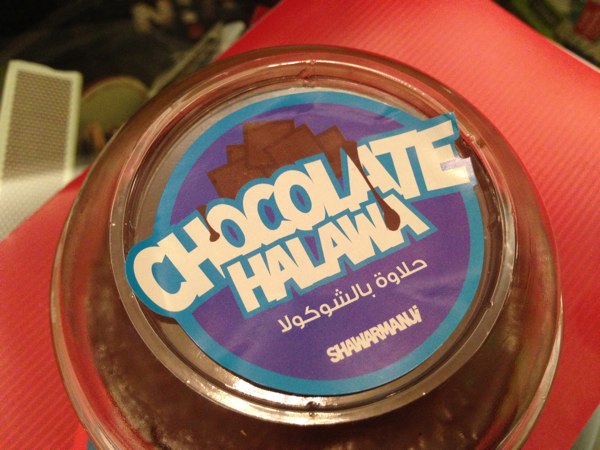 Served in a plastic cup. Yes, simpler than you can imagine. It is not to be compared with a Bahamas from Pate A Choux or a cake from La Mie Dorée. The Halawa-Chocolate mix comes in two two distinct layers. A layer made from a special in-house secret recipe halawa mix, while a chocolate custard cream covers it.
Forget about the dessert's image on the menu which shows four layers and chocolate sauce on top. The actual thing is different, maybe less fulfilling for the eyes. Just close them and indulge in one of the tastiest and simplest desserts in town.
Halawa:
The term Halawa, meaning "sweet", is used to describe: Nut-butter-based – This type of halva is crumbly and usually made from tahini (sesame paste) or other nut butters, such as sunflower seed butter. The primary ingredients are nut butter and sugar. Halva may also be based on numerous other ingredients, including sunflower seeds, various nuts, beans, lentils, and vegetables such as carrots, pumpkins, yams, and squashes. In the region of the Levant, which includes Lebanon, Syria, Iraq, Jordan and the Palestinian territories, halawa can be flavored in various ways, and may include pistachios, almonds or chocolate. A large quantity of halawa is exported from Lebanon throughout the world.
Chocolate custard cream:
Custard is a variety of culinary preparations based on a cooked mixture of milk or cream and egg yolk. Depending on how much egg or thickener is used, custard may vary in consistency from a thin pouring sauce (crème anglaise), to a thick pastry cream (crème pâtissière) used to fill éclairs.
Shawarmanji's secret recipe mixes the halawa in a way that makes it softer and creamier. Covered in chocolate custard, every bite melts between your tongue and palate activating your taste buds and just makes you say Yumm all the way. You have been warned! This sumptuous dessert is super heavy. I couldn't eat more than three spoons of it. If you're a Halawa fan, you'll understand what I mean.
Come hungry and order yours today, it's only 3,500L.L. The cheapest dessert ever.