My friends and I headed to Dubai for a quick weekend of leisure. Now is a great time to go since the weather is nice and not too humid. This time we stayed at the Al Murooj Rotana Hotel, a beautiful luxurious hotel with an oasis feel. After shopping and walking the malls for full two days, yes, sorry to admit that we are not the type to enjoy some fun in the desert or go skiing in a mall... we chose to have a calm lunch by the pool before heading back home...
We each relaxed on a chaise-longue, as the waiter cheerfully gave us our menus. The knew that it was going to be an enjoyable couple of hours. I never experienced such fine culinary experience by the pool - the restaurant is called Aquarius - a perfect choice for casual dining and refreshments by the pool. Surrounded by water fountains and soothing gardens.We enjoyed some refreshing drinks served in large filled glasses of ice, while waiting for our order...
We ordered:
Smoke Chicken Caesar Salad (Crispy turkey strips, garlic croutons, Parmesan cheese and anchovy grain mustard dressing)
Classic Cheese Burger (Cheddar cheese lettuce tomato red onion gherkins served with French fried.
Rosemary Chicken Burger Brie cheese, caramelized onions, lettuce, tomato, pickled cucumber served with french fries)
Club Sandwich
Grilled Vegetable Panini (Red and yellow peppers, zucchini, eggplant, Portobello mushroom, buffalo mozzarella, basil pesto served with french fries)
I loved:
Coca Cola served in huge glasses filled with ice and a slice of lemon, although its not glass, it's of good quality
Freshness of the food
Silver cutlery wrapped in cloth napkins
The way the menu is covered in plexi glass, keeping it clean and protected from the water
The small sealed bottled branded condiments (Dickenson's)- mustard, ketchup, Tiny bottles of Tabasco sauce... individually yours to open and use alone
How every order comes in an exclusive tray - with condiments, salt and pepper shakers, bread basket, butter, tooth pics - something you won't imagine having at the pool.
The bread basket that comes with the Caesar Salad
The view of skyscrapers all around you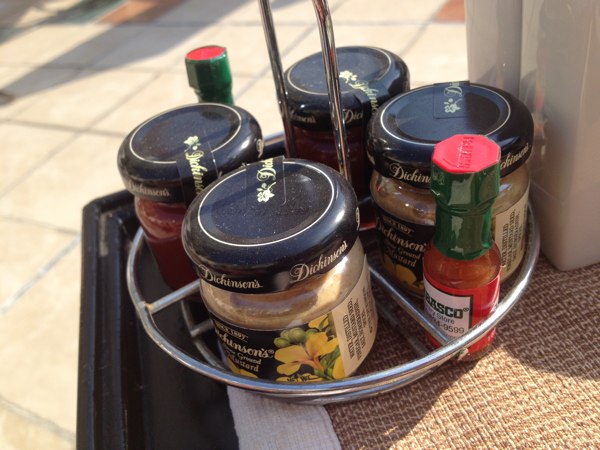 The food was great, fresh and mostly importantly the service was impressively high end for service at the pool. A great way to end our stay before heading back to Beirut...