We are Lebanon, we represent innovation, we are where the alphabet started and with it the technology that made today's world possible… Phoenicians have made history with their inventions, many of which had a major role in shaping the world we're living in today…Ok, I know what you're thinking now... No I'm not saying we discovered chocolate, but we've surely had a role in developing its flavors.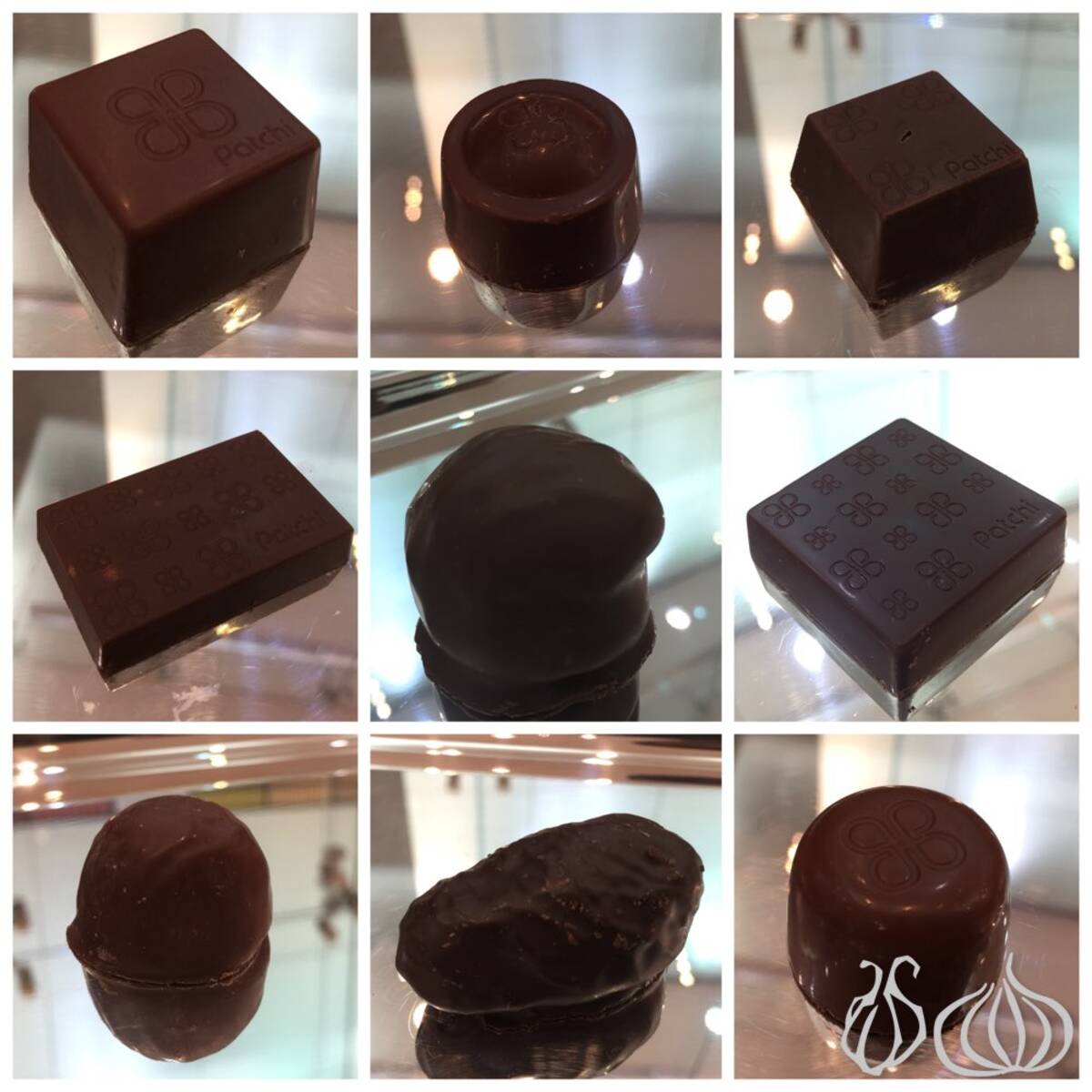 Today, in a world of luxury and refinement, Lebanese have followed international trends, especially when it comes to food. Television shows about pastries, specialized dessert shows and chocolate parlors inspired by Europe have landed in Lebanon, the choices are endless.
With hundreds of chocolate shops out there, we at NoGarlicNoOnions wanted to discover a good sample. I'm sure there are many others, places worth discovering, full of homemade creations full of passion and dedication, but that would require a year of research…
Let's start with some explanations. Chocolate, as we commonly know it, is the product of a long refining process that begins with cacao beans. The beans are fermented, dried, roasted, and ground, and the resulting products include cocoa butter, a smooth, solid fat used in both food and cosmetics, and chocolate liquor, or ground, roasted cocoa beans. The type of chocolate is determined by the various amounts of cocoa butter and chocolate liquor the chocolate contains, as well the amount of sugar and any other ingredients added to the mixture.
Some use local chocolate, others import their variations from Belgium, Switzerland or France, melting it into what becomes a signature blend. Few will give you their secret so it's up to you to know how to recognize a good chocolate.
Key Things to Look Out For:
Smell: The stronger and more persistent the fragrant smell is, the better the chocolate will be.
Look:Chocolate has to be glossy. If the chocolate's surface turns white, this indicates bad preservation. In the case of milk chocolate, the color should not be too light, or too dark. In the case of dark chocolate, the color should be dark brown. The more mahogany shades the chocolate has, the finer it will be.
Hear: Quality chocolate should be crisp and firm. It is interesting to listen to the sound it makes when you break it. If the sound is crisp, clear and sharp, it means it is quality chocolate. If the sound is dull, it is bad quality chocolate.
Touch: In order to test the quality of chocolate, proceed as follows: Put a square of chocolate on the palm of your hand and close your hand. Wait for 20 seconds. If the chocolate has not melted, it means it is bad quality chocolate.
Taste: The texture should be smooth and silky. Good chocolate melts in the mouth and should never be gritty. This has to do with a high content of cocoa butter, which guarantees good final quality. The taste of a good chocolate should remain for a while and not fade away too quickly.
Different Varieties:
Milk Chocolate: In addition to containing cocoa butter and chocolate liquor, milk chocolate contains milk. Milk chocolate must contain at least 10% chocolate liquor, 3.39% butterfat, and 12% milk solids. Milk chocolates are typically much sweeter than dark chocolate, and have a lighter color and a less pronounced chocolate taste. Milk chocolate is more difficult to temper properly and more prone to overheating.
Dark Chocolate: Chocolate that contains chocolate liquor, sugar, cocoa butter, vanilla and lecithin (an emulsifier). There are no milk solids added to dark chocolate. The cocoa content of commercial dark chocolate bars can range from 30% (sweet dark) to 70- 80% for extremely dark bars.
White Chocolate: White chocolate gets its name from the cocoa butter it contains, but does not contain chocolate liquor or any other cocoa products. As a result, it has no pronounced chocolate taste, but commonly tastes like vanilla or other added flavorings. By law, white chocolate must contain a minimum 20% cocoa butter, 14% milk solids, and a maximum of 55% sugar.
Now that we know the technicalities, let's go on a tour around Lebanon hunting the finest chocolates. Mind you we have dozens of great chocolate brands in town, and trust me each one has a certain flare of taste to it... But it's near to impossible to try them all... But to give you an idea let's check out some of the chocolates in town.
La Cigale, the famous pastry shop and hotel located on the Zalka highway, offers a large selection of chocolate bites. Two families, each with more than 40 choices. The Maison collection is the artistic line, with special shapes and filled with many different flavors. The wrapped collection uses the same chocolate recipe offering chocolate bites that can be offered or preserved as you like.
To create these state of the art pieces, Carma, a Swiss chocolate is used. I tried many of their chocolates, but my favorites are a simple dark bite, chocolate with rum, and chocolate with almonds. I loved the sound of this chocolate as it broke in style and its texture, that's fine and enjoyable. A good chocolate indeed. I'm not a fan of all those colors and decorative designs but anyway, it seems people love them. They might look commercial, but they surely don't taste like it.
I've always wondered how to spell Galler. Is it with an é at the end, or more of a ère? The person who founded this chocolate house was Jean Galler, spelled with ère. Recognized as the official chocolate of the Belgium monarchy, Galler is indeed a superb chocolate. Recently opened on the Zalka highway, you are welcomed into a beautiful setup that smells of luxury.
Colors decorate the walls and a display of different chocolates makes you drool. Choose one of the 36 different choices filled with many interesting mixes. The best part is their simplicity, simple squares, which only look simple until your lips touch one of them. It's worth noting here that Galler's only shop is now in Zalka and sells chocolate as well as bars which can't be found anywhere else.
A cafe/restaurant is now open on the first floor, offering signature items including chocolate waffles and chocolate drinks.
I'm not a milk chocolate fan, but Galler will make you change your mind. Try the milk chocolate with salted caramel called bruges, or the other with curry. That's heaven!
To have a general idea of it all, the apricot made my day, the speculoos is exceptional... What caught my attention is the extremely refined 70% dark chocolate.
As a dark chocolate lover, I noticed the Galler cube, the one with a dark chocolate ganache; let's say simply that it was an amazing experience. I loved everything, every single bite, every aroma, every flavor. A certain unmatched finesse takes over your taste buds putting a smile on your face... Just deposit a piece on your tongue, press it over your palate and prepare for it to melt.
The Zalka highway might be renamed the Chocolate highway. Remiel, another chocolate provider on the road, has been open for the last 4 years and is specialized in everything chocolate. More than 30 choices of wrapped and unwrapped chocolates are displayed on a long bar. My journey of taste started with a dark chocolate and almond mix, which I really enjoyed. A good Belgian chocolate, the name of which was not revealed. I liked how the chocolate melted immediately on the hand and how the pieces were beautifully crafted.
I asked to try two milk chocolate choices which, to my surprise, were enjoyable for me, a person who usually doesn't appreciate much sweet chocolate. Creme de noisette is a smooth heart of milk chocolate wrapped with a hard envelop of dark chocolate. Dark chocolate at Remiel is usually 70%. The milk chocolate with truffe au chocolat is as good as the other one, smooth, soft and gentle on the palate.
After having their factory in Zahle for the last 15 years, Ethel finally came down to the capital, opening their first display and retail shop on the Zalka highway. They've been open for three months now.
Ethel get their chocolate and butter from three different countries and simply cook tem in Lebanon, calling it a Lebanese chocolate. The shop is a perfect first impression. A large space, well lit with a white spirit, welcomes you with walls covered from fall to ceiling with chocolate. More than 75 different flavors are on sale here, from milk, white, dark and whatever comes in between as well as 12 choices of unwrapped creations. I liked their light selection, colorful bars to take home.
In this classy setup, dark chocolate has a silver wrapping, with brown wrapping for the milk, look for the silver ones.
The dark chocolate used is around 65%, and we started a journey of taste. Salted butter with cookies is very interesting, not fine dining style but easy for everyone to enjoy. It had nice textures and perfect combinations of salt and sweet.
I wanted more darkness, more richness, so I tried a simple square of dark chocolate, which was firm, had a nice breaking sound and melted slowly on the hand after a few seconds. The same chocolate wrapping a sliver of chocolate ganache is also enjoyable.
Les Gourmandises du Bristol
The challenge at Le Bristol is to simply offer you eight different choices which represent the finesse and professionalism of this institution. Having established their shop in Achrafeh 4 years ago, Le Bristol opens daily offering some mouthwatering cakes, plats du jour and chocolates. Eight kinds, all of which took my breath away.
The innovation, something I didn't find elsewhere, is the addition of Grand Marnier. A dark chocolate envelope filled with a chocolate mousse mixed with this fine alcohol. An interesting after note caresses your taste buds in style.
Le Bristol use Callebaut chocolate to prepare their pieces. Try the Duchesse, which is a cookie of flat chocolate on a bed of almond biscuit with a chocolate cream heart. Awesome!
You want to be amazed? Don't leave without trying the blueberry chocolate. A square of crunching dark chocolate filled with a chocolate ganache perfumed with blueberry. What an extraordinary piece of wonder. And to say goodbye, I had a bite of the signature mandiant, a flat chocolate circle topped with a nut, a bitter orange, almond and a pistachio.
Comptoir Du Chocolat is an innovative chocolate boutique full of colorful boxes and which include original molded pieces of chocolate, made in shapes like screwdrivers, pliers, lipsticks and shoes to colorful ones in pink, white, orange and more... Champagne bubble candies grabbed my attention. With wonderful design objects, colorful creations and easy to grab boxes of chocolates, now sweets have a new address, a new brand to compete with the fine creators of chocolate.
I enjoyed some of the creations I tried. Pistachio: A square piece of dark chocolate with a layer of green pistachio, topped on a thick layer of chocolate mixed with crunchy bits of nuts. I liked the way the filling occupies half the square leaving space from an adequate quantity of chocolate. Chocolate Diet: The real flavor of chocolate, without the calories. Ginger: A square piece of layered of chocolate is topped with another layer of chewy ginger that adds an interesting aftertaste without diminishing the chocolate flavor. A beautiful aftertaste stays around your palate afterwards, tickling your taste buds and making you crave for more. Cotton candy: Inside a piece of cone-shaped milk chocolate is white barbe a papa. A thin layer of chocolate protects a generous filling of white cotton candy. Just imagine soft cotton filaments melting in your mouth, while the chocolate bursts with flavor. I enjoyed it without the feeling of a sugar overdose.
I walked around this chocolate paradise, eager to learn more about what the other floors carry. On the first floor, you'll find fine crystals, home accessories and decorative items for sale; on the second floor parents and couples come in to prepare for their special events; the third floor is where the corporate sector is handled and on the last floor, you will find tableware marvels.
Patchi chocolate creations span over 50 flavors crafted with true love and passion exclusively for the palate of chocolate aficionados. Every piece is an absolute treat on any occasion. The creations are endless... imagine an exquisite marriage of tantalizing chocolate and dried fruits, gianduja, loukoum, nuts and so much more, made of the finest ingredients and free of any colorings or preservatives, my tasting session was a trip out of this world…
My favorite pieces: Dark Rocher: A select offering of whole caramelized almonds covered with an intense coat of dark chocolate. If I had to choose between this and the milk chocolate, I'd definitely go for this one, where the taste of chocolate is felt with no sweetness. The texture of this piece is interesting. Parfait: A unique experience for the senses with dark chocolate and a sumptuous caramel truffle center. Unique indeed! Inside this thin square is a majestic cream of intense savory caramel, which pairs perfectly well with dark chocolate. This piece is distinguished from the others by its round borders. Biscuitine: The perfect platform for milk chocolate, one that hides a crunchy layer of wafers. Unlike the other piece, this piece boasts one big logo engraved in the middle. The crunchy wafer inside releases a disappointing buttery and oily taste that covers the softness of the wafer and strength of the chocolate.
I loved the fact that the pieces are perfectly created. Attending to the tiniest detail, each is mastered to perfection making every piece a little jewel. The chocolate and its content are sculpted to perfection. You feel that they were created just for you... The sizes and corners of the pieces are just perfect. I was amazed by their borders and their content - mastered to perfection All the pieces are engraved with the Patchi's logo in different sizes depending on the design. I ate more than fifteen pieces and didn't feel any heartburn or like I'd had too much sugar. Just close your eyes, and you'll feel each of the ingredients used as the chocolate melts over your tongue. My favorite is the Chocolate Parfait, which combines the finesse of a dark chocolate and softness of a strong caramel filling.
To make a long story short, know that we have in Lebanon some fine chocolate makers putting much effort in creating some mouthwatering innovations. Names like El Baba sweets or Abdelrahman Hallab, renowned for being oriental sweet leaders have today as well adventured into this segment.
On another hand, we can't forget about the pastry shops; those famous pastry shops like Noura, Cannelle and Pate a Choux, other than producing mouthwatering cakes have also fine chocolates that are not to be missed.
The names are endless and the choices as well. Alpina or Dandy for exemple, born for the last half a century, are still producing magic despite the new openings around.
Now that we know, let's support our local producers, trying to make an impact by satisfying our taste buds.
There are two special things about Desir Noir: The first is that they are the only exclusive dark chocolate producer in Lebanon, and second is that their creations are truly, truly tasty. Lamia Salhab has created not only a chocolate shop, but a culinary atelier that welcomes guests for dinner or lunch to privately organized events. You can book your class or a meal by contacting Lamia. After producing chocolate at home for the last ten years, Desir Noir opened a shop on the Zalka road in 2010. More than 24 flavors await, 24 dark chocolate flavors, all worth trying, piece after piece: Orange, coffee, amareddine, lavender, blackberries, cherries and more.
The lavender pieces have an exceptional aroma, the coffee is so intense it made me fall in love with it and its long lasting aftertaste. The fig chocolate is just something you have to try, just imagine a chewy fig inside wrapped with dark chocolate. Don't miss their sable with a dark chocolate layer.
Born from a flame that grew over the years, M de Noir offers an assortment of noble confections made with grand chocolates and opulent ingredients that are crafted with the utmost care.
M de Noir started in 2011, using the finest chocolate ever, Grands Crus, which Maya Maalouf Kanaan imports from Europe. After getting an MBA in marketing this passionate entrepreneur studied desserts and chocolate in Paris before participating in Le Salon du Chocolat in 2014, where she won an award, a grand prize that putt her in the 2015 guide "L'espoir Etranger". She was also chosen as one of the 22 best international chocolates.
I was offered half a dozen choices to try, each made my heart skip a beat. Meske, margelaine, truffle arak, blanc Cointreau, salted caramel, baies rose, black salt... Impressive: The finesse, the smoothness, the alcohol... The content, each step of the tasting experience was extraordinary! Each trip starts as the little piece of chocolate melts on your tongue and you feel the quality and class of the chocolate, afterwards the aromas take over, preparing you for best bit. Alcohol or saltiness comes next, and your brain might well reel with the shock. Yes, it's shocking!
Anyway, you might think I'm exaggerating, so please go try them for yourself. M de Noir reinforced my belief in this county's potential for innovation, creativity and class. Maya Maalouf Kanaan has won the Club des Croqueurs du Chocolat's "Espoir Etranger" award, conferred at the Salon du Chocolat in Paris on October 31, 2014. Maya is the very first chocolatier from the Middle-East to win such an award... and she deserves it.
I came across a place called Truffle Chocolate on Instagram. To my happy surprise I found them at Le Salon du Chocolat. I was so excited to taste and feel their creations… And let me tell you that they do have good chocolate truffles.
In 2012, a truffle story began. Today, the shop offers a selection of more than 30 different truffle choices of which maamoul mad, dark chocolate, classical, hazelnut, cashew nuts, cheesecake, and many others, reimagine our relationship with truffles. The company uses Callebaut, 70% dark chocolate, to make your experience a unique one.
Other than that, you can choose between wrapped and unwrapped chocolates, a large collection, which includes chocolate-dipped sablés, biscuits filled with chocolate cream and enveloped within a layer of dark chocolate. I also enjoyed the white cones, filled with rose water, pistachio and white chocolate. Even though I'm not a fan of that white thing they call chocolate, I enjoyed the sweetness and smoothness of this cone, which melts aromatically. Their truffles are all good.
Intense in flavor, they melt under the teeth in style. I loved the dark selection and the aromatic creations, with had a sure Lebanese touch.
My favorite two would be "M de Noir" and "Galler".