Now that the right side was done it was left side turn. On the left side, the places are McDonald's, Burger King and KFC with Chopsticks, Kababji and Shawarmanji, as well as Zaatar w Zeit.
City Centre Food Court, Review 1
Let's start with the burgers. The idea was to compare the fish filets. McDonald's staff is more welcoming and understands their menu items better. I asked for a regular fish filet on the tray for a better-looking picture with Diet Coke and fries. The fries fill the box generously, tasty fries with some salt. The burger is simply a favorite, a super tender fluffy bun with a tender fish filet and a light crispy envelope, with a slice of cheddar cheese. The soft drink was fresh and tasty with lots of bubbles. The meal was for LBP8,500.
Burger King... I had fun. "Please, I need a fish filet sandwich". Sorry sir, we don't have fish filet. "Again, don't you have fish sandwiches?" I ask. "We do," the boy replies, "and we have filets not combined!" I didn't know what he meant, but all I know is that he needs more training. The fries were extremely stingy but they had a homey feel and taste good. The soft drink is water and sugar, no gas. The burger has nothing on its rival. A fish filet tasting fish with a thick and unpleasantly crispy envelope, local sour pickles that don't fit the sandwich and lots of crunchy lettuce. It is a fulfilling sandwich that lacks finesse and lightness. The meal is for LBP10,000. I personally preferred McDonald's.
At Shawarmanji you see two shawarma skewers rolling but unfortunately the sandwiches are not prepared in front of your eyes. The sandwich, for LBP6,750, contains more bread than meat. Shredded meat in small pieces feeling like a purée, tarator and a hint of tomatoes. What I tasted were the spices, nothing else, an overdose of spices. In my opinion, it is unacceptable to have the Shawarma, in our local culture, not being prepared in front of the customer. Seeing it happen is a guarantee of cleanliness and the use of fresh ingredients.
Kababaji needs 15 minutes to prepare two sandwiches. LBP7,500 for an Orfali sandwich. But wait until you try them, they really are heaven. The minimalist sandwich will put a smile on your face. The aromas and flavors, the super tender meat, light salt, hummus and a subtle crunch of pickles. It is indeed excellent. Kabab... A very strong spiciness awakes all your senses: prepare a Coke and the fire brigade. Way too much: That's a dangerous sandwich that can kill a kid. Good quality kabab, hummus and pickles but the spiciness made me eat ice to stay alive. I like spicy, but this is more of a joke.
At Chopsticks, the manager was "Whatsapping" his friends and listening to voice messages while standing behind the counter. Not smiling and surely not feeling like working that day, his effect was contagious on the staff. We ordered the meal, a beef plate with corn rice, spring rolls and a soft drink. The staff is repulsive! The meal is fulfilling, a large portion of rice and with that a juicy sauce where strips of meat float, carrots and mushrooms. The meat is very tender, like gelatin, but the meal feels like a plat du jour. The extremely oily spring roll has no taste: I believe they expect you to dip it in this salty soy sauce that masks all the flavors but makes the spring rolls edible.
At Zaatar w Zeit you'll find one of the most expensive sandwiches in town, priced at LBP11,000 and it is indeed miraculous. Expensive, but amazing. Sundried tomato dough, tender like a pillow and served warm is filled with crispy bacon, melted Halloumi shredded in small pieces, sliced tomatoes and mayonnaise. It is indeed a masterpiece. I love this magical combination where the bread embraces a molten heart of ultimate juiciness while the tomatoes add a touch of sweetness and refreshment to the mix.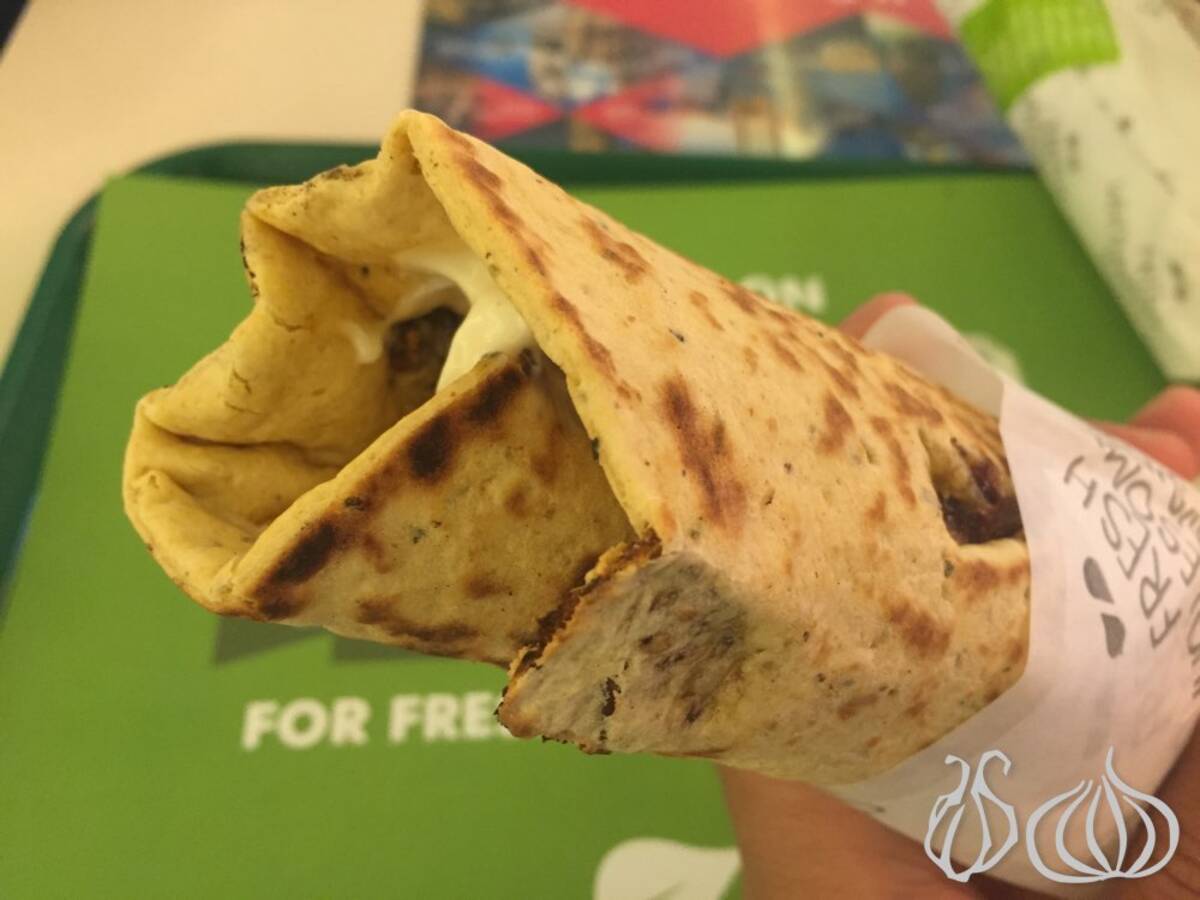 KFC. Probably the most crowded stand of all serves the masses. A ridiculous portion of uncooked fries, a chewy bun and oily chicken strips. The meal for LBP15,000 is extreme junk food, which I never crave. The strips are usually fresher with a firmer feel, the fries should be fried more, the bread is nothing to write home about and the salad contains sugar that makes it tasty.
I really enjoy this game, the game of choices and tastings. I love how this food-court is always loaded with hungry customers coming here to eat something satisfying. Some are good, there's bad and some disastrous resulting in people eating really low quality food.

Moving from one counter to the other made me remember Souk el Akel. I like it here.