When I heard that Comte de M got a grade of 92/100 from Parker, I rushed to buy myself a couple of bottles, in fact four boxes. I always believed in Comte de M, especially the 2002 and the 1999 vintages, which were exceptional. I remember buying the last bottle of 1999 from Kefraya at 190,000L.L back in 2006, or 2007 maybe. These wines that have impressed the world and put Lebanon on the international map will surely double and even triple their price soon.
I was recently invited to Les Caves de Taillevent for a comparative tasting between the 2006, 2007, 2008 and 2009 vintages, and spent a memorable evening, especially because the 2010 offering was revealed for the first time. Asking around, I felt that 2010 was promising, and that Kefraya expects higher grades than 92/100. Why Comte de "M"? "M" stands for Michel de Boustros, one of the brand founders. Fabrice Guiberteau, Kefraya's famous Enologue, introduced the wines and suggested we start with the oldest and move to the newest. This vertical tasting would allow us to understand the past and prepare for the future.
What you have to know about Chateau Kefraya's Comte de M:
The vineyards are left without irrigation
Planted at an altitude of 1100m, they have a certain uniqueness
Precision is used when extracting the grapes, while sophisticated machines laser the impurities. In Lebanon, this machine is only available at Chateau Kefraya
Fermentation and aging is done in wooden tanks?¥ The wines are so rich that they smell of the smokiness and richness ofoak wood
Fresh and non-acidic, you should open the bottle an hour or two before you enjoy its notes of heaven
Chateau Kefraya is the only wine available for sale at Les Caves de Taillevent, France
Today's tasting notes:
?Cabernet Sauvignon and Syrah: Fragrant, bountiful, chocolaty notes yes, but floral and lifted with very ripe and rich berries. The palate has a juiciness and a big core of creamy black fruit, but again that lovely tannic structure is silky and chocolaty, with a long, fresh finish focused on dry extract fruit characters. Quite serious stuff, and should age well.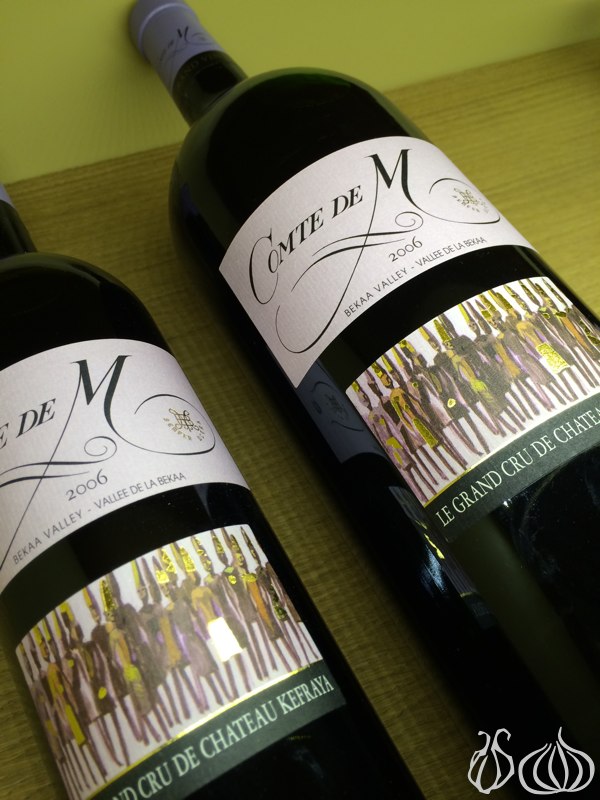 Château Kefraya, Comte de M 2007
More Carignan and Mourvèdre here. A slightly more tarry, animal touch to the nose, but some floral and exotic lifts too, the oak was a little more to the background. The palate has delicious juiciness, the freshness and fullness of the fruit is excellent, but the tannins really grip, drying the front of the mouth and along with the good acidity, spices and the tastiness of the oak, a complex and very satisfying finish here. The 2007 edition is stronger, more acidic with rich fruity notes. It's a dancing bouquet of flavors.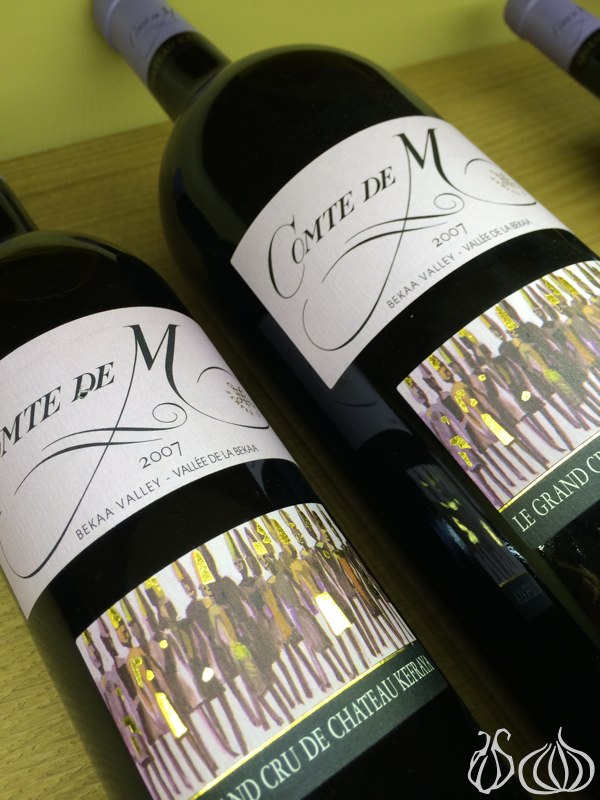 Château Kefraya, Comte de M 2008
Cabernet Sauvignon and Syrah, a touch of Mourvèdre and Carignan, a selection of the best vineyards at 1,100 meters. Aged in all new French oak. Lots of spicy oak here, lots of toast and a touch of marzipan, quite buttery. The fruit has a lovely dry extract richness and smoothness, with plum and cherry melding with tobacco notes and some chocolaty density to the tannins. Smooth, rich and very young. A certain complexity is felt, full of richness, thanks to a knowhow that has been around the Château for decades.
Château Kefraya, Comte de M 2009
The quintessence of the oldest vines of Château Kefraya, this wine derives from a skillful blend of Cabernet-Sauvignon, Syrah, and Mourvédre, aged in French oak barrels. It is already considered the greatest vintage wine of Lebanon. In color, deep and intense purple red, Comte de M 2006 expresses a complex bouquet mingling cedar, havana and the aroma of black fruits (blackberry, blackcurrant and redcurrant). Rich, dense, voluminous, concentrated, it develops in amplitude in the mouth and ends with the tang of vigorous and fine tannins. Given a 92/100 by Parker, this is considered to be one of Château Kefraya's finest wines.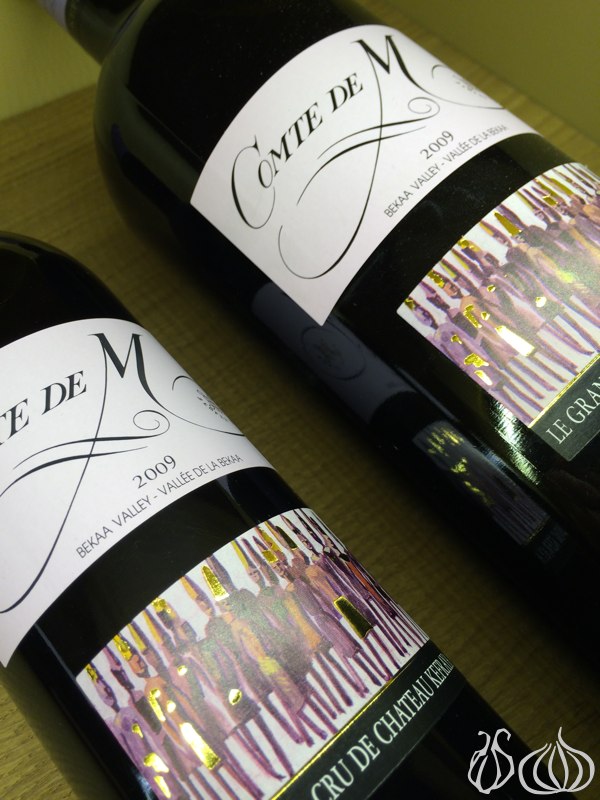 Château Kefraya, Comte de M 2010
Kefraya is staking a lot on the 2010 edition, believing it to be the best created to date. It's a young wine that's still dry but moving to be even better than the 2007 edition in two years time. The 2010 edition has a certain finesse of its own, with the purity of fruit notes felt in every sip, while an evolution transports you as you reach the bottle's bottom. Château Kefraya worked on producing a local wine, a pride to Lebanon and surely not a copy of Bordeaux wines. Since it's still young, the 2010 gives off a strong alcohol vapor and has an intense, dry feel. Give it a couple of years and this edition is expected to receive higher reviews than the 2009's 92/100. It's the wine of the future, as the owners like to name it.
Michel Bettane:
« C'est très joli. Le vin est très élégant et très frais. Le tannin est fin, le boisé aussi. Il n'y a pas d'éléments cuits. Beaucoup de fraîcheur dans les arômes et la texture est assez suave. Le vin est très pur sur le plan œnologique. Je n'aurai jamais mis ça au Liban, en revanche. Cette élégance, j'aurai mis ça à Bordeaux. Il y a une grande évolution par rapport aux millésimes précédents. Excellent vin. »
An interesting evening filled with new discoveries as we anxiously wait to discover the 2010 edition in bottles.