I must say, every time I hear the word "Jbeil", my eyes start to sparkle! Among all the hotspots in this enchanting city, one is definitely not to be missed.
Trust me when I say:
If you haven't been to
Feniqia
, you are missing out on a lot!
As soon as you reach Feniqia, you will notice the crowd, waiting at its doorsteps, fighting over a table with a waiting list of an HOUR & A HALF! People were actually sitting across the street, waiting for someone to pay their check and leave so they can get his table! My friends and I managed to get seated, and ordered the following:
Tabboule
Hummus
Garlic labne
Chanklich
Cheese rolls
Fries
Chicken liver
Taouk platter
4 Beers
While waiting for our food, i couldn't help but admiring the interior decor of Feniqia! Wooden table with empty middle space to slide in the food trays, metal hooks hanging from the ceiling over each table to carry extra dishes and not to crowd the table with mezze dishes (clever indeed!) Few minutes later, a wooden tray landed on our table holding: labne, thyme and olive oil, green olives, bread and a small "saj" to heat up your bread!! This is truly exceptional!!
Finally, food is here! You may think I'm exagerating.. believe me im not! A 3-letter word can describe our experience, simply: YUM!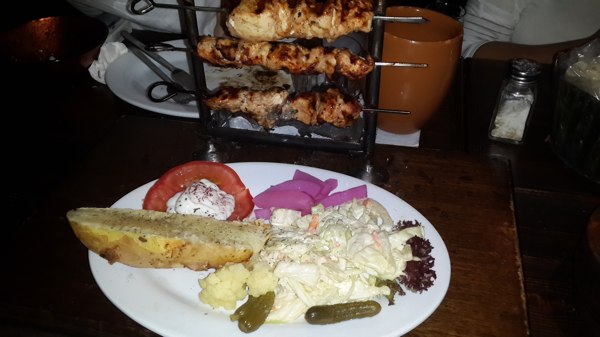 Exquisite presentation, fresh ingredients, perfect seasoning and generous dishes! The chicken liver melts in ur mouth like butter, the taboule is so fresh and crunchy... but the star of the dinner was definitely the Taouk! Just WOW!
Presented on a wooden plate with a mini charcoal bbq, metal stand with 3 skewers that you can roll and heat right before your eyes!!! Talk about innovative presentation and fresh food! These tender and moist chicken cubes are so addictive that you simply can't stop!
Not to forget the cherry on top of our dinner, 4 cold almaza beers presented in big frozen pottery cup to keep them Cold for the entire dinner! it was the best beer i've ever had! What else do you expect from a restaurant run by an owner who works hand in hand with his staff, bartending, DJ-ing and singing with his visitors. At the end of our dinner, we received complementary "arak" shots and mouth-watering lemon sorbets to enjoy using a cinnamon stick!
Next time you head to Jbeil, make sure you visit Feniqia for lunch or dinner, you really don't want to miss it!