Food Blogger Connect (FBC), was founded in 2009, and is Europe's first, biggest, & leading food blogger's conference & forum for food bloggers and food industry folks, bringing together award-winning, star-profile, guest speakers and attracting bloggers from all over Europe and beyond (Canada, America, Singapore, Brazil, India, Russia,UAE and Lebanon), making it the only food blogging conference that is truly international in scope. For the last four years, FBC has set the standard and helped to build a tightly-knit community, proving to be a highly valuable forum for information exchange and priceless networking opportunities.
The Venue: Formerly the Lambeth Ragged School, catering for destitute children, it combines modern amenities with original touches, including a space set in the raw urban aesthetic of a double length Victorian railway arch. The other areas are bright and airy, full of natural light and perfect for the photography workshops, while there is ample room for everyone one to mingle and, of course, connect.
The Interesting First Day's Program: The ABC's of writing, Finding Friends in PR, Recipe Plugins for Blogs, Taking Blogs Mobile, Oi, Who Wrote That Recipe?! – Elements of Recipe Development Writing, Food Blogger Tools and Selling Me, Myself, and Everything.
Sponsors and Interesting links: MyOrganic, Whisk, Champagne Jayne, Pistachio Rose, Joe's Tea Company, Vitamix, Moo.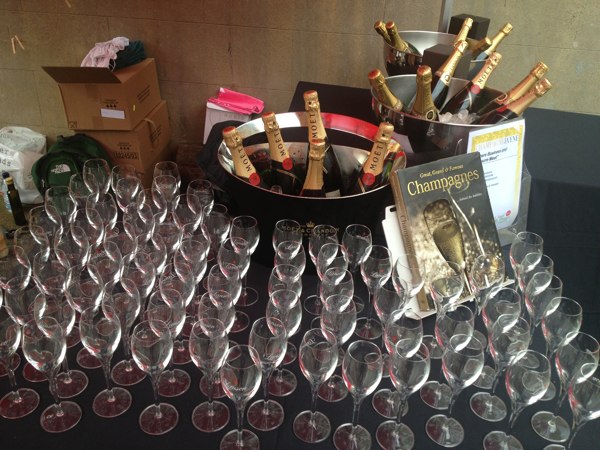 Interesting things I learned:
At the conference I met Jayne, award winner of Best Champagne educator of the year 2012 and we had an interesting discussion about Champagne differences, tastes and flavours.
I learned about the Royal warrants:
Where there are Royal Houses in existence today, there are Royal Warrants. The most notable is the British Monarchy, who has awarded these to note the champagnes it prefers.Such a warrant provides the purveyor the right to advertise that they supply the royal family. "The British Royal Family grants Royal Warrants to suppliers who have provided reliable, high quality products & services over the years. It is a great honour for these companies to hold Royal Warrant. The Royal Warrants are not in perpetuity." Basically they acknowledged the best products of the U.K. HM the Queen and HRH the Duke of Edinburgh and the Prince of Wales currently grant the British Royal Warrants. Champagne Bollinger was the first brand to receive this Royal Seal of Approval in 1884 by Queen Victoria. "Actually, Bollinger has long been a favorite of British royalty. Champagne houses holding British Royal Warrants —Louis Roederer, Pol Roger, Veuve Clicquot, GH Mumm et Cie, Laurent-Perrier , — Bollinger received its first Royal Warrant from Queen Victoria in 1884, and again from Queen Elizabeth in 1955." For Queen Elizabeth II's Golden Jubilee in 2002 Champagne Lanson supplied half bottles of champagne for picnic-goers at the Queen's Golden Jubilee concerts, and for the 2012 Diamond Jubilee Lanson is the official champagne partner of the "Big Lunch" community initiative organised by the Eden Project . Thanks to an amusing wartime annecdote Moet & Chandon (founded 1743) also became a favourite with Queen Elizabeth, The Queen Mother, so its no surprise that Moet & Chandon has been chosen to supply bottles of limited edition Diamond Jubilee Cuvee Brut Imperial for the 10,000 guests at the Queen Elizabeth II's Diamond Jubilee Buckingham Palace picnic and concert on Monday 4 June 2012.
Tasty Bites and drinks discovered and tried today:
- Delhi Chocolate chunk mix (sweet chocolate pieces, chips, pistachio and a background spicy finish). Delicious! "Our Delhi mix is inspired by the indian street snack "Chevdo", sold in special places such as New Delhi train station, where the incoming Rajdhani express train sees hundreds of commuters run off to buy this tasty snack before their train leaves without them. Our range uses only authentic Indian ingredients & flavours, infused with a zing of the British spirit."
- Pistachio Rose: Pistachio Rose Baking Boutique produces the finest products, combining age-old family recipes with modern baking techniques. We are dedicated to proving that Indian flavours really are delicate at heart and with careful balance, can create the most elegant cakes, light & airy biscuits and crisp & crumbling pastries. Extraordinary!
- Joe's Tea Company: You can be sure as milk & two sugars that Joe knows tea like nobody's business. With a quenchless passion for the quality cuppa, he's travelled the world in search of the finest infusions and most blissful blends known to man. Remaining true to the British brew he keeps it simple: proper organic whole leaf tea in ten tasty blends, encased by good-to-go fuso bags (you know… the posh pyramid ones that mean you don't need a tea strainer). Just add a splash of good humour, a sprinkle of friends and it's totally tea-time. Generous, Aromatic and Fresh!
- Cawston Press: We pride ourselves on being master blenders. At harvest time we pick the finest fruit brimming with flavour and then press it immediately, artfully combining different varieties to create beautifully balanced blends of apple juice bursting with healthy goodness. A new enjoyable taste!
More to come tomorrow and the day after. That is only the start...
Read more about TheLondon's Culinary Experience, Day1 and Day2