Here are a few gift ideas I wouldn't say no to and am sure the followers of NGNO feel the same... Your thoughts?
Corkcicle:
Chill wine from the inside. Corkcicle is an easy way to chill wine without having to tote an ice bucket. Simply open your pre-chilled wine bottle pour out just a sip's worth to avoid overflow and insert the pre-frozen Corkcicle. Remove the Corkcicle from the bottle prior to pouring. Hand wash and re-freeze for next use. Use Again And Again The beauty of Corkcicle lies in its easy-to-use design and simple care instructions.
1. Prep - Unbox Corkcicle & remove protective wrap. Place in freezer (for at least two hours) Pour first taste from bottle to make room for Corkcicle.
2. Use - Insert into chilled bottle. Enjoy entire bottle at perfect temperature. When removing simply tap Corkcicle on inside top of bottle to avoid dripping.
3. Clean - Wash and rinse in sink.
4. Re-Use - After cleaning return Corkcicle to freezer. Re-use over and over again. Corkcicle keeps your chilled whites at perfect drinking temperatures.
It keeps your lighter chilled reds at perfect drinking temperatures. And it even brings those heavier room temperature reds down to more suitable drinking temperatures. Corkcicle really does make it easy to experience any wine at the perfect temperature every time. Visit our blog for more information about proper wine service temperature.
Cognac Glasses
How about a nice cigar with a glass of Cognac. Ultimate gift for the Cognac lover are these special designed glasses by Norman Copenhagen. Normann Copenhagen's Cognac glass combines classic function with modern design. The glasses are constructed to highlight Cognac's aroma and their design yields the optimal temperature and volume.
Looflighter
Developed by Swedish inventor, Richard Looft, the Looftlighter ignites wood or charcoal in less than 60 seconds with its patented hot airstream process. It makes charcoal barbecue preparation quick, clean, safe and easy, without the need for lighter fluids. Igniting fires and BBQs now takes just a few seconds. You can use the Looftlighter to speed up the heating process of your coals so that your BBQ is ready for cooking in just a few minutes.
The patented hot airstream process eliminates the chemical taste that sometimes is infused in food when using lighter fluid and gas grills. BBQ chefs are now achieving the clean taste of their grilling and smoking recipes. The Looftlighter does not throw flames, but instead blows a hot airstream at 1,256 degrees Fahrenheit. It will switch off immediately the user releases the On button, and is equipped with a safety casing that cools to the touch within a few seconds after use. Simply plug the Looftlighter into a wall socket, and touch the nose of the lighter to your wood or coals. In about 15 seconds sparks will appear.
Hot Pot BBQ
If you like BBQing but you have limited outdoor space, —it's hard to fit a grill on a balcony without creating an eyesore or taking up all available room. Unless, that is, it's the Hot-Pot BBQ, a grill that's cleverly disguised as a terra cotta pot, complete with a place to grow plants. Designed by Dan Black and Martin Blum, the Hot-Pot BBQ looks like any other large terra cotta pot—until you lift off the top to reveal the metal grill. Remove the grill, fill the stainless steel liner with charcoal, replace the grill with the stainless steel tongs, and you're ready to start cooking.
Whether you're sitting on your patio or relaxing by the pool, the Hot-Pot BBQ works great anywhere you want to grill without dealing with outlets or moving a full-sized grill.
Salt&Pepper Cell Shakers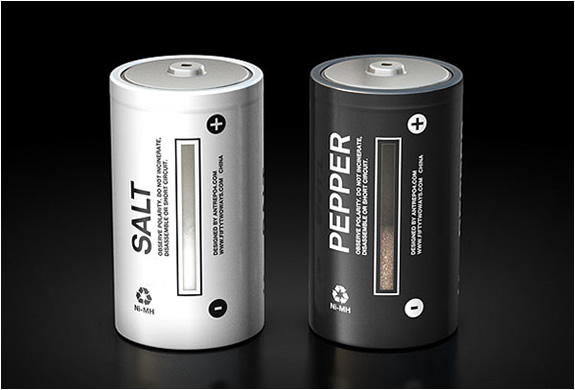 For us tough men who like design in all its forms... check out these salt and pepper shakers from Fred and Freinds. You can take them to work with you and it will blend in nicely with all your work papers and so on...
There's much more out there... Enjoy!