In the heart of Amchit, a town situated between Byblos and Batroun is a small bakery that's twenty one years old... It's not just any bakery but one that offers all things unique. This is a story of the Zgheib family, a united group of women who wake up daily with one single aim: "Preach the best of Amchit's culinary heritage." I know that this, is not a new place, but after trying their tasty wonders I realized how much I have missed in my life not having tried it before... It's worth talking about Al Sabaya.
Al Sabaya have joint forces opening a small shop under their own house. You will be served the food they eat at home. Everything all prepared with the utmost attention to perfection and hygiene.
With my friend Nagi, we visited Al Sabaya to taste their signature item, "Mwara2et Sekkar". I was expecting to eat a simple man2oushe but the opposite was the case. I met the women behind this culinary wonder, Lorenza, Martha and Lucy, who all enthusiastically welcomed me as they told me their story. I wish I could have tasted everything in one session, but we had to stick to some of their important items.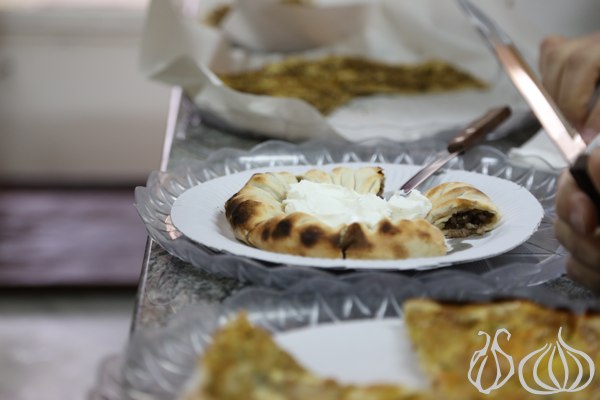 The culinary journey started with a Manouché, but not any man2oushe. Made using brown bread and Zaatar without oil, this is a healthy treat. Pay attention; they don't like the word "diet" in here, but prefer to be referred to these orders as the healthier choice. Afterwards, I asked for a normal one for a comparison,,, followed by a ritual of wonders.
I say ritual, because every sandwich needs time and dedication. The eggs pizza (ors bayed) or even the awarma galette are breathtaking. Just take your time and enjoy the preparation, the way each is rolled with love and cooked with passion. I was uncontrollably moaning... I've never tasted something that good in my entire life!
Afterwards, was celebration time: "the mwara2a was on the way"
On a thin dough, double the size of the Manouché, a mix of almonds, walnuts, sugar, orange blossom and rose water is layered. These are the same fillings used to make Atayef. Take a closer look and discover a special way of rolling the dough inside out to create what looks like a bicycle wheel... very original.
A thin crust that crumbles under your teeth while the filling caresses your taste buds obliging you to close your eyes and scream WOW!
Nothing will describe my feelings... You have to visit them and feel exactly what I did.