One of my favorite desserts is Angelina's Mont Blanc, a creation that can't be described in just a few words but must me enjoyed, ingredient by ingredient, flavor by flavor, bite after bite... This piece of creation has nothing to do with any Mont Blanc you know or have tried in Lebanon or the world.
Angelina's Chestnut Puree Vermicelli Tower is definitely one of the main and important things to try while in the French capital.
Even though I've been to
Angelina, Rue de Rivoli
many times already, I decided to write about this special dessert that I discovered in an awkward place this weekend. While walking along the aisles of Paris airport duty free (Terminal E, K) my heart started pounding as I laid my eyes on Angelina's fridge display in the delicatessen corner. Yes, a fine gourmet creation at the airport. I left everything behind and sat down to indulge in this heavenly creation.
The Mont Blanc is a meringue base piled with extrusions of chestnut purée and filled with whipped cream.
The Austrian confectioner Antoine Rumpelmayer established Angelina named after his daughter-in-law, in 1903. For over a century, the Angelina tearoom has established itself as a high point of Parisian gourmet pleasures, Angelina became a must-not-miss venue for the Parisian aristocracy. There, Proust, Coco Chanel and the greatest French fashion designers were to be found… The decor designed by the famous Belle Epoque architect, Edouard-Jean Niermans, combines elegance, charm and refinement. Angelina is a genuine romantic poem, a quiet and voluptuous venue, between serenity and gourmet pleasure. This creation is simply outstanding: The crème de marron "spaghetti" on the outside is wonderfully textured and flavored – full of chestnut goodness and neither too moist nor too dry, neither too creamy nor too gritty, and neither too sweet nor too bitter, as some other Mont Blanc's can be. My favorite part is the vanilla crème within that melts like butter activating all your taste buds. Yum. And the meringue heart provided a good measure of crispy/crunchy fun, with an added kick of sweetness. That's what I call pure fantasy.
Delicious, delicious gooey gooey goodness . . .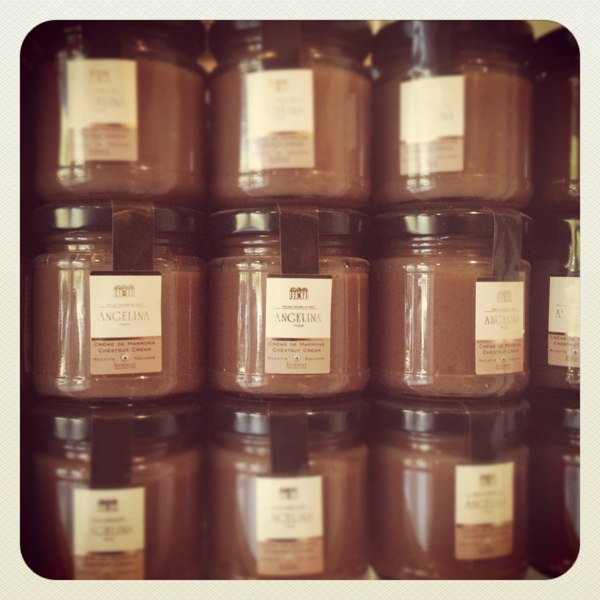 PS: The hot chocolate l'Africain, an Angelina classic! The richness of the famous old-fashioned hot chocolate, together with its small pot of whipped cream, has always delighted young and old alike.