There are moments in life you just feel you want to let go, pull your sleeves up high and plunge into someone else's job, life, routine... and see how things are on the other side. Today was one of those days. I left the clinic and got into the car with my friend Elie and drove around the city... I have heard of this old man called Abou el Abed... no not the guy behind the famous Lebanese jokes, but a man who walks the streets of Beirut pushing his Kaak trolly around. His routine is clear and his accustomed clients wait for him by the minute, if not the second, to enjoy one of his richly prepared kaak. Some like it plain, others with Picon cheese, thyme and sumac, Akawi cheese... whatever your preference be sure it's going to be tasty...
I have been searching for this man for around a month now and finally found him. As we drove around Gemmayze area and asked about Abou el Abed everyone knew who I was talking about. He's famous around here!
Wearing a traditional Lebanese red tarboosh, traditionally red costume with his name in gold thread written across his chest, he stands confidently behind his trolley on Rue Pasteur facing Bank Audi, preparing a round juicy kaak followed by another. He reminded me of the actual character of Aboul El Abed with the way he's dressed... But surely he's a man of distinct character.
I was so excited to have found him. I came closer and met him... introduced myself and with a smile he welcomes me into his humble world. With lines of despair on his face, Aboul el Abed does not wipe his smile from his face... I felt close to him... and wanted to be that humble man for a day... he agreed and gave me a tarboosh to wear. I helped him push the trolly around, I prepared some of the kaak's for customers... and the best part was being able to blow the horns and shouting out kaak kaak...
I learned a lot from this man... The secret behind his success is simple: "Passion and authenticity" is what this man abides by... and has been doing so for the past 30 years. With a big smile on his face, he blows his horns and calls out kaak kaak and watches his clients come closer... everyday... he knows them by name and knows exactly how they like their kaaks prepared...
At 8am every morning Abul Abed fills his trolly with 140 kaaks and walks around Gemmayze until 1pm, he then continues up to Sodeco until the early hours of the afternoon!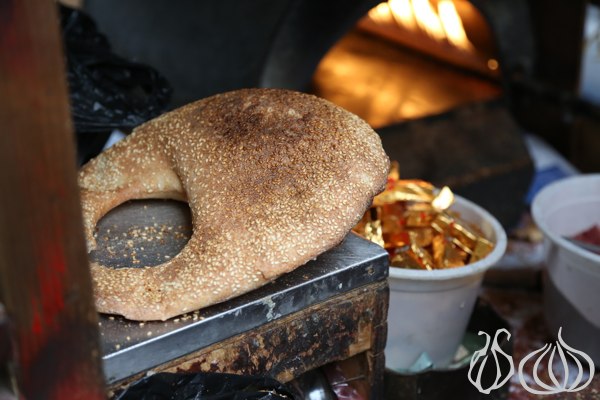 Choose a kaaka or let Abul Abed do it for you before it is preheated in his oven. A few minutes afterwards he puts it on a stainless box. Cuts it open and spreads four Picon pieces on it. Zaatar, sumac and here it goes again for another few minutes into the oven to become crunchy. You can ask him to add two more Picon pieces for 500L.L.
The secret here is the oven, something that no one else has I believe. A small oven inside his nylon covered trolly makes these kaaks the tastiest you have ever had.. I've eaten kaak but believe me these are special. Not chewy and have that salty aftertaste which I love. Every bite is crunchy and rich. After tasting the signature Picon, I asked Abou el Abed to give me something less conventional. Akawi special mix he says: Akkawi cheese, mozzarella and butter, (a mix he keeps with no refrigeration all day long. Thank God I didn't get poisoned because I'm planning on having more of them again soon); a generously rich kaak for only 3,000L.L is filled, heated and ready to be devoured.
Words are not enough to describe the experience for sure. I invite you to search look out for Aboul el Abed who says that once you taste his kaaks you will get hooked... and this is something I can personally guarantee... And thanks a special thanks to my friend Elie who captured the memorable experience on video. (watch the video)