I think so far now you got the picture. I was really hungry most of time during my stay in Algeria, until I experienced some yummy street food. Then I happily discovered Nour El Hani. I think Idri Malika, the person behind this concept should be a saint or a hero - an actually good coffee place serving decent food in Algeria. I must have been dreaming. I looked around many times just to make sure I wasn't still sleeping.
After experiencing days of hunger, eating the same madness around the city, I asked to be taken somewhere special; a nice breakfast place. Nour El Hani was the best choice to enjoy a croissant, a decent espresso, some fresh orange juice in a pleasant atmosphere most importantly in a clean setup. Facing the European Union is a cafe that looks very normal on the outside. The terrace furnished with trendy accessories is divided into two areas, one of which is covered and the other completely opened to the enjoy the outdoors.
A smiling good looking waiter welcomed us as he offered the menu:
Les coupes glacées, les gâteaux glacées individuels, les pâtisseries, le petit déjeuner, le lunch, boissons fraîches, boissons chaudes. The little tiny details are here and that is not something normal in Alger. The place is clean, for example Hippopotamus, the french franchise was not clean. The table setup is professional, the napkins are thick and classy with a fine printing and the waiter's clothes are ironed.
We ordered:
Le Cafe Gourmant (Espresso with three mini cakes)
Le Petit Dejeuner Continental (cafe au Lait, espresso, mini Danish pastry basket, orange juice)
Chocolate Croissant
Butter Plain Croissant
After the first bite, a sensation of relief came to me. I was eating decent food. Yes decent food in Algeria. The croissant is very different than any other I have tasted around the city, baked the European way with layers of bread that are soft and tender. They are not condensed and don't swallow like a concrete block. The cakes as well are good. Good enough to be eaten completely.
I mean I am not talking a "La Duree" quality here but at least it's a decent place in this country. Yes I will recommend it and I will surely pass by it next time I'm around.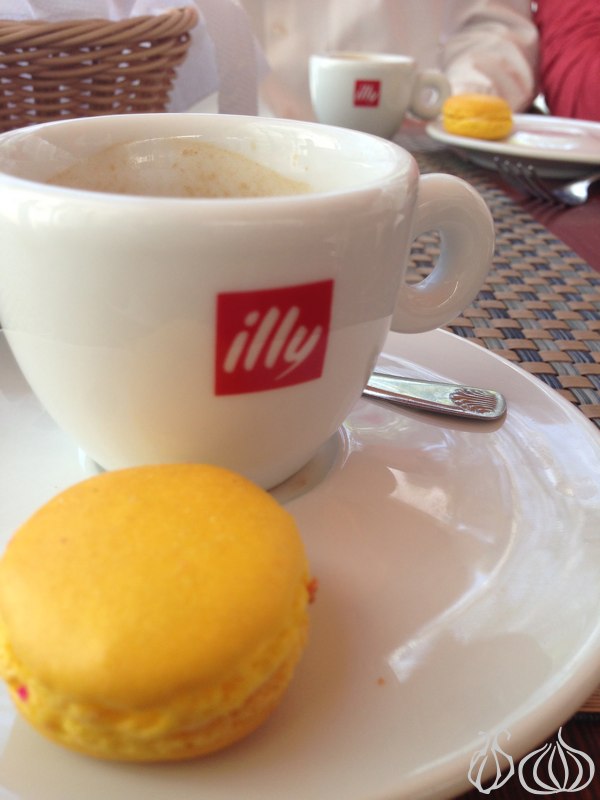 After breakfast, an Italian espresso was waiting. I drank this Illy little cup like if it was a magic potion. And even asked for another to satisfy my craving for tasty aromatic things.
My amazement:
Their Macaron is indeed unique. Better than hundreds I've tasted in different places around the world. Gently crunchy with a note of softness and finesse. They are not too sweet with a mix of all flavors blending perfectly together. A personal note of support to the chef. Bravo. Three mini cake bites offered with the coffee were just good without any pretension: chocolate cream, russe noix, croquant chocolate After breakfast, I walked around the interior to discover who is behind this concept and discovered a clean space, two fridges packed with pastry pieces, an ice cream parlor and a chocolate vitrine.
PS: It is written and spelled ESPRESSO with an "S" not Expresso with an"X"
Nour El Hani has huge potential. With a little bit of fine tuning, some finesse in their presentation, square corners and clean pieces can make of it an international reference, a pastry shop that can change the world's opinion about the Algerian disastrous food. Stay simple; simplicity is key. Keep it going.