A signature in Milan, the Panzerotti is this special bread which one should try when visiting the city. It looks like a sambousik or a pizza calzone but in fact tastes more like a doughnut.
Giuseppina Luini came to Milan from Puglia with her family in 1949 and opened the bakery on Via S. Radegonda 16. She was the first to have the idea to bring panzerotti, a typical stuffed savory pastry from Puglia, to Milan. In the first few years, the business focused on making bread, supplying the most important restaurants and hotels in the city center, but Signora Giuseppina was always interested in the traditional foods of her region. One day while going through the recipes handed down from her grandfather, she found the family recipe for panzerotti.
She began frying up a few. The Milanese initially weren't accustomed to the taste of the panzerotto, but in just a few years, it would become a staple food item.
Today the kids who used to come eat panzerotti after school return nostalgically with their own children. The tradition continues to be passed down to the new generations.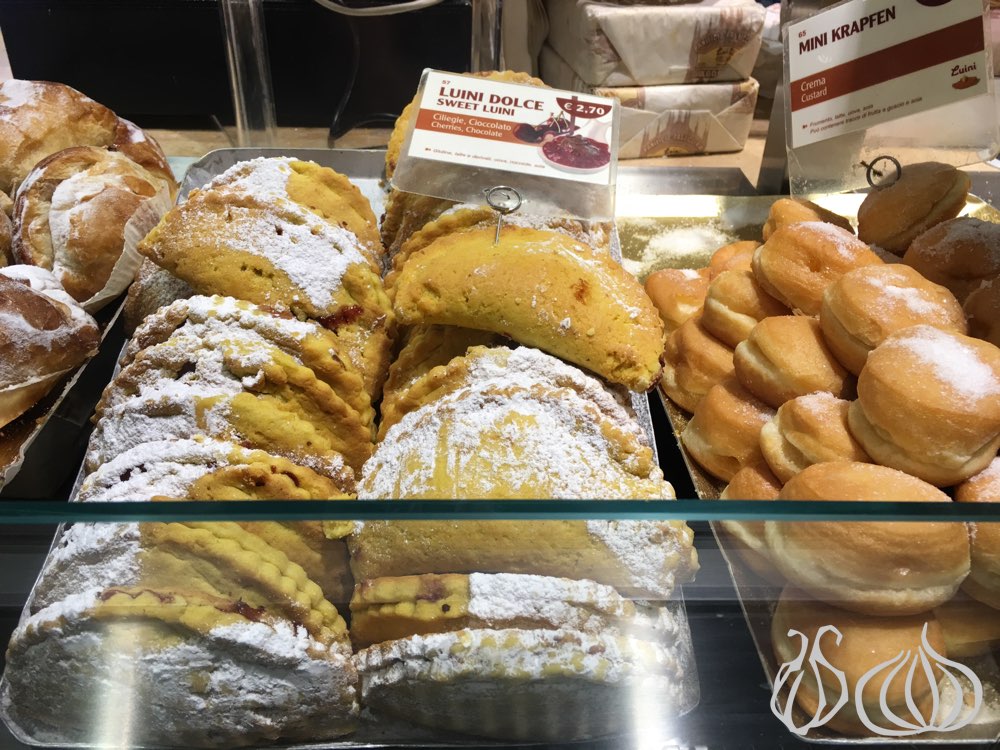 What is a Panzerotti: The Panzerotti is a turnover dough that looks like a calzone, filled with many choices of ingredients like tomato or cheese and fried like a donut. The recipe for the panzerotti dough is a closely guarded family secret kept by Signora Giuseppina's son and grandchildren. All of the panzerotti are made to order and are always piping hot.
Behind La Rinacente shopping mall, a few minutes from the Milano cathedral, in a tight street facing the famous chocolate gelato shop is Luini. A two-door shop with hundreds of customers coming in and out while a long queue waits to be served.
"No photos!" shouts one of the employees... Not the best welcome, but who cares, they are selling thousands of Saborit and sweet pies per day.
I didn't exactly know what to order, so we started with the sweet Panzerotti. A half-moon biscuit stuffed with jam or custard. A thick crunchy biscuit and a small portion of filling in the middle. I didn't find anything special to them and wasn't impressed by the taste, it didn't justify the hype. Looking around, I understood that I had missed the real thing.

We went in again and ordered the tomato and cheese Panzerotti. Freshly fried, fluffy and lightly crispy, the bigger half-moon dough is tender and soft, filled with melting cheese and tomato. Fresh and aromatic, enjoy the smell before biting in to enjoy its flavor. We do have sambousik and I've eaten hundreds of calzone, but this one is different.
The dough has a donut-like feel, lightly sweet, aromatic, oil-free, the ingredients are delicious.
Put it on your list next time you visit Milan.