Passing through such a dirty and old airport, I didn't expect to find a lounge with such impressive professionalism. Coming back from the Dead Sea on MEA Airlines, I decided to have a look at what the Jordanian Airlines ground staff has to offer.
Crown Lounge helps you begin your journey in the right way. Whether you are looking to get some work done, grab a bite to eat, or simply sit back and relax, the lounge puts you in a great place both mentally and physically as you prepare to board. In August 2008 Royal Jordanian opened its new business area, which can handle over 340 passengers. It is located in the South Terminal on the second floor and replaces the previous Jerash and Petra lounges in the airport.
The new lounge is the second largest in the Middle East and provides facilities which include:
A business center, with nine Internet-connected computers: Via the free Wi-Fi available throughout the lounge, a dedicated computer room, mobile phone chargers, and a small private meeting room, business travelers can remain connected to their world while on the move but remember that there are no printers.
Jordanian and international newspapers and magazines.
Isolated room for relaxing
Hotel-like bedrooms: Crown Lounge provides an exceptional place to get some rest before your flight or while in transit. Four sleeping rooms, each named after a natural or historic wonder of Jordan, offer comfort in simple, clean elegance. You can rest with peace of mind, knowing the concierge desk will keep your boarding pass on hand and wake you in plenty of time to catch your flight. For those wanting some peace and quiet without the nap, there is a quiet room with lounge chairs set in a relaxing atmosphere.
Showers.
Play room for children, with TV: Equipped with a television showing kid's programs, games and activities, your children will start the journey off on the right foot. For the big kids at heart there is a games room with a billiards table, foosball (mini football), and boardgames provided.
Games room for adults.
Praying rooms.
LCD screens are installed in the main hall of the lounge.
A smoking area with air-conditioning and ventilation.
Food and drinks with a large and decent high-standard variety. Food is tasty as well.
Library.
Views of the tarmac and runways.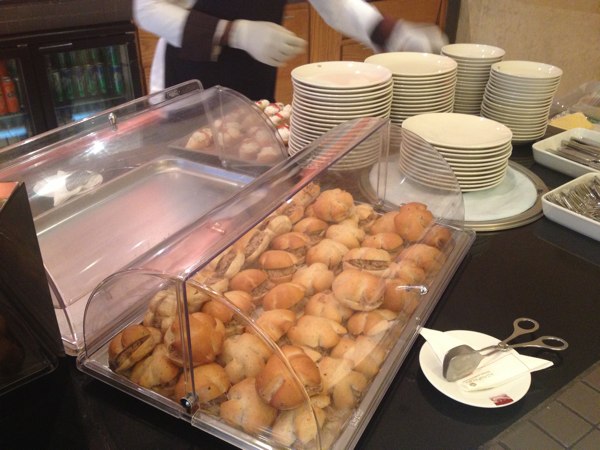 Enjoy a Meal or Snack
Crown Lounge offers a wonderful, round-the-clock buffet serving the day's three main meals, an abundant supply of snacks, fruit, and desserts. Meals include options to suit each passenger's palate, Offering an assortment of hot and cold foods, and vegetable or meat dishes. All meals prepared for the Crown Lounge are healthy and nutritional, helping you feel good while you travel. Beverages include hot drinks such as specialty coffees and teas, and cold drinks such as mineral water and sodas. There is also a fully stocked bar staffed by a professional bartender available.
Don't miss their Turkey and cheddar rolls! They are the best ever.
Individual Comforts
Throughout Crown Lounge you can enjoy a trendy setting of chairs and Loungers, and televisions broadcasting news and sports. Individual viewing stations equipped with TVs offering satellite channels and individual headsets are available for personal or small group use. The classy unit with full selection of local and international magazines and newspapers is complimentary to all passengers in Crown Lounge.
A nice and clean lounge, wide and relaxing that makes you want to come back.