I was in Ireland last week. Remember? The whole purpose of the trip was to attend a wedding celebration. Today's review is on Seapoint restaurant, the place where the wedding dinner took place. Everyone around the Irish capital knows about Seapoint, a casual yet intriguing dining restaurant...And to be honest with you, I didn't expect to eat good food at a wedding event... But I did.
It's a great space, with a wall of windows making the front half of the restaurant feel airy and light-filled, a canopied outdoor space with heaters and blankets and the back part of the restaurant has a very cozy feel with a wood-burning stove and 'snug' tables nestled on each side of the fireplace. But we were not part of the main dining area since the upper floor hosts a space for private events.
Access the place and climb to the first floor where a cosy dining space under the roof is here to welcome you.
The dining space described:
A low ceiling under the roof, creating a cozy space perfect for celebrations
Two cellars add the needed amount of light especially with their chandelier that touches the floor. An innovative architectural creation
A wooden floor cover the space
A bar to the left, serves guests with their demands
A music stand for a band on the right corner of the room
Wines to accompany our dinner:
Le Versant, Pinot Noir, Pays D'Oc 2012: The vast southern French Languedoc region has some ideal spots for growing the finicky Pinot Noir grape, many of which contributed to Le Versant. It's made at the oldest co-operative cellar in France (also voted 'The Best' by Le Revue du Vin de France). Smooth and aromatic with bright red berry quality, it's ideal with red meats, duck and cheeses.
Le Versant, Viognier, 2012: Expressive nose of ripe apricots, juicy peaches and tropical overtones. Enhanced on the palate with rich stone fruits and an uplifting citrus acidity that flows into a lingering finish.
Let's enjoy dinner:
Warm Goat cheese salad, crispy puff pastry, red pepper salsa:  A salad cut in small pieces covered with a warm cheese slice and decorated with shredded red onions that make all the difference. On the sides, the crispiness of the puff pastry adds the needed style. Different textures and an enjoyable sweetness
Tian of Crab, apple & celeriac remoulade, Thai dressing: Very well decorated and looking mouthwatering, with clover leaves making the plate look Irish. A lovely and tasty plate
Mackerel smokies, fennel & tomato, coolattin crust, toasted garlic ciabatta: My mother in law chose to have them and simply adored them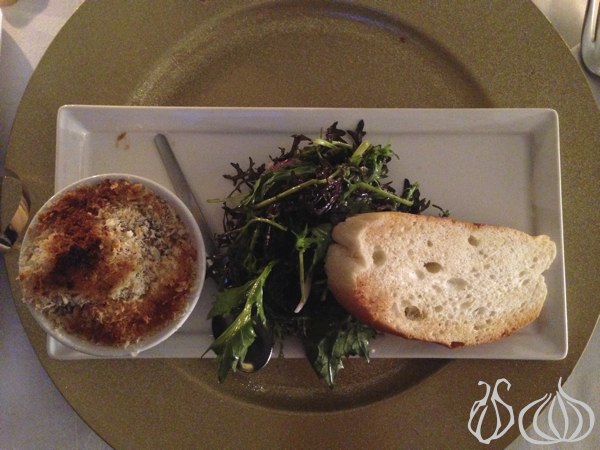 Slow roasted pork belly, green beans, courgette, tomato, apple infused mash, wholegrain mustard sauce: An enjoyable thick crunchy crispy layer on top. Juicy real pork with great taste and flavor, served on steamed vegetables in garlic sauce and mashed potatoes. The sweetness the apple brings and the strong flavor of the mustard make of this dish a unique one. The meat just melts under your teeth like butter. I'll tell you a little secret my doctor won't appreciate much: The crunchy layer of grilled fat mixed with this tender meat is to die for. A perfect plate indeed
Lemon & mixed berry pavlova, raspberry coulis, fresh cream: A large meringue filled with raspberry, topped with lemon cream. Light but filled with passionate flavors and aromas. An exquisite dessert
The pluses:
The space is great for events; especially that they can host guests on one big table - in this case 24 people
Portions are generous and beautifully presented
I liked their water glass bottles
Minuses:
I didn't like the cutlery. It can be classier and bigger to better fit this fine restaurant and the ceremony
The cellar behind us had some unpleasant storage materials that should be removed
The skills the chef holds really shows here. All dishes are served in wide shallow plates with just the needed amount of juice and flavors. An evening that started at 06:30pm didn't end before midnight.