An iconic restaurant down in Beirut has made it into history with a resume spanning 38 years.
The Beirut Cellar has undergone a revival along with its logo having served the same feel since it first opened in the heart of Achrafieh. Some like its vibes, other consider it as their bistro de quartier, this place has its charm which no one can deny.
Facing Les Jardins de Tabaris is The Beirut Cellar. Under its arcade ceiling, a cellar-like restaurant makes you feel at home, a restaurant without pretense or sophistication, a simple setup and specials of the day. Onion soup, lentil soup, gluten free pasta, scallops, quinoa, smoked salmon and fresh crabs are some of the specialties.
I loved the placemats! They tell you the stories of Robert who danced on the table, the politicians who met and signed their deals, where Roger met Rana or when the famous writer hit on aunt Samia. Intimate stories of The Beirut Cellar before the invasion of restaurants in town.
Now for the place. It looks like an old cottage, a corner at the farm, wooden windows and black paintings. The bar has a series of red stools facing it with an intimate corner down the hall with a floor made of white and black tiles. The terrace is surrounded by a glass facade opening up to the neighborhood.
The menu has it all. Spanish, Italian, pasta, grills and those iconic items people have been ordering since day one. The cheese sambousik, the falafel platter, the cellar's iceberg Roquefort, homemade pasta, three choices of spaghetti, risotto, the frankfurter and the burger. Two items are highlighted, the nachos and the homemade pasta.
The first impression:
Sit outside where smoking is allowed or inside under the arcades facing the bar for a more intimate experience.

The prices are reasonable.

Things are left as they are, the old fashioned way, a glossy shiny menu, dark wooden tables and carrots served as you sit.

Dinner starts with the bread basket, tender bread buns served warm and offering an inner, warm, fluffy heart.

Dining with a friend, who knows the restaurant, we were offered a plate of cold cuts which was devoured in seconds. Premium cuts enjoyed with cornichon pickles, a Zaatar dip and spicy chili sauce.
We started with a selection of appetizers:
The shrimp carpaccio is a beautiful plate its served with a mountain of shredded greens, decorated with pink pepper corn and flavored with lemon. Thinly sliced shrimp, a fine constancy, lemon to add a tangy flavor, crunchy peppers for more enjoyment and the fresh sliced zucchini. Loved it.

The Bulghari cheese is simple, a thick slice of this famous white cheese served on a bed of olive oil and sliced cucumbers and tomatoes. As simple as it should be, as good as it is.

The Cellar's sambousik are really interesting. A good loaded portion of sambousik good to share, a flaky, light dough filled with creamy white cheese.

Fresh crab on a bed of guacamole. A creamy, full bodied guacamole sprinkled with fresh crab on top. Add black pepper and enjoy.

The famous nachos. Don't touch if you're on a diet. Loaded nachos generously topped with melted yellow cheese. Those crunchy nachos and this melting cheese have made it on everyone's lips down in Achrafieh. Something you can buy at the supermarket next door but it seems many like them.

The grilled calamari, five pieces of them, could take more grilling to enrich their aroma and texture. Surely more lemon and it would have been perfect. A good plate needs a bit of fine tuning.

The salmon tartar is good, really good and different from the ones I usually have. It's juicier and intensely lemony, for me it was a spot on.
And the main plates were served:
The scallop risotto has a prominent truffle flavor, tender scallops which are clearly felt, a rice cooked al dente but a plate that lacks something. Maybe a bit more cream, surely black pepper; I've had better.

The carbonara is made with cream. A bit too creamy for me, especially for a night-time meal and the bacon is shredded, making it unpleasant under the palate. Cooked al dente and flavorful, it's surely better than many I've had around the city.

The filet, properly cooked, red on the inside and grilled in the outside was a bit dryer than I expected. Good quality meat, the pepper sauce adds the needed boost, but it's not enough.

Milanese... Not oily, smells good, but a bit dry for something that big needing an hour to be finished completely. Side sauces should add flavor, not cover up the dryness. I'd serve it with creamy spinach on top where the cream would lighten things.

The frankfurter... Honestly, and I'm sorry to be blunt, smells like canned hotdog, two thin sausages that shouldn't make it on a restaurant menu.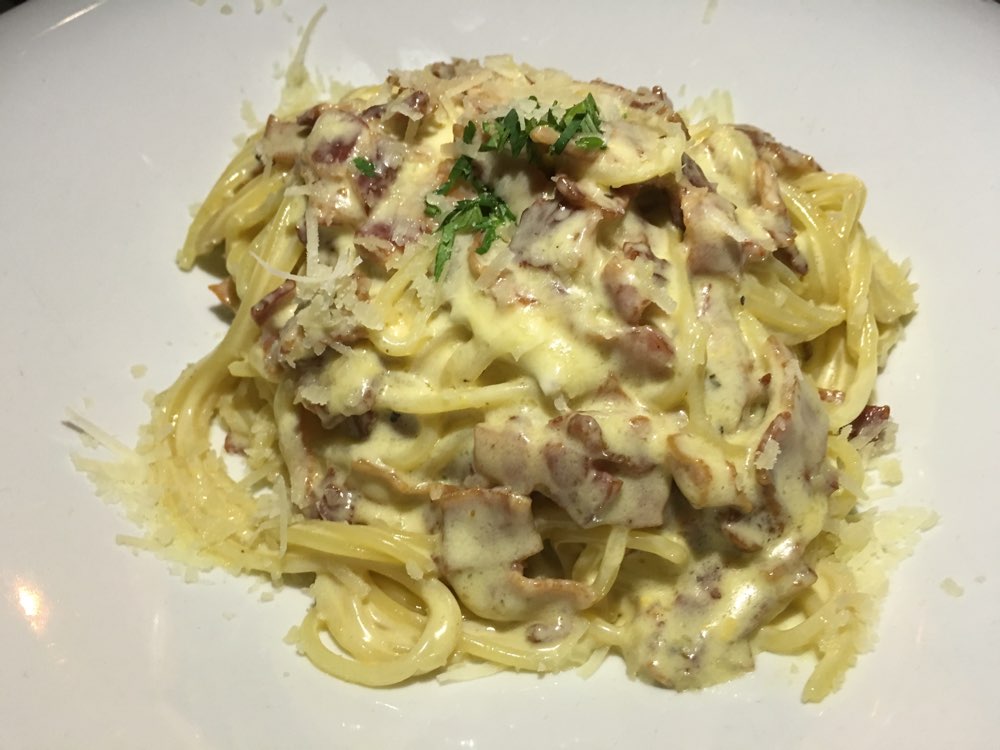 Appetizers are better than the main plates.
Two hours passed and now was time for desserts:
I loved the ice cream! Black sesame and lookoum; the right amount of sugar, freshness and lightness. An excellent blend.

Chocolate covered truffles filled with chocolate mousse floating on orange sauce.

The pain perdu is a different version of the conventional one, a bit of caramel, a fluffy bread, a cover of crunchy almonds. Vanilla ice cream is served on the side.

The chocolate tart is excellent! A crunchy tart embracing a layer of molten dark chocolate ice cream. That's two thumbs up.
The food is good for a bistro de quartier and the desserts are excellent. A big difference in taste and finesse between dinner and the desserts.
The good:
A very professional waiter speaks loud and clear, explains professionally and serves delicately. Bravo.

The plates are beautifully decorated and the portions are generous.

I loved the vibes and music.
I'll change and improve:
Add more lights on the terrace for us to be able to read the menu.

Glossy menus are hard to read. The reflections on it are unpleasant.
Dinner ended when a bottle of limoncello which landed on the table. A non-branded limoncello with a light sweetness and a bitter after note. A great digestive.
The Beirut Cellar is still on with a rich resume of 38 years.