So, why were we at
Big Apple Hotdogs
? We'd heard about the famous kiosk which opens only on Fridays for lunch, so we went all over the city searching for it. From one tube station to another, walking, asking, following Nokia maps then trying the iPhone, nothing seemed to work. Then we found a phone number, which wasn't listed on their webpage. Calling the number we were simply informed that they moved today to another location without prior notice.
Big Apple Hot Dogs are hand-made in London using only natural casings and quality ingredients, their dogs are 94-98% meat (and gluten-free) so you'll get none of the nasty bits you'll find in other sausages. They use free-range pork, prime beef and their amazing buns come fresh from the ovens of our local family bakers. They're often out and about at festivals, popping up at different locations all over London and trying out a 'guest' dog on the grill. At least that's what they say.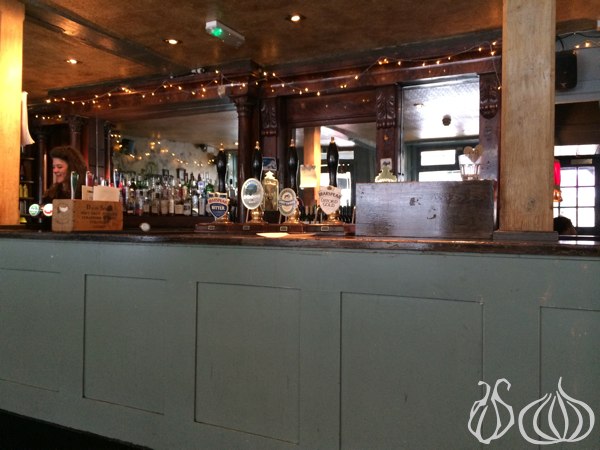 Here we are, a kilometer from the original 238 Old Street at a bar called "
The Owl and Pussycat
" on 34 Redchurch Street, which sells these famous hotdogs and I was really hoping they were worth the hassle. Two hours of searching to try the Big Frank, a blend of pork and beef with special seasoning. The Owl and Pussycat is a nice bar, old English style, wood covered, low ceiling, low light and a wide selection of draft beers. The place sells a choice of burgers, falafel, the Big Apple hotdogs as well as French fries. On the tables sit decorative flowers, napkins, fork and knives as well and salt and pepper. The atmosphere's great and the place was almost fully booked on that Friday afternoon. You'll have to get used to the music, it's more of a noisy base background.
The Big Apple Hot Dogs Options: Huge Pole, Big Dog, Big Frank, Pimp Steak
The Big Dog £5.50:
A coarsely ground blend of pork and beef, seasoned with marjoram, garlic and black pepper before being double smoked over German beech wood.
The Big Frank £5.50: 100% pork, oak smoked and seasoned with paprika, nutmeg and black pepper.
Two baskets landed on our tables: shocking to say the least for the price we paid. Each contained a bun and in it one small hotdog, yes, one tiny hotdog and nothing else. No chips, no sauce, no cheddar, no pickles. I added ketchup and mustard and went for the tasting.
The bun was excellent, it was a brioche bun that's slightly crunchy on the outside and fresh and soft on the inside, a fine taste and an excellent creation. I couldn't but finish it all, even the part that has not hotdog in it. The hotdog, on the other hand, needs some work, it was nothing for the price we paid. A good quality, maybe but not exceptional, or anything to make me feel like fainting. The two dogs are small for the bun, leaving you around four big bites without nothing but bun. The ketchup and mustard cover the taste of the dog and they are too small for the bun; The dogs should be thicker, the bun smaller. A small symbol, maybe a flag on a toothpick, should be inserted on it marking you know which is what.
To be fair, I liked and appreciated the effort put in creating this hot dog, the fat inside, the smokiness and the enveloping crunch. But, for all of that there are some things I'd change.
Room for Improvement:
Offer some chips with the dog
Offer up cheddar cheese
Make the hotdogs longer and thicker. If it's such a fine piece of creation, offer it without a bun
The bun should be smaller to be in proportion with the hot dog
We are not on the street here, but in a restaurant, the dogs should be presented with care along with a side order and better plate presentation.
It's expensive for what it is
Honestly, I ate one, left hungry and went searching for something else to deal with my hunger. I was really expecting to be amazed not only like it.