It's sushi at the conveyor belt down at TSC Signature. It's a sushi conveyor belt that offers a big selection of sushi on various colored plates, where you eat, count the plates and pay according to color as consumed. I remember coming here before even starting NoGarlicNoOnions with a positive experience shared with my friends. Back today for some sushi, the conveyor was full.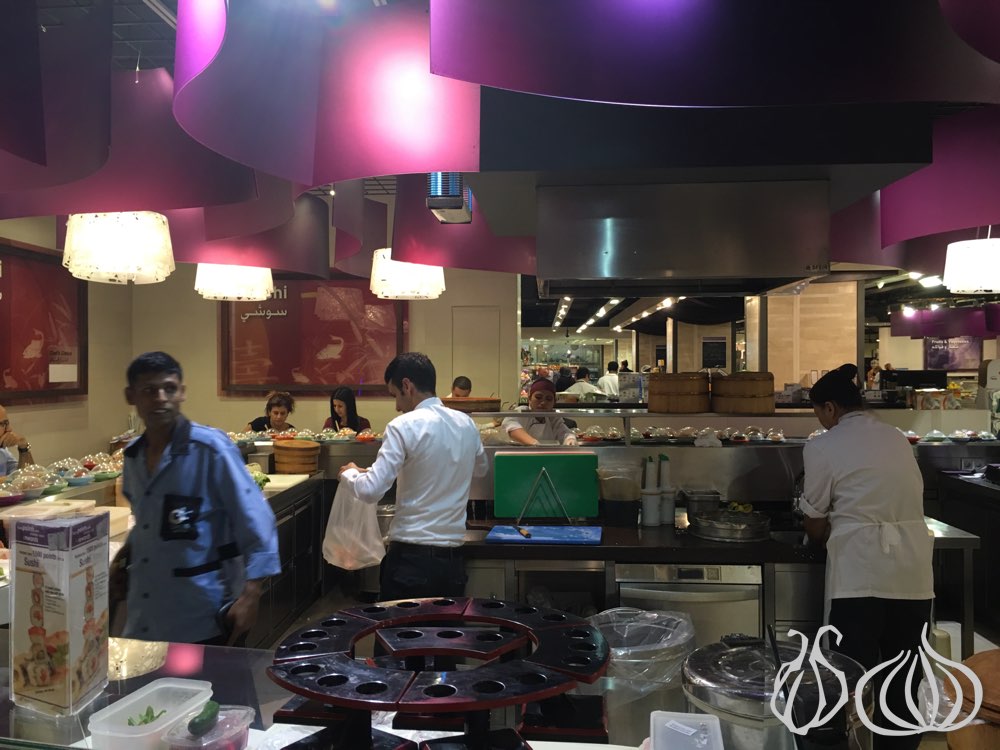 You'll find light blue, white, orange, yellow, black and green plates going around the belt. The plates are covered keeping it's content fresh, as some are prepared before to avoid chaos during rush hour, while others are freshly rolled a la minute. You'll find large pieces, generously filled bowls of crab salad, mango or octopus, the choices are varied and enough to fulfill any guest.
Find a seat, sit and start grabbing one plate after the other. No need for a menu, no one approaches you until you decide to leave where the plate counting takes place. I started with the crab salad to start is generous and tasty. A light bodied sauce, mayonnaise and salt, premium quality crab on a bed of lettuce. It's a good start, a good first impression.
Spicy is indeed very spicy. Spicy tuna on a bed of green tobiko roll. It will leave an impression. Mango, lightly sweet, fresh non sticky rice, with crab in the middle is really good. Salmon topped maki with crab. Lightly sweet, equilibrated size with good sauce. Crab and salmon with a little mango slice; is really good. Avocado and spicy salmon.… Crab lines with a spicy tuna heart... And much more.
I loved them, they are good. Good flavors, premium ingredients, good sizes, nice colors and more importantly tasty. For a quick lunch in the heart of Beirut, it's a place to consider.
They also offer rice and edamame and dessert to end the experience on a sweet note.
The experience reminded me of that at the Lafayette food court in Paris where I had some very good meals in the heart of a Madelyn, a place where people come to enjoy some gourmet cravings. Nice vibes, fresh smells and again, good food when you expect it the least.
No need to add soy sauce, they are that tasty. I enjoyed them, as they are, juicy, flavorful and good for their price and standard as a fast sushi lunch on the go. They have another formula, the open sushi with 9 sashimi pieces and a complementary dessert for $33.
After finishing, I heard someone ask for a menu so discovered that they have one:
Appetizers
Salads
Soups
Sashimi
Nigiri sushi
Gunkan sushi
Special roll
Crispy ura maki
Ura maki
Hoso maki
Teppanyaki
Teriyaki
Combinations
I'll improve:
I didn't know they have a menu until I heard someone ask for one and was given.
One waiter alone was stressed and overwhelmed. He needs help maybe he'll then smile at least.
The open sushi formula should be mentioned somewhere.
A pleasant experience I'll repeat.