Just when you think that Gemmayze can't be host to another outlet, a new place pops up. I recently discovered Urbanista restaurant/cafe, a place that I loved. As I sat down surrounded with natural wood, big leather chairs, brick walls, books, magazines, people from different parts of the world, reading, working or eating... I felt an overwhelming feeling about the place. I thought to myself, this is the real Beirut we are all missing...
Owned by Zeina El Eid,
Urbanista
is today an outlet that oozes simplicity. It's a place where food is fresh, coffee is original and conversations are always brewing. The place is created in a way that offers its customers the feeling that they can still live in the city yet enjoy the simplest and most natural things in life. The owners say that the place represents what's missing in our lives - a peaceful escape where you can go enjoy good food, a nice music, originally brewed coffee, work on your computer, read books, scan through magazines in a nice architectural atmosphere that combines the authentic old feel of how they found the place combined with modern taste.
The café also boasts a beautiful garden, which was originally a garbage dump, transformed into a peaceful green space, giving customers a choice of sitting outdoors to enjoy a natural surrounding.
Serving breakfast, salad bar, a variety of platters, hot and cold sandwiches, coffee, desserts, juices and drinks, the menu is rich and mouthwatering.
The Menu:
Starters to share, salad from the bar, soup, sides, sandwiches, daily dishes, breakfast bar, all day sweets, beer, wine, spirits, coffee carte, tea selection, smoothies juices and other drinks.
The plates I've tried:
Baked Chicken Rolls (Delicious toasted wraps served with sweet and sour dip)
Coconut Shrimps (I loved the combination of the coconut with the shrimps, served with sweet and sour sauce)
The Black Pepper Calamari (Small pieces of crunchy fried breaded Calamari, served with a tartar sauce)
14x14 Skin on Fries (Thick and crunchy, covered with paprika)
Egg & Brie (Scrambled eggs, brie, sun dried tomatoes and black olives on a organic complete bread)
To drink, I had a refreshing Blueberry, Strawberry and Banana Smoothie.
I loved the food especially the chicken rolls and the calamari, but the best is the egg an brie platter. This dish, from their breakfast menu, is an out of this world: Scrambled eggs mixed with fresh olives and a piece of brie cheese, served on a crunchy piece of fresh bread and decorated with a quarter of a watermelon. It is really an indescribable feeling of enjoyment in every bite.
Small details written on the menu, that make a difference:
"Our bread is freshly baked in the house"
"Allow 10 minutes for preparation"
"Made with Monaco reserve blend"
"Our coffee signature drinks"
"Served with green salad"
"Please inform your waiter about any food allergy that you might have"
"To go with the salad"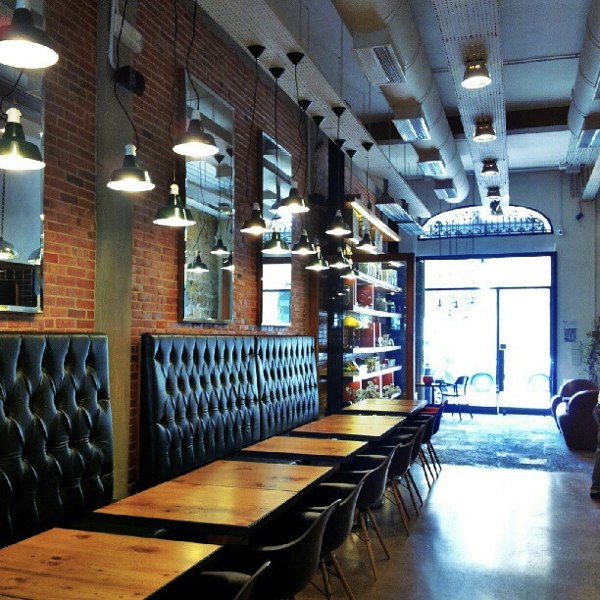 Written on the Coasters for a thoughtful thought:
"An ounce of practice is worth more than tons of preaching" GHANDI
"When inspiration does not come to me, I go halfway to meet it" FREUD
What I didn't like:
A staff that needs more training, but I appreciated that they are welcoming and joyful.
Fried items are over oily to an extent that the oil covers the plates and masks some of the tasty ingredients. It should be a restaurant serving healthy items, no?
Urbanista is a place you really should not miss. Take your laptop and go spend the day. Hours will pass like minutes.
-->