Al-Sultan Ibrahim is one of the oldest Lebanese restaurants in town offering its loyal customers a complete menu of local traditional food as well as the signature fish items.
The Al-Sultan Ibrahim story started in 1968 in the region of Jnah in Beirut before moving to Antelias in 1978. In Antelias, the place built its name to become one of the top rated Lebanese food restaurants of the country. The top five list in my opinion hosts Al Halabi, Mehanna, Al-Sultan Brahim, Mounir and Karam.
In 2003 Al-Sultan Ibrahim opens one of its most beautiful locations accessing the Beirut central district area in a huge restaurant catering to the locals as well as the tourists in search of a perfect quality and service since it is located in the heart of the luxury hotels of Beirut.
2012 is the year of the big expansion as Al-Sultan Ibrahim opened its first branch in the Keserwan area and the biggest to date. A restaurant that can host up to 800 guests at once. Situated under the Casino Du Liban and straight on the water shores of the Maameltein area, Al-Sultan Ibrahim created an great astonishing cosmopolitan architectural concept. Wood, rusted metal, glass and natural greenery are all mixed up together in this big square place with very high ceiling. White is the overpowering color that gives a faded and cold allure for the place: Something missing, more life is needed.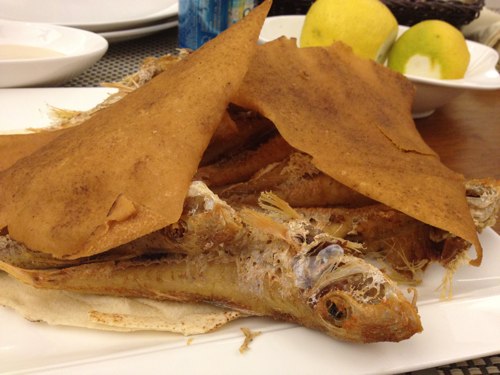 The food, genuine Lebanese cuisine, the wide variety of seasonal fruits served, the service and the welcoming are impressive. The fish taste and quality are just perfect. It is as previously mentioned one of the best restaurants in town. The waiters are so professional, happy and funny making your experience memorable. Even their desserts are special and tasty. If you want to show off your country, definitely take your friends or business visitors to have a nice meal by the sea. It's something to be proud off.
If you haven't tried it yet, book yourself a table the soonest. It's a must try.