Traveling Alitalia from Lebanon is never an experience I appreciate. The plane is small, it leaves at 4am, there's no business class, arrivals are made on the tarmac... This morning I try Alitalia Transatlantic for the first time in Premium Economy which boasts the same cabin as Air France. Twelve hours over the Atlantic I'll have the chance to watch some movies, try the food experience the staff's professionalism and write some reviews.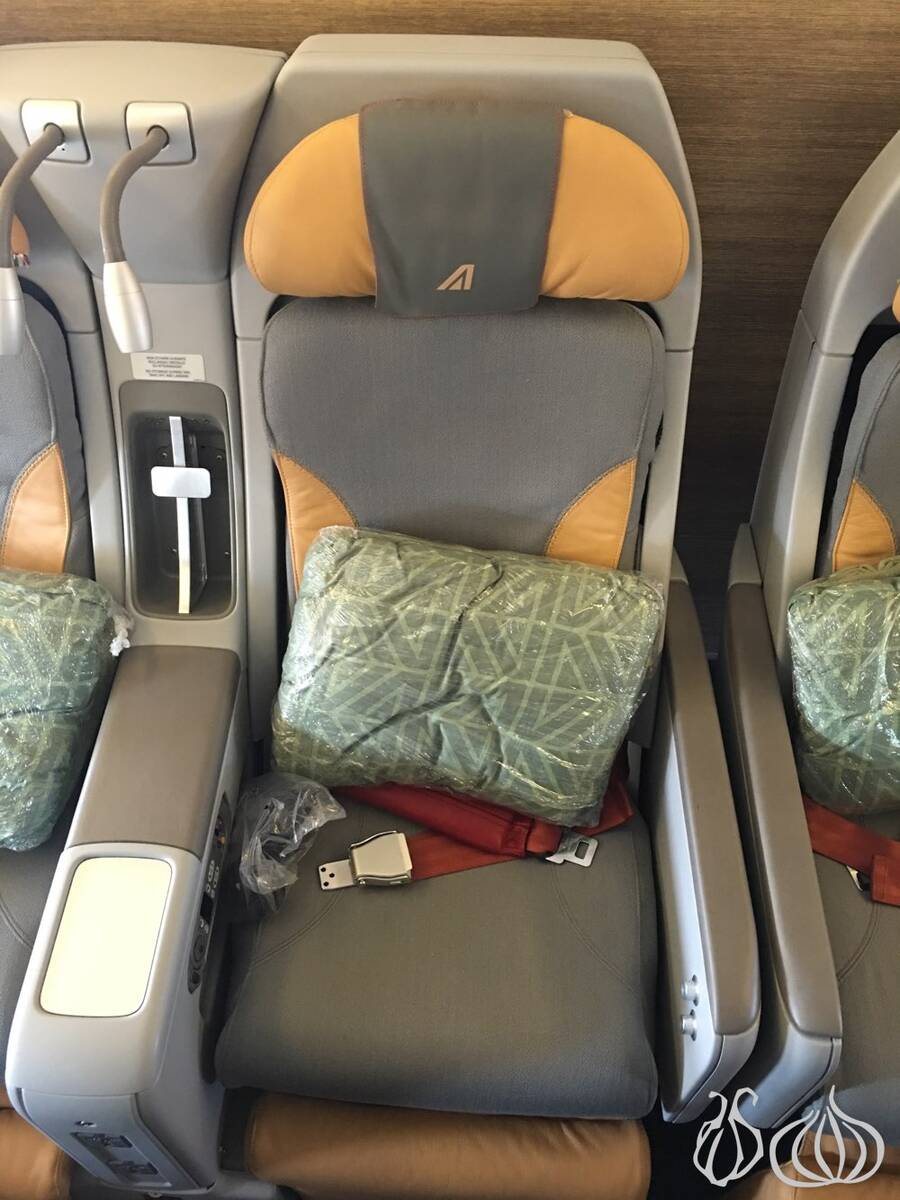 We were welcomed in a Boeing 777-200 by a professional crew. A cabin decorated with wood panels, sofas made of grey and mustard fabric, the premium economy seats have an additional 40% of legroom and a bigger screen. I was lucky to have an empty seat next to me. Business class on another hand looks really nice with a design many airlines are turning to.
Orange juice and champagne, newspapers while the plane started moving. Every passengers gets the chance to have a noise reduction headset, a pillow and bed sheet wrapped in nylon. I was happy to continue Internet-browning from the airport WiFi while the plane was being prepared for takeoff.
Alitalia planes - and definitely not the ones they send to and from Lebanon- are different. The staff seem nicer, the plane is newer with better seats and service...
Service stars with a bag of chips and drinks. White wine for me and sparkling water. Sticky gluten free chips produced by San Carlo and Vino Bianco Zaia.
Three minuses already:
The menu is not printed on a nice paper with ingredients explanations. It adds value to have one and know what you're eating.
In 2016, the screen is not touch? Not a touch screen with a super complicated menu you have to scroll through a remote. Low quality screen and super slow browsing.
No refreshing kit distributed compared to Air France.
Let's eat:
A salad with Colavita vinaigrette.
A plate of cheese ravioli served warm, not hot with a serious lack of sauce.
A cake that's not too appetizing and wait until you've taste its comerci sweet close to inedible flavor.
Feine butter and a chocolate.
Not impressed neither by the food quality nor its taste. It is considered bad for an Italian culinary quality. I was still hungry.
Six hours after takeoff a snack was distributed. Cabin is lit and staff comes in with an arrogant attitude. You're given a cold cheese sandwich and a soft drink... Voila!
Twelve hours later, three movies, some reviews, a bit of sleep and it was time for the last meal. Tomato calzone pizza, crackers, cheese, fruits and a plate of cold cuts served with mushrooms and cream cheese salad. I don't want to seem pessimistic but this is really unacceptable; food I couldn't even continue.
The verdict:
Not impressed at all by the food taste and quality as well as staff welcoming and attitude.
Screen is old for this era's technology.
Entertainment system is the worst I've ever seen in a plane.
The ticket is probably cheaper than Air France's and this is why I might consider the airline again.