With all the international burger restaurants opening around the country, the crave for that juicy rich Lebanese burger remains. No burger in the world can take the place of a typical Lebanese burger that tastes authentically homemade - a big piece of tasty meat loaded with coleslaw, generously added cheese, ham and caramelized onions... Just take a bite and you're in heaven. A few places in Lebanon are known for these burgers, one such place is the famous B12, located in the Metn area on the road that links Antelias and Bikfaya regions.
Since 1983, B12 has been serving the same tasty and sumptuous burgers for over two decades - homemade burgers that people have become addicted to after just one bite way before other burger joints appeared, and long before the international fast food chains invaded Lebanon. B12 was and still is making the same burger on a daily basis. Owned and managed by the Khoury Family, Chef Mansour and his two boys run the place daily until 8:30pm (except Mondays). This simple family business has not followed today's trends: no upgrade, no delivery system, no franchise expansions, no extra branches and not even an upscale menu. I remember my childhood at B12. So many memories were revived the second I walked into the place. Nothing has changed in this restaurant. The same clock has been ticking away the seconds for the past 23 years with the same menu board hung, the same interior and even the same old TV monitor is still on.
Talking with Fady Khoury, the elder son, he tells me about their passion for this business which started in 1983 long before anyone thought of burgers as a national meal like it has become in 2012. B12 means B12 vitamin. They believe in food quality and this is where it stops: delivery will spoil the orders. Opening another branch will make customers escape from the industrial aspect of the restaurant and since they work personally to satisfy every customer's demand they close before dinner time to spend some time with their families.
The place is the simplest you can imagine. Do not expect anything special or extraordinary. The basic minimum to run a kitchen:
A broken signboard
Brown and stainless counter the old fashioned way which is not in production anymore nowadays
Old brownish tiles not suitable much for a restaurant
A big blue Pepsi fridge, as known to be found in all street restaurants
A master chips stand with couple of bags for the accompanying kids
Choose between Dirol or Chiclets gum for 1000L.L
Two Shawarma units turning all day long
The famous burger grill which made B12 popular
Two posters decorate the walls. The same exact ones hung in 1990. A drawing of a woman eating a hotdog
A mirror on the main wall makes the place look bigger
The aluminum foil roller which they use to wrap their burgers and other orders
An old vintage TV monitor still found in couple of museums here and there
A fan pending from the ceiling like governmental offices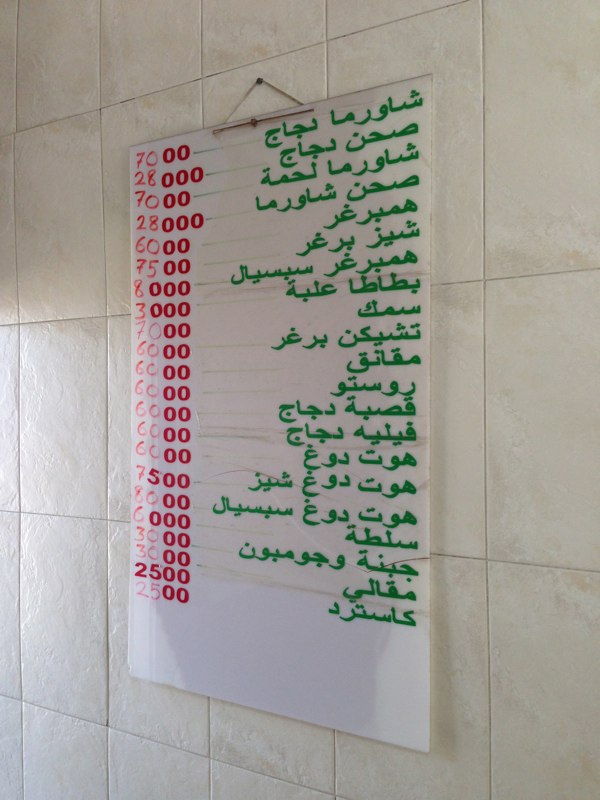 Here, I'm going to focus on couple of points that made this place authentic:
They wrap their sandwiches and burgers in aluminum foil, like our mothers used to do with school sandwiches
Their bread, meat and fries really feel like homemade products
The same owners producing the same sandwiches for the last couple decades
The big mirror with its vintage design stopped at the prewar era
The menu:
Shawarma 7,000L.L

Hamburger 6,000L.L
Hamburger Special 8,000L.L
Fries Box 3,000L.L
Fish 7,000L.L
Chicken Burger 6,000L.L
Makanek 6,000L.L
Roast Beef 6,000L.L
Chicken Liver 6,000L.L
Chicken Filet 6,000L.L
Hotdog 6,000L.L
Hotdog Special 8,000L.L
Salad 3,000L.L
Cheese Ham 3,000L.L
Deep fried vegetables 2,500L.L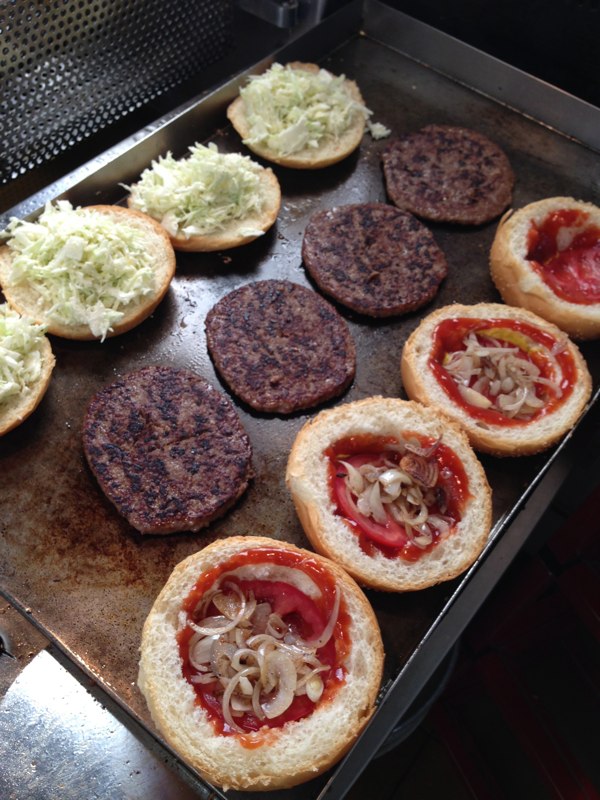 We ordered:
Hamburger Special (ham, cheese, grilled onions, grilled tomatoes, patty, coleslaw salad, ketchup, mustard) 8,000L.L
Frankfurter Special (hotdog, ham, cheese, coleslaw, ketchup, mustard) 8,000L.L
Shawarma (meet, tomatoes, onions, tarator, parsley) 7,000L.L
Box of fries 3,000L.L
The unique burger: Yes, unique indeed. As simple as you can imagine, it is one of the tastiest. They do not use Prunelle bread, they do not use Angus beef, they do not add sugar to the coleslaw, they do not use Heinz ketchup... Nothing sophisticated and nothing American: "A simple piece of thin meat, local authentic bread, coleslaw salad containing only cabbage and mayo adding to the mix ham and cheese. The bun is soft and tender, emptied from the bread inside and filled will coleslaw." Every bite is unique with its simplicity and authentic homey taste.
You enjoy watching him prepare the burger and care less as the mayonnaise drips down the sides of your mouth - you're just enjoying the taste of the real deal.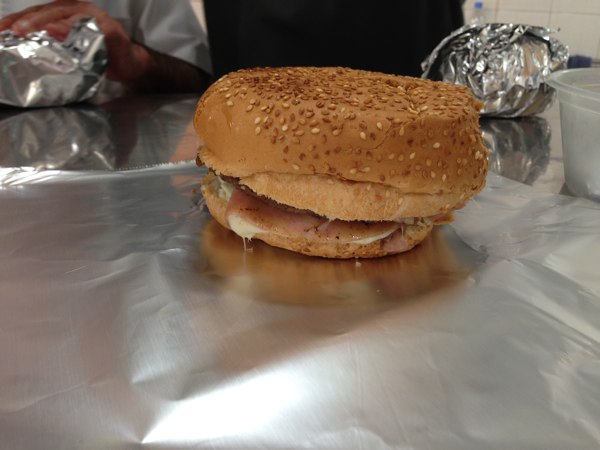 I also tried their hotdog, simple and very tasty. Pain au lait bread, grilled hotdog, ham, cheese and coleslaw. What makes all the difference is the grilling process. No cheddar, no chips, no jalapeños; nothing sophisticated. Their fries also have a story to tell. Hand washed, manually cut, salted and fried. That's it. No spices, no mixes, no frosting, no sophistication.
During my conversation with Fady, I understood that he has not even tried any of the other burgers and hotdog restaurants around town. None! That's bizarre I know, but this only proves that what they provide is unique and not copied. Every visit to B12 gets take me back down memory lane and reactivates many of my senses emotionally and gastronomically. B12 is a must try, you'll understand why I say it's a must when you do.