When I dug into my blog for a review about Babel Bay, I was shocked to discover that last time I visited was in 2015. Three years have passed, and Babel is still the same: nestled in the heart of Zaitunay Bay, on Beirut's famous seaport, the Lebanese restaurant with a special seafood twist has been serving the local clientele for years.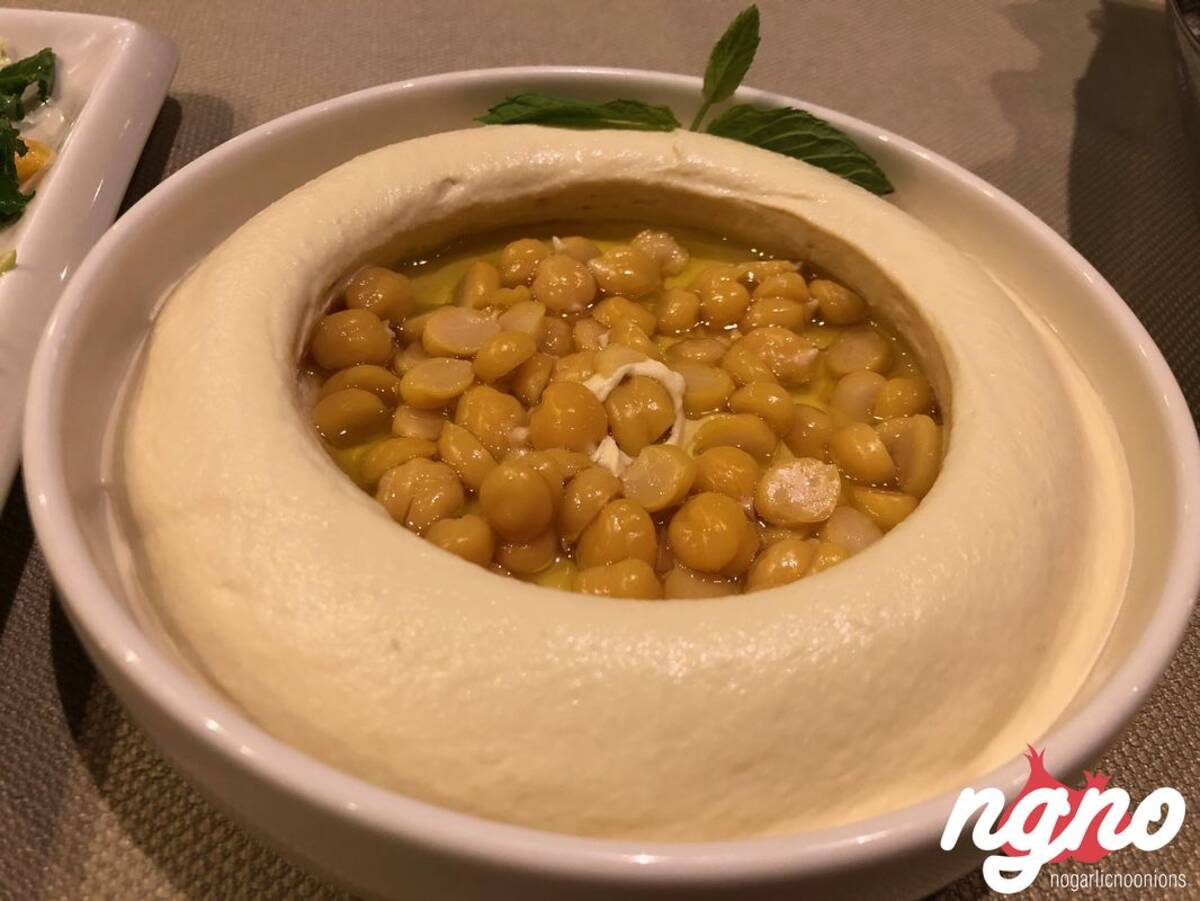 Babel is an upscale Lebanese restaurant specialized in seafood. Tabbouleh, fattouch or mtabbal are all prepared with a seafood inspiration; hummus remains traditional. I'm a fan of this restaurant chain enjoying it every time I visit.
A wide space decorated with lights coming from the black ceiling stars shining from above and the signature creation being Beirut's skyline taking over the main wall. Metal, glass, stones... tablecloth, two plates and a table napkin, the place feels luxurious.
I loved Babel's new menu: with classy photographs shot on a black background, the menu is not the usual Lebanese set of items written one on top of the other but more of a book of creations you will enjoy browsing.
Dinner started with a selection of bites offered for the customer's satisfaction. Mixed premium nuts, salted pumpkin seeds, their signature seaweed pickles, seaweed and tuna mix paste and green olives served with a homemade special selection of hot bread. White or squid ink bread are both just great.
Oh my lord... the food is so good!
Hummus is so finger-licking good! One of my top three favorite hummus dishes in town, this creamy creation is one-of-a-kind. So balanced, so light and so fresh, prepared with the adequate amount of everything. Hummos, what a Hummos, a creative piece of art! A smooth paste of passionate wonders mixed with lemon and olive oil carved around perfectly cooked chickpeas. Served warm, the Hummos is awesome, and most importantly, it's garlic-free, so you feel each and every one of the ingredients.
Pickled tuna, prepared in-house, a chunk of a brown colored tuna fish probably a hundred time tastier than tuna in cans found in supermarkets. Olive oil and lemon, the tuna just needs to be pressed up your palate to explode with all its flavors.
The salads are breathtaking: every salad is special, every plate has a special color to it and a very special flavor you will remember for long. Apples here, kale there, grapefruit and beyond to add flavors and colors.

I adored every single plate because Babel doesn't serve the conventional seafood you find across town; cubes of tuna and salmon tartar, fresh thinly sliced ginger, transparent smoked salmon, fresh shrimp... food is so good!
You have to try the raw red snapper; as simple as it looks just raw and very enjoyable.
Back to the hummus, the cold appetizers, Babel's fresh bread then came the hot mezze. I was pampered by the staff, a smile from here, another from there, making sure the service is perfect. For the record, all plates were prepared without garlic.
"Babel's offering at Zaitunay Bay is an innovative and unique approach to Mediterranean Lebanese Cuisine, redefining the meaning of middle eastern fine dining."
OMG. I felt like screaming! The Labneh shrimp Fatteh is outstanding! A light Labneh or probably a thickened Laban where fresh, crunchy shrimp bath with a mix of toasted bread. So beautifully balanced with a kick of saltiness and spices; bravo chef, you made my night.
Octopus, calamari and scallops... "mmmmmm". Wow! Scallops cooked in a white sauce in the shell; it's a must try. You also have to experience the side effect of the pistachio seafood borma which will excite your senses. I even had a plate of squid cooked in its ink, lemony and soft leaving a pleasant after-taste in the mouth.
If the food is excellent, dessert is outstanding; outstandingly delicious, creations I crave for the last five years. Two baskets of fruits, jams, and the signature dessert creations.
"Ashta b Ashta"; Imagine fresh ashta on a bed of ashta ice cream, a silky top and a cold bulk embraced with rose jam. The Tamriyeh: Pain d'epices, almond ice cream, tamer. Spices on a spongy dough, rich, flavorful ice cream and chewy tamer paper decorated with walnuts. Simple Lebanese sweets twisted and revisited, keeping their original taste with an upscale quality and freshness.
Food made with love, passion and dedication; food created with feelings and emotions... much more than conventional seafood, the culinary experience at Babel is one that can be compared to a European fine-dining restaurant.