In 2011 when Zaitunay Bay first launched they said we would "embark on a journey of tastes that take you into a savory world of temptations, embracing culture and flavor." They described all the restaurants and I remember, Babel's blurb said, "Babel's offering at Zaitunay Bay is an innovative and unique approach to Mediterranean Lebanese Cuisine.
The whole food experience is complemented by an extensive and enticing selection of international spirits and wines, making Babel a 'do-not-miss' spot on the Marina. I always went to their Dbayeh's restaurant, but now two years later, I felt I was missing out on the whole waterfront experience of one of my favorite restaurants.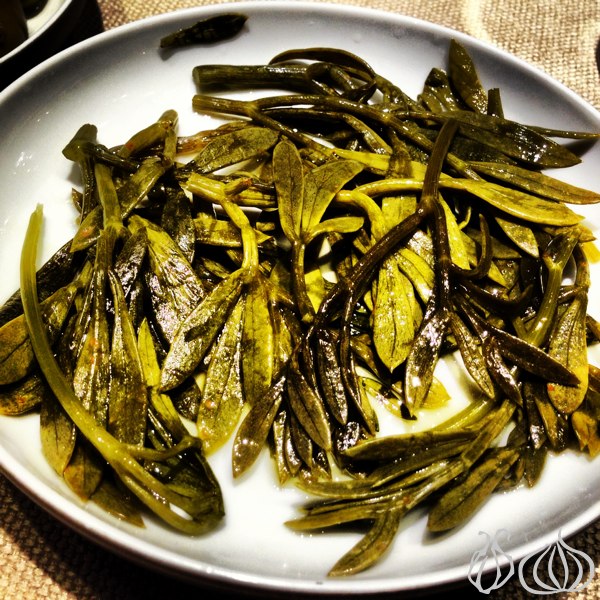 Reach Zaitunay Bay, park underground then take your right and walk a couple of meters to reach Babel Bay. Just next to Cappuccino, this unique Lebanese Seafood restaurant with a twist welcomes you for lunch and dinner in a beautiful setup and a great ambiance. I already expressed my appreciation for Babel Dbayeh and wanted to try their Seafood version. Tonight's experience was more than perfect.
You enter into a grandiose setup of huge stone blocks where a reconstruction of Beirut's waterfront's skyline decorates the place - A stunning first impression.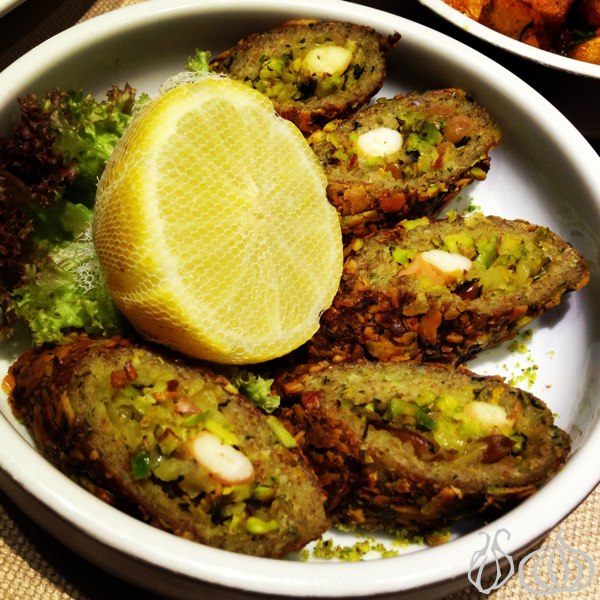 The details of architecture:
A terrace with parasols is always fully booked with locals and tourists
Inside is a reminder of Babel Dbayeh: Stone blocks and metallic columns
High ceiling covered with stars that shine all night long
A reconstruction of the Beirut's skyline covers the walls. An impressive creation
Straight lines of lights are pending from the ceiling, giving adequate lighting to all the tables
Large blocks of stone take you back to the babel ages
A couple of metallic columns make you feel like you're traveling in a ship
In the middle of the restaurant is a cigar display featuring a large choice of brands
The drinks bar on the right side is filled with world renowned premium brands
On the left is a large mirror, perfectly clean which makes the place look twice as big
Light green ceramic plates decorate all the tables
Thin wine glasses and brown table napkins add the needed finesse
Dinner started with a selection of bites offered for the customer's satisfaction. Mixed premium nuts, salted pumpkin seeds, their signature seaweed pickles, seaweed and tuna mix paste and green olives served with a homemade special selection of hot bread. White or squid ink bread are both just great.
The menu sections:
Babel's Formula

Display

Salads
Cold Mezza
Raw Fish
Hot Mezza
Fruits, Desserts, Narguileh
We Ordered:
Seafood Salad 29,000L.L

Fattouch 24,000L.L
Mafroukit Tajen 14,000L.L
Pickled Tuna 27,000L.L
Harra Beyrouthieh 16,000L.L
Hommos 8,000L.L
Calamari Provenciale 24,000L.L
Baklawah Bahri 28,000L.L
Borma Bahri 23,000L.L
Fattit Shrimp 25,000L.L
Chili Potato 10,000L.L
Ashta B Ashta 30,000L.L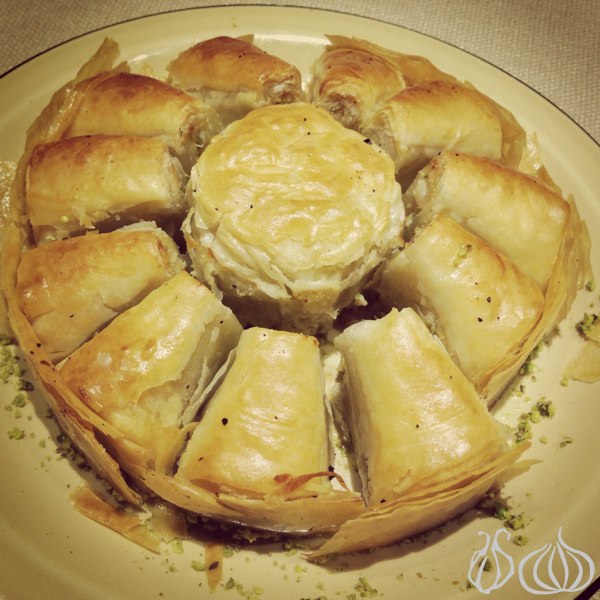 The food:
Fattouch is served with with fried dumplings, calamari and shrimps. A new approach to our authentic Lebanese salad
Hara Bayroutieh: Grilled fish served with an assortment of hot pepper, tomato and onion is finger licking good
Fruits and seafood salad: Apples, pineapple, pummel, orange, octopus, scallops and grouper fish. A one of kind creation mixing seafood with fruits, salt and sweet in a colorful and passionate plate. It's more than a salad, closer to a piece of art.
Fattet Shrimps: Eggplant, laban, shrimps, garlic, fried bread, pine nuts. WOW!
Spicy Potatoes: The normal dish. As good as you would expect it to be
Mafrouket Tajen: A mixture of sesame paste, onion, thyme, raisins and mixed nuts. Creative and tasty
Kebbet Samak with Octopus: One of my favorite dishes tonight. I'm really speechless. I'm lost for words that best describe how good the food is
Seafood Baklava: This is a masterpiece. This is an awesome and mouthwatering creation which makes me want to come again and again just to taste this fairy tale flower. Imagine the famous backlava, rolled piece by piece, and filled with salty seafood ingredients. A crunchy feel from the outside and certain softness from the inside blend together to create a unique plate that can represent Lebanon in any culinary competition outside the country.
Pickled Tuna: Pickled sardine in olive oil served with green thyme and garlic. Purple colored sardine served in a lemon sauce and decorated in mint leaves. Yummy.
The hummus is just great and without garlic
The great stuff:
Arabic soft music plays discretely in the background
The waiters are just wow. Just grab any plate and you find, in a split second, two or three waiters running to help you
All the staff, with no exception, knows the menu by heart. Every question about the food ingredients was answered fluently
Cutlery was changed four times. Fork, knives and plates were all renewed every 30 minutes
After dinner, hot napkins are individually served on a small plate
Dessert! Uff! Indescribable. Babel's Lebanese creations are by far the best in the country. Simple Lebanese sweets, twisted and revisited, keeping their original taste with an upscale quality and freshness.
The Best Thing:
This place offers great value for money: We were a party of 5 , we ordered two arguiles, arak and all the above tasty food for only $65/person
The minuses: While eating all the delicious yet complicated food, I missed having a simple Lebanese plate like labneh, at one point. Sophistication is nice but like I often say, it should have its limitations. Think about tourists or the Lebanese guests who would like the have a few normal plate. Alfredo, my friend from Spain asked me: "Is this Lebanese food, is it always that complicated?" He was right. Keep a light traditional section.
Desserts are the best Babel offers. Arisheh with wild blackberry jam and Kachta ice cream with rose flower sauce and fresh Kachta, decorated with crushed green pistachio. You'll lick the plate afterwards, be prepared.
Dinner ended with two plates of fresh fruits including apples, kiwi, strawberries and pears, all offered on the house and served beautifully on a banana leaf. Another plate of mixed jams is here to please all your senses: pumpkin, dates, figs and bitter orange.
When served with such a perfect tasty dinner, having a waiter as professional as Mazen is just the cherry on top. I loved this place so much. Bravo!