While in Paris, I must admit that I had so many burgers - enough I think, especially that I better watch my cholesterol level. On a sunny Sunday, I gathered six of my French friends and took them to a near by Lebanese restaurant I had discovered. I wanted to introduce them to Lebanese cuisine. We all went to Chez Sofia, a small restaurant in the 9th district was discovered by mistake yesterday, next to La Maison Mere restaurant.
We arrived at 12:30, to an empty space and with a smile asked the manager to take care of us. I followed him inside to ask him if he was Lebanese. "I'm Moroccan," he answered.
It was simple, I asked him to get mezze for everyone, and as we always do it in Lebanon, I kindly asked him to offer us fruits or give me a discount on the desserts. He looked at me and said: "No I can't." Keeping a smile on my face, I asked him again to consider the fact that I got him seven clients and like most Lebanese restaurants do, to please offer them something. Again he said: "No, I can't." After arguing for some time, he said he would offer us a free plate of Shawarma if we ordered one dessert each.
Dear owners, a Lebanese restaurant is a full experience which starts with the service, welcoming and hospitable waiters before even reaching the food part. A Lebanese restaurant with not one single Lebanese person inside but an unprofessional Moroccan man with an attitude.
The stories with this manager were only starting. As we were sitting outside, the sun was hitting our table strongly. We grabbed a parasol and pushed it next to the table.
He then came shouting to put it back:
"Put it back in its place, now! You cannot move that whatever the reason is..." and he just stood there looking at us while we put back the parasol in its place. No help, no excuse... nothing. Seriously I'm shocked, are we customers or what? Thirty minutes after that incident, he decided to open the curtains over our heads. Honestly, one thing after the other, I felt like letting out all my anger on this guy. He was pushing it.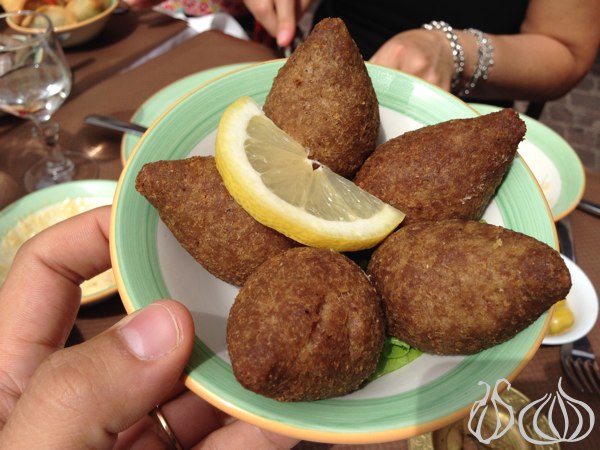 A shame for my culture and my country. I was so happy to show my guests the best of Lebanese hospitality and here I got an ignorant man who obviously woke up on the wrong side of the bed and was treating his guests like trash.
And here was more to come. At the end, finishing our meal, I ordered 4 desserts: From the end of the restaurant, he shouts at me: "You don't want to order seven desserts? It's four now?"
Anyway, now that I calmed down, let us get back to the food, what interests us more after all:
On the tables are small plates of green olives. They don't taste Lebanese at all
The hummus is good
The kebbeh is tasty
Sambousik are too crunchy like if they were reheated
Labneh is fade. This is yogurt not labneh: needs more lemon and salt
The fattouch uses French lettuce that doesn't make it a fattouch
The makanek is literally tasteless. Nothing! No flavor and no taste but the feeling of a rubbery envelop
Eggplant is good
Shawarma is juicy. Very good for a French quality
The tabbouleh is good
To my amazement the mouhalabiah dessert was very good. Tasty and adequately sweet. Bravo. Even though the bowl costs 5€
The place in couple of lines:
White plates with green lines are preset on the tables
White tables covered with a brown paper table cover
Candles in red glass cups decorate the tables
Arabic music in the background
A small place, brownish ambiance, white and low ceiling
A wooden menu hosting nylon protected papers
Several paintings on the walls remind you of the gulf Sahara! Nothing to do with Lebanon
The pluses:
Food is acceptable and the prices are reasonable
Many of the plates are a real copy of the ones we have in Lebanon
The minuses:
The decoration is really dull and does not reflect a Lebanese restaurant
Paintings on the walls should be changed to photos from Lebanon
Hire a couple of Lebanese people to live the Lebanese hospitality
I would rethink the position of this man who claims to be the manager
Integrate the real Lebanese generosity in your service. A free dessert or some fruits... Anything that will make guests feel special and visitors come again
With some minor improvements made on the food the experience can really be much better
I had a nice lunch, we paid 17€/person and my friends left happy. They didn't notice any of the details I mentioned above but as a Lebanese I would had higher expectations - especially that a restaurant like this one can be a gate to introducing other cultures to ours.
I hoping that my comments will be taken into consideration.