Going up from Antelias, half a kilometer after passing the Naccache Bridge, you'll find a new restaurant called Baguette&Co. Despite the name resemblance to Brgr.Co and Pzza.Co. I like it.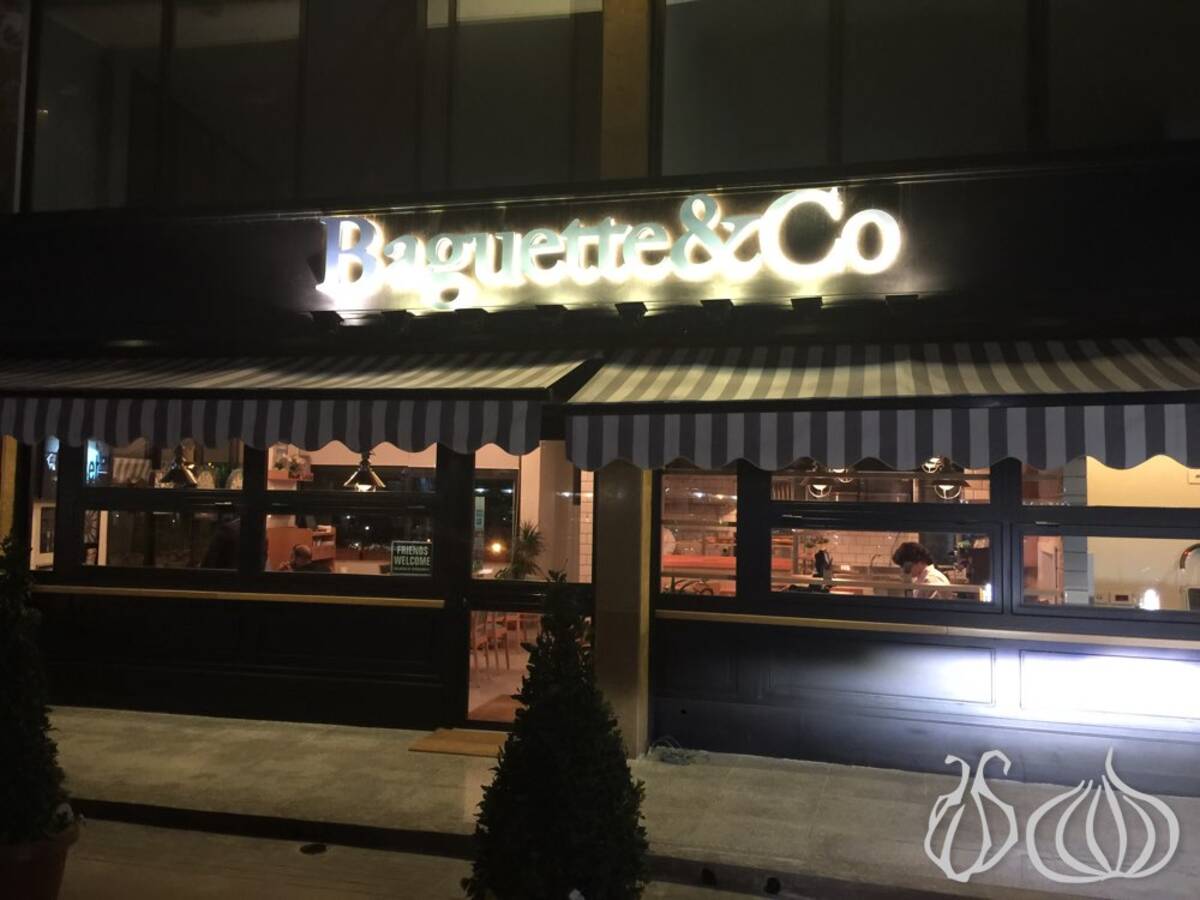 I have been eying this place for a while… as they were preparing for its opening. I drive by that road to and from home… Black facade, bright colors, and blue sign... Baguette&Co. can't be missed.

But before starting, I just have to make a point. I was not happy at all to see a valet service being implemented in front of the restaurant, even before the opening. There's a lot of parking space, why would you need a valet service… Maybe it's just because this particular region isn't used to the concept… I'd reconsider having them, they push customers away.

Behind the large glass facade supported by a black metallic structure is a fancy place. A beautiful-looking cafe/restaurant designed with class and finesse. A bar takes over the right side while the left area is fully dedicated for dine-in customers. The space is neat and clear, blending white colors with light wood and notes of light blue.


The little architectural details:
Glazed grey concrete floor covers the space.
Light wood tables surrounded by light blue leather chairs fill the restaurant.
White ceramic tiles cover the walls, making the space look clean and neat.
Black metallic facade faces the highway on two sides.
Three clocks on the right, hung on the glass facade, add a design touch and an old feel.
One TV broadcasts MBC2 movies.
You can see it all inside the open kitchen behind the bar hosting three chairs. It's an interesting interaction with the chef.
Alongside all the square tables, one is round and surrounded by grey leather chairs. I'd choose this one next time I come with my friends.
The tables are decorated with flowers; although fake, they add life to the place.
Metallic lanterns hang from the ceiling over the bar and are decorated with Lebanese wine bottles.
The ceiling is white with black electrical tubing.
The manager welcomed us as well as acted as our waiter that night. A very professional man who made our dinner memorable and
will surely make me want to come back again.
The concept:

Baguette&Co is a cafe and restaurant that serves sandwiches and salads alongside a choice of three pasta dishes.
The restaurant is open for breakfast, lunch and dinner.
They offer crisps instead of French fries.The portions are generous.
No main dishes, no appetizers, simply sandwiches.
The menu:
Breakfast
Salads
Sandwiches
Quiches
Pasta
Desserts
Dinner was served:
Goat's Cheese Salad: A plate that left me amazed. This is not your usual salad at all, but a fresh and innovative mix that's well seasoned and balanced. Just imagine tender caramelized apple topped with brown sugar that crunch under the teeth. Toast with melting goat cheese and honey on top. A mix of fresh greens with a lemony touch and some sundried tomatoes that adding a sour boost. Sweet and sour combined in a beautiful plate and that's not all. Crunchy walnuts add the needed texture and finesse for a perfect finish. Two thumbs up!
The Smoked Roast Beef Sandwich: A good sandwich it is. Inside a fluffy and fresh baguette you'll find some salad, a generous portion of roast beef that's tender and moist with Dijon mustard that adds the needed flavor. A little over dose of sauce, but I really enjoyed this sandwich. PS: The sandwich' bread should be wider, it's too small making it look cheap.
Niçoise Salad: Mixed greens, seared tuna, baby potatoes, quail eggs, cherry tomatoes, fresh greens, green beans and olives. A very good and flavorful salad. Recommended!
Pesto Ravioli: Well cooked al dente ravioli, generously stuffed and bathing in a flavorful sauce. They were a bit saltier than they should be, but the chef was aware of the problem and was immediately taken care of.
Dinner was enjoyable, so we decided to have some dessert, which were even better than the main course.
Cinnamon Apple Tart: I loved its fresh crust, the tender apples, the cinnamon flavor, the adequate sweetness and excellent flavors. Interesting textures and some tasty ingredients, but one thing spoils the enjoyment - the coldness of a tart that was just removed from the fridge. I'd suggest adding warm caramel on the side to break the coldness and emphasize it by serving it with a scoop of vanilla ice cream.
The chocolate soufflé crêpe is amazing! One single toasted crêpe filled with melted 64% Callebaut dark chocolate. It is really breathtaking and shockingly enjoyable. The dough and the warm filling are both excellent and blend well together. I highly recommended and would consider it one of the country's best desserts.


The pluses:
The decor and ambiance are great and new to the region.
The salads are exquisite.
The bread is fresh and not chewy.
The desserts are mouthwatering.
The manager rocks!
The minus:
They've been open for two weeks only and all the plates are broken! It's unacceptable! No, really unacceptable!
The things I'd fix and change:

The menus look very cheap. If those are pre-opening menus, they shouldn't include the missing items, of which there are many.
Since smoking is not allowed, ashtrays shouldn't have cigarette supports.
The music is loud and does not fit the restaurant's ambiance.
The long bench is too wide and unpleasant to eat from. The table is too high and far from the bench, making it hard work for a diner.
I'd strongly suggest adding appetizers and other main dishes sections, otherwise you'll have to eat bread and pasta...
Baguette buns should be wider in size.
It's good to have a new restaurant in the region and despite the pre-opening imperfections, it is recommended and I will come back very soon for breakfast and lunch to try all the other items on the menu.