Having breakfast in hotels is one of my favorite things to do while traveling. We stayed at Le Claridge, a four-star hotel with a luxurious feel in the heart Paris. I was enticed to wake up early to try out their breakfast... The general breakfast setup looked and felt good but I am not sure I would recommend this place or try it again...
Located on the ground floor of the hotel, the lounge/bar/restaurant welcomes you for breakfast from the early hours of the day until 10am if I remember well. We reached the breakfast room and chose one of the tables and sat down. I didn't say "we were welcomed" because the only person available for service was busy in the kitchen. The table was perfectly setup, but there were no menus or any cards displaying the choices available to order from the kitchen. We sat... and waited... It was very early and we were alone in the whole room - so basically there was no excuse for the slow service.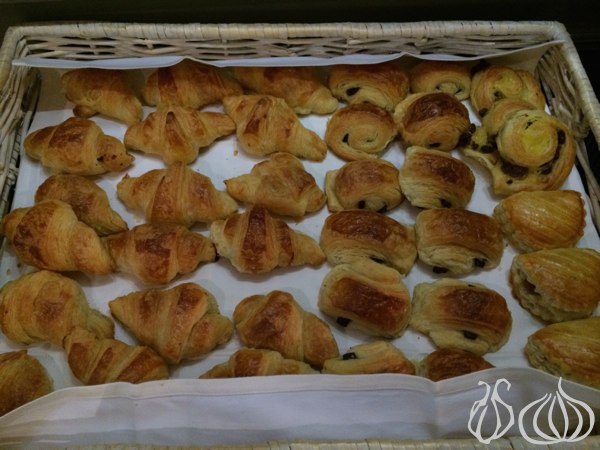 The buffet of many choices:
A choice of jam
Apple compote
A large tray of plain croissants, chocolate croissants, apple pies and chocolate rolls
French baguette
Turkey slices, ham, salami and parma ham
Smoked salmon
Tomato, cucumber, cherry tomato
Buffala mozzarella
Choco cereals and normal corn flakes towers
Nutella individual packs
Kellogg's cookie bars
Hotdogs, bacon and scrambled eggs
Dried fruits (Dates and prunes)
Yogurt
Four kinds of cheese cut in thick slices
French orange and grape fruits
Kellogg's coco pops and Special K packs
Cake individually wrapped
A tea selection
The food: Acceptable croissants -not up to the French fine standards, fresh cheese, freshly baked bread... I enjoyed the compote de pommel, as well as the idea of individually wrapped cakes, their nice selection of cereals, boxes kids love, as well as their fine tea selection. Just to add some spice to my breakfast, I ordered some scrambled eggs from the kitchen. They were not the best I have had - dull taste, especially when it was served by someone who doesn't know the meaning of a smile.
I was not too impressed with the food, but if you're planning on starting your day calmly this place is not a bad idea. I personally loved the hotel and would come back for it.