The Noham Café is Champs Elysees Mac Mahon hotel's bar and restaurant. Its superb setting features a 44 seats dining room, extended by a terrace, and is opened everyday from 7am to 12pm. Breakfast formulas, sweet and savoury snacks by Dalloyau as well as a wide range of cocktails are proposed, in the café or directly in your room…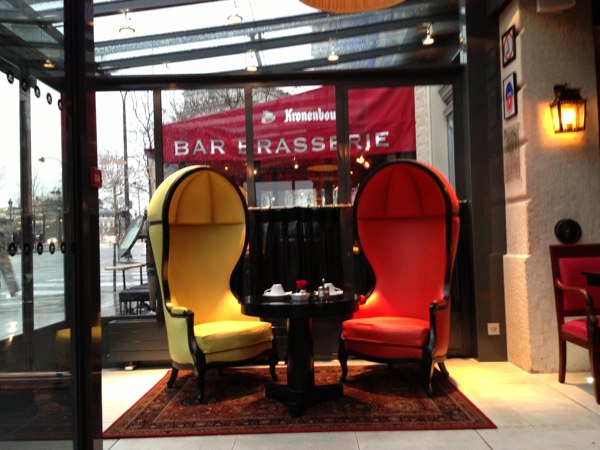 Luxury follows you around the Mac Mahon
straight to the breakfast room. The architectural spot of colours and wonders is situated at the entrance of the hotel over viewing the Arc De Triomphe and the busy street. Old wooden chairs taking you back to the seventeenth century but redesigned in leather from several joyful colours: red, yellow, pink, violet, orange, purple are all on the menu.
In the middle of the cafe, a huge rhinoceros takes you by surprise! Bizarre but nice. A white ceramic floor, reflective black stone tables and oriental carpets all blend together perfectly. The architect is competent; I really appreciated his work all over this building.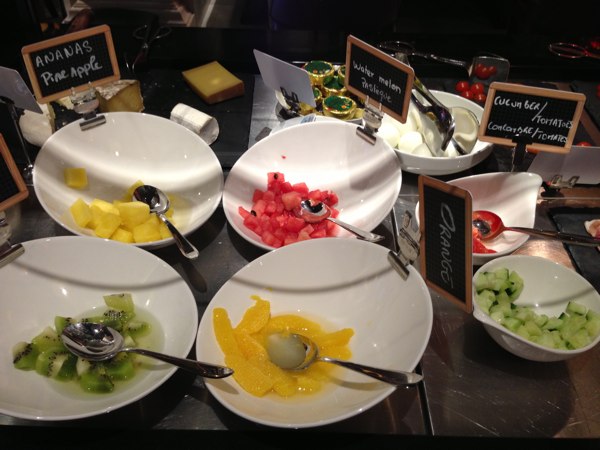 Breakfast is not that cheap, for 25euros per person, but the mouthwatering buffet is so clean and professionally set that it makes you want to come back again every morning.
The breakfast menu:
Croissants, smoked salmon, five kinds of cheese, fruit salad, vegetables, chocolate cookies, cereals, cold milk,turkey, salami, fresh bread, scrambled eggs, omelettes, sausages, bacon, pancakes and small cut fruits. Maybe not enough for 25 euros but I personally was fulfilled.
My favourite this morning:
The Wilkin & sons jams
The salted chocolate chip, cookie
The fresh French crunchy bread
My least favourite:
The cold cuts are not that good
The croissants are not crunchy
The pancakes are tasteless
A must fix: It seems the waiter didn't have his coffee yet this morning. Slow, irresponsive and not too welcoming. Was expecting much better from one of my favourite four star hotels in Paris.
For 25 euros the breakfast is not worth it... For 20 euros or less it's an experience worth trying. PS: I was alone this morning in this big place so it seems that people don't see it worth spending for it.