The Landmark Hotel is where I was invited to stay during my last visit to Amman. At first, and by checking the website, I thought that it might be better to stay at more renowned luxury hotel brands like Royal or Hyatt or maybe the Four Seasons to experience their professional high-end service. But I must admit, my experience at the Landmark Hotel was not bad at all.
The Landmark was not a bad choice. The professional staff as well as the amenities offered tend to make up for the fact that the hotel's building is old.
Arriving at the Landmark, the bellman runs to take your bag and follows you until you reach the room where he explains about all the services
This establishment offers:
The Mint Piano bar lobby cafe
The Colours restaurant, all day dining buffet
Turquoise, their signature Mediterranean cuisine restaurant
Glass, a contemporary restaurant lounge on the roof overlooking Amman
Sky Bliss, the summer rooftop terrace
Zone, The drinks bar
Sugar Cube serving smoothies and cocktails
This hotel
that previously hosted the Radisson SAS
is a five star hotel offering enough amenities and services at a reasonable price. Expect to pay between a $100 and $200 and get a
lot of interesting things including:
LCD TV and a DVD machine
A dental kit
A shaving kit
A comb
A loaded mini bar
A little sofa
A large working desk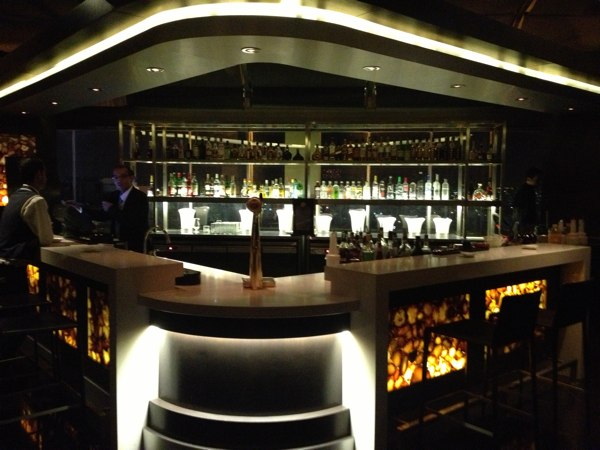 The missing:
No bathrobe and slippers available
A disastrous Internet connection service
Bathrooms are old and need a quick upgrade
I hate the nylon bathtub curtain. It's not up to the standard of a five star hotel
The room windows are broken making you hear the busy traffic of Amman. Believe me it's is an unpleasant experience
I loved and enjoyed:
The cozy and relaxing feel at the Colours restaurant
The Pianist playing soft tunes every evening
The view of the rooftop restaurant up on the 13th
The smiling and welcoming staff
I say it again, for the price you pay, the Landmark is a very good hotel. Comparing it with the Regency Palace Hotel which is also considered a five star as well, the Landmark Hotel is 10 times better.