Milan Malpensa is the intercontinental airport of Milan. With its wide range of destinations throughout the world, it is the main hub of northern Italy. Around ten VIP and business lounges with work stations, newspapers, magazines, telephones, open bars and many other dedicated services are available at Malpensa airport. Traveling with Middle East Airlines to Milan's Malpensa Airport, we were informed that we could have access to the British Airways Business Lounge. Located in Terminal 1, Level 1, in departure area B, the British Airways business lounge is accessed from a long escalator just behind the restaurants, facing Guess boutique.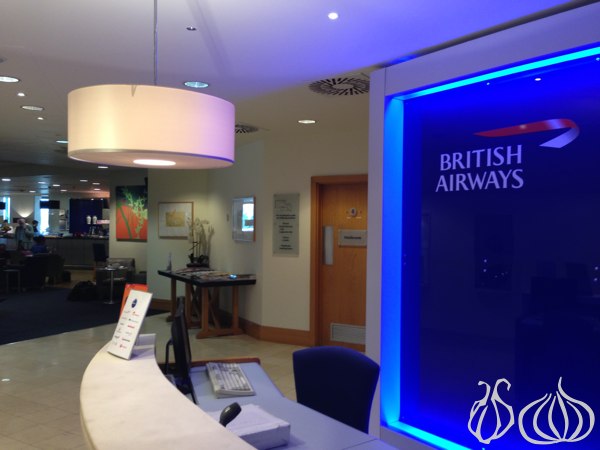 This lounge is called, "British Airways Terraces Lounge". I expected to see a terrace, an open space or a balcony and maybe parasols under the sun with a view on the tarmac. Sadly it wasn't, there is nothing fancy about this waiting area constituted of one single hall shared by hundreds of travelers. Reach the counter, check-in and then continue to have a seat in one of their lounges after picking up the magazine of your choice. On the right is a long bar filled with a wide choice of food following the Italian/British traditions.
The lounge offers many facilities some of which include:
Terrace
World wine bar
Fruit
Cappuccino bar
Library
Free WiFi
The lounge's Features:
A news stand

A cloakroom
The washrooms
A smoking room (16 passengers at a time)
Library
The long buffet
A drinks bar
A big coffee machine
A flavored crushed ice machine
Two soft drinks and beer fridges
A business center with its computers and printer
The food choices:
Cookies and cakes

Kellogg's corn flakes boxes
Nuts and green olives
Five different fresh juices carafes
1,5L plastic soft drinks bottles
Italian olive oil and green olives bread
Cheese and Ham wraps
Dried tomato sandwiches
Eggs brown bread sandwiches
A fruit bowl
Interesting to know:
Called "terrace" or not, it has no open space

The lounge offers a closed smoking area

The food choice is decent
I didn't like:
The lounge doesn't offer small soft drinks cans like almost all lounges do. Large plastic bottles are the only choice available

It's a claustrophobic small space where I couldn't stay more than a couple minutes
The ambiance is heavy due to their mismanagement of space with no special features or colors that can help make it unique in any way
If you're traveling and have to spend some time in the Malpensa airport, don't expect a great lounge but if you are a smoker, it will be the happiest moment of your life...