Walking along Hamra street is a treat on its own. A well known bubbling street, where locals and foreigners alike have enjoyed and still do for generations.... The street boasts so many cafes and restaurants, one that caught my attention today is Hamra Cafe. I often pass by it and wonder what's behind the huge facade - today was the day I decided to discover the inside.
Cafe Hamra is special, unique in many ways. Behind the five glass facades is an enormous place divided into many sections. The inner saloon with its brown leather sofas and white metallic chairs, the outer open terrace and the closed smoking space. Everyone can find his little relaxing spot in this vast spaced cafe - pick your fancy and cozy corner or hop-on one their warm leather sofas. Looking around, you see different types of people. Some of the older crowd are having an Narguilleh and playing Backgammon ... while some of the younger guests have a bite while browsing the net. The decoration is so amusing, you won't stop looking around like a spy. Every single square inch is unique, hiding a story, a design or a color. "Cafe Hamra" written with neon lights, 'I love Hamra' graffiti on red walls, old blue recycled cupboards, books and magazines, vinyl music discs, old radios, a pinball game, different paintings adding an artistic touch, old photographs of Lebanese people on Hamra street, photos of old bands like Bee Geez, Donna Summer, The Beatles... all blending perfectly together with the wooden floor and tables.
The decoration is modern, meeting old recycled furniture. Modern Graffiti vs. Old framed Picture and much more...
What caught my attention is the ceiling reproducing a map of the city of Hamra with its street names including Eldorado Street, Bliss Street to name a few. The menu sections:
Starters
Bites
Lebanese corner
Salads and salad bar
Sandwich platters
Pizza
Pasta
Platters
Desserts
Crepes
Ice cream and shakes
Smoothies
Fresh fruit juices
Beverages
Wine
Coffee selection
Narguile
We ordered:
Shrimp dumplings (Steamed dumplings stuffed with marinated shrimps with light soya sauce) 16,500L.L
Mozzarella sticks (Breaded cheese sticks served with cocktail sauce) 10,900L.L
Mezza Mix (Combination of warak inab, rkakat jibneh, kerb eh krass, ftayer sbenegh, monted labneh and hummus served with pickles) 21,500L.L
Pizza Rosemary Chicken (Tomato sauce, grilled chicken, rosemary, mushroom, green pepper, mozzarella cheese) 19,500L.L
The food and pluses:
The staff is super welcoming and gentle. They make you feel relaxed
The place's decoration is great. I fell in love with the identity
Sofas are comfortable and the ambiance cozy, positive and comfortable
I liked the pizza. Tasty, thin, not chewy with premium ingredients used. Even though the same group owns Napoletana, they serve a different kind of pizza at Hamra Cafe each place has its own character of course and it reflects in their food as well. At Cafe Hamra, the pizza is more the "Lebanese style" pizza which we crave from time to time. t
The Mezza Mix is a nice idea: its presentation and blend of components is an indirect way of enjoying a fully loaded table in a Lebanese restaurant
I loved the kebbe and rakakat and fatayer... miniature sizes are yummy, as well as the Labneh and hommos are quiet good
Cheese sticks, their miniature size are fresh, crunchy and none oily: I liked them
Thank you for serving Coca Cola
I liked the Salad Bar Station, it's modern, with neon lights word written over it. The selection is wide and all its contents look fresh, I wasn't too hungry to try it, but I will next time
The minuses:
The bread served at the beginning comes in a very unprofessional manner. Lebanese bread comes in Nylon bags thrown and covering the small pieces of French bread beneath, along with the butter. It was not very appetising. This nylon cover has been touched by hundred of hands.
Dumplings are tasteless
I would have expected some chopsticks with the dumplings, but they didn't have
Please remove the dishes that don't fit the concept. Dumplings in a Hamra Cafe? Sometimes trying to satisfy all types of customers can be a very bad idea hurting the identity of the place: it reminded me of the mechanic shops found across Lebanon where all types of cars are welcome to be fixed
Edamame, nachos, dumplings, pizza, pasta, crepes, coffee selection... Come on! It's a tour around the world or a Lebanese diner? No maybe a main competitor to Starbucks? Wait, Dunkin Donuts for its smoothies! All together while smoking the Arguile. I couldn't see it.
The food is not impressive but good for a place like this - a place where we go to enjoy the space rather than the cuisine. I would change:
Definitely the menu making it smaller and more contained. When focusing on a lesser choice, the food taste will automatically improve.
I won't broadcast MTV on the screens. Maybe a DVD about Lebanon, the Travel channel or Luxe TV. Something that fits this cosmopolitan place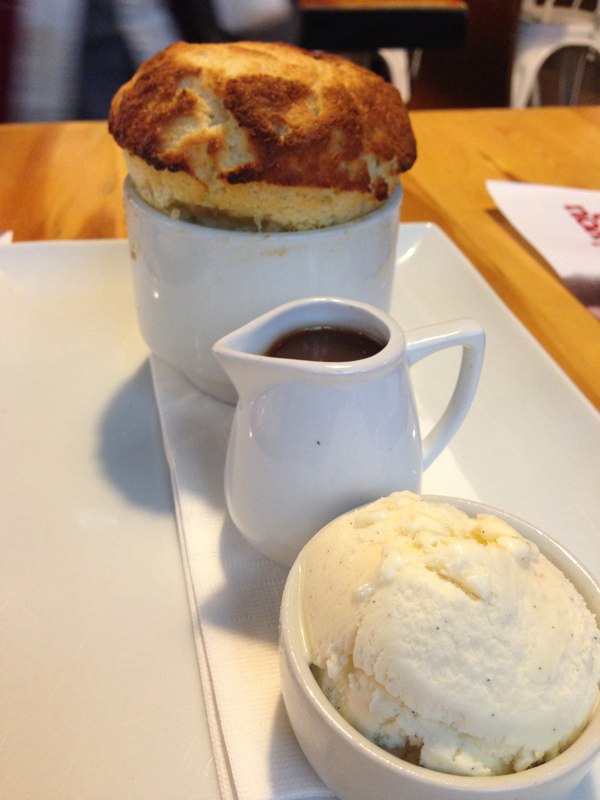 The Dessert is another Story... Bread Pudding (Brioche and vanilla custard, baked a la minute, served with hot caramel sauce and vanilla ice cream) 12,500L.L We followed the manager's suggestion and were very happy.
It is really an awesome creation. Two thumbs up. A faded custard taste dissipated within the fluffy spongy bread with its crusty top layer it adds a sensual plus. The waiter serves it on the plate then prepares it for you before you add the caramel sauce. The bread pudding feels like a Pain Perdu but tastes nothing like it: it is simply unique and worth trying. Expect to wait 20 minutes for it to be freshly prepared.
Overall, I liked Hamra Cafe... I liked it a lot. Go enjoy it for yourself, and definitely introduce it to any foreigner visiting Lebanon. I'll be coming back soon.
The monumental Café Hamra catches your attention even when you're just drifting by: a paramount red hue fishes you into a regional museum of art, music and taste. A collection of rare posters and photographs from the pop culture familiar to the Beirutis of the 70's hang on a stream of cherry walls bounding the heterogeneous interior. The creators' heartfelt loyalty to the history of Hamra and its once bustling strip of cafés urged them to resurrect the culture of sidewalk cafés. Like the residents, Café Hamra fuses the local with the international and the rural with the urban in the food it offers, the design elements and the mode of delivery. The menu is predominantly international with commercial favorites prepared to suit the local taste. Graffiti of Beirut's street scene is dispersed across the outlet. Interior elements of the Lebanese countryside are amalgamated with industrial material harmoniously crossing you over from section to section. What's become a local hangout from the moment it opened its doors suits everyone and anyone: fitted with leather couches for the coffee loungers, the striving students and the businesspeople. Dining tables are set up for the hungry patrons looking for a convenient variety and the biggest seated outdoor space in the area nestled in Café Hamra's backyard housing the narguileh puffers, backgammon lovers and those yearning for a true al fresco experience. If you happened to be strolling down memory lane, make sure to make a stop at the new landmark: a destination that will be celebrated as the initiator of the backyard cafés movement in Hamra for generations to come.