During my search for the best Man2oushe in Beirut, the name Ghattas kept popping out. Many have asked me if the Ghattas of Gemmayze is the same as the one that sells mini Lebanese bites. Wondering who this other Ghattas is and what the little bites are all about - of course I was intrigued.
I found out that Ghattas is located in Achrafieh, just a few meters away from Tabaris and the SNA roundabout. It has been known for the last couple of decades for their unique bites all Lebanese crave for: Pizza, manakish, cheese, pizza, kebbe, Fatayer and more all in small sizes, prepared with the utmost perfection. To my happy surprise, I received a box of mini bites from Ghattas and I think I have found one of the tastiest Spinach Fatayer available in Lebanon.
Inside a beautiful blue box with the Ghattas's name on, a number of triangular creations are just waiting to be eaten. I grabbed one and started feeling the details. A golden pyramid of 7 centimeters in diameter constituted of short crust pastry dough and filled with cooked spinach. Crusty and crunchy like that of a sablé dough followed by a soft and tender inner filling, the bite is simply addictive. You will discover a light taste with crunchy borders of unique dough.
Fatayer or Fitiir is an Arab meat pie pastry that can alternatively be stuffed with spinach (sabaneq), or cheese (jibnah). It is part of Arab cuisine and is eaten in Kuwait, Turkey, Syria, Palestine, Egypt, Lebanon, Jordan, and other Arab countries in the region.
A light flavour with a lemony after taste without the harsh acidic feel that comes from your average fatayer, passes through your palate forcing you to say:
Yumm!
Bizarrely, the box has no address but simply a phone number, which I'm going to share with you. Deciding to taste these Fatayer or anything else, keep us posted with your opinion.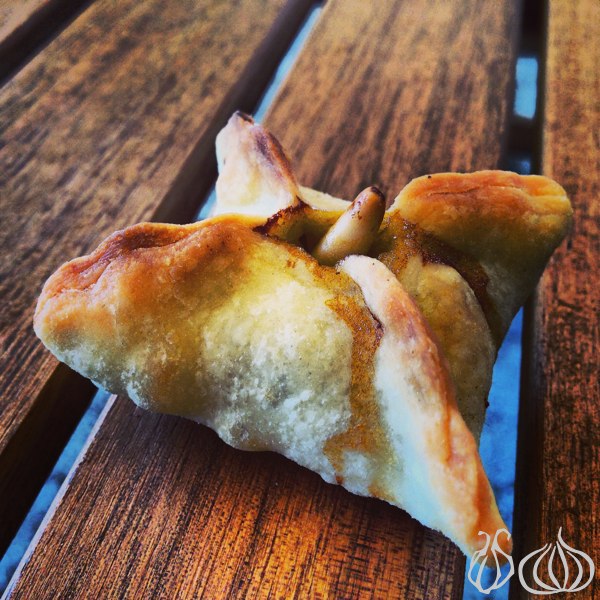 Address: Tabaris, Sursock, Beirut, Lebanon
Telephone:
+961-1-218 132 +961-3-733 253