Wooden features, green leather, metallic structures, reflective ceramics, mirrors, graffiti... Welcome to a piece of architectural wonder... welcome to Cozmo ABC.
I have to start by expressing my ongoing confusion when it comes to Boubess' restaurants. I can't understand to date how a group like the famous Boubess Empire manages to offer good food in some of its outlets and below average quality in others. For example: Recently, although impressed by the interior at Cozmo Zaitunay Bay, I was disappointed with the food experience.
I came here in with preconceptions to be honest... I was expecting to eat average food, while meeting unprofessional waiters, browsing a tiny unappealing menu... I left happily amazed by the service, astonished by the original decor and more so enjoyed a good lunch.
Cozmo Cafe now occupies the space WaterLemon previously had for as long as I remember.
Cozmo, is your new New York style casual diner, offering a large selection of international dishes as well as the widest imaginable choice of mouthwatering desserts. Enter a relaxed space with its high ceiling decorated with metallic shelves filled with food packages used back in the kitchen. You walk across a wooden floor to your chair or on one of the green leather sofas. Relax, order a drink, and take your time to enjoy the decoration.
The place:
Wooden floors cover all the space
Large glass facades let in just the right amount of light while giving a nice view of the mall's action
Green leather sofas fill in the restaurant, blending amazingly well with the wooden feel
An upscale diner style that has been decorated to perfection joining between a street diner and a fine diner
"Let us Eat and drink, tomorrow we diet", a large neon sign lights the wall
Metallic lights hanging from the ceiling add warm light to the place
I like the general black feel, decorated with dark colors, relaxing the senses and making you want to sit here for a long time
The corners are fitted with round tables, good for families and large groups
As you enter, the bar welcomes you while the salad bar occupies the corner next to it. Facing the salad bar is a bread display filled with freshly baked baguettes
The salad bar corner stands out from the rest of the restaurant. The walls are covered with green reflective tiles while a couple of red lanterns hang from the ceiling
Surrounding the tables, there are leather chairs of two colors, brown and black
The best part are the shelves filled with bottles and ingredients used back in the kitchen
Mirrors, colors, graffiti paintings... The space is an interesting architectural piece to look into
A Moulinex mixing, people chit chatting, waiters walking, forks and knives c

linging

... Welcome to the vibes of Cozmo. The simplicity of the menu, makes you want to order a lot but don't do that quickly, before having a look at the dessert menu. A mouthwatering dessert menu might make you want to skip lunch.
Lunch started with a basket of fresh bread served with Bridel butter cups; a good bread quality with a fresh feel. We then ordered the summer rolls, a salad bar, shrimp dumplings and the club sandwich.
Let's enjoy some freshly cooked food:
Salad Bar: More then 40 fresh filled bowls are on display
Summer rolls: Rice paper stuffed with vegetables, served with sweet chili sauce. Four pieces served on lettuce, looking fresh and tasting good as well, even though I would surely have preferred them to be rolled more meticulously with more vegetables. Looking good but empty on the inside
Shrimp dumplings: Dumplings stuffed with marinated shrimps and served with gyoza sauce. Five pieces come in a bamboo box, served hot and fresh. An enjoyable texture and taste
Club sandwich: This item needs 12 minutes to prepare. Toasted sliced bread topped with grilled chicken, smoked turkey, tomato, eggs, lettuce and club dressing with fries and side salad. That's not a bad order for a casual club sandwich. It could be a perfect club if only the chicken slices were cut thinner and cooked less to make it juicier. The chicken slices are too thick and too dry inside this sandwich. The order is served on a wooden board with fries in the middle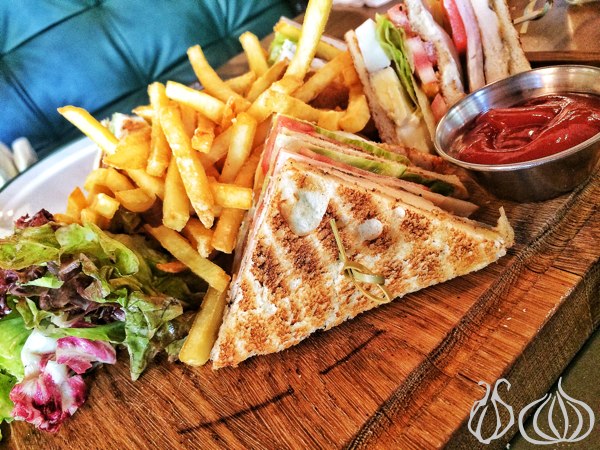 Good food, yes... but wait until you lay your hands on the colorful dessert menu. I wish I could order all but decided to stick to those two until I come back again for more:
Pudding: Twenty minutes later here comes the fiesta. A large bowl filled with a bread pudding, cooked to perfection homogeneously from top to tale, a crunchy layer on top, hot and fluffy on the bottom and accompanied by a tasty caramel sauce and a scoop of vanilla ice cream. A calorie bomb indeed, but one of the few bread puddings that's good and enjoyable
Mille feuille: The long Mille feuille was served on a wooden board. Three layers of puff pastry in between which a thick layer of pastry cream is laid. Beautiful, this dessert will make your mouth water. A slight crunch, a sumptuous creaminess and a caramel sauce that adds some sweetness. I loved the idea behind this cake, the crispiness of the upper layer, the richness of the cream and the sweetness of the caramel... But I'd surely add some sweetness to the ingredients. The cake lacks sweetness and take that from someone who always fights against unneeded synthetic sweetness found in most of our desserts
Consider Cozmo if you're having lunch at ABC... I hope that the quality will stay the same for a long time.