By definition, fusion cuisine is a cuisine that combines elements of different culinary traditions. Fusion type of restaurants have been squeezing their way into the restaurant circles adding a twist of choices around the world lately. A lot of chefs here and there wanting to prove their out-of-the-box know how creating dishes with unique combination of ingredients. Crave is a fusion restaurant serving an international cuisine with a twist, revisiting the classics with a hint of the 21st century.
The place is beautifully decorated; a square box of wood with burgundy leather that mix perfectly all together creating a unique and trendy restaurant. It surely is more welcoming at night with the many warm lights than during daylight where it has a cold feel.
We reached Crave at 12:30pm to find an empty place which we thought was closed. A waiter, who didn't sleep well the night before opened the door for us -I can't say that he welcomed us- with a hand in his pocket, not smiling and gave off an arrogant and unpleasant attitude. A perfect first impression which doesn't reflect at all the intentions of its owners whom I met at the Arabnet's dinner: "Tonight I met Michel Choucair, the owner and person behind the concept who enlightened me about the idea" The 8 page-menu has 7 low quality images. I open the first page and see the word Crave. Ok, we know what the word crave means, but why is the place called that. Maybe think of explaining the concept of the restaurant and the idea of fusion cuisine in the next booklet you're printing which hopefully will have more higher resolution.
The place:
A large square
A middle wooden bar
Burgundy and light gold colors
Designed polished tables
Pending lights, 4 on each side
Couple of paintings
White leather sofas around the walls of the place
Grey tiles
A puzzle wood long wall with a mirror in its middle making the place look bigger
Parquet style wood works cover every corner of the restaurant. I am a fan of those wood pieces
The menu sections:
Starters (the best way to start off your meal. Cold, light and quick. Trust us! You'll love it.)
Main salads (Some delightful green cravings to accompany your meal, share with friends, or enjoy as a main course)
Burgers and panini (Let your fingers satisfy those cravings with our version of your favourites, some with a fusion twist)
Eggs (All eggs items are served with choice of toast and choice of home fries or side salads)
Pizzas
Pastas
Main courses: From land and from sea. A mix of colors, tastes, influences, and cultures all in a plate
Sweet cravings (No craving is complete without a good dose of sweetness. Indulge in these sumptuous desserts and surrender to those urges)
Drinks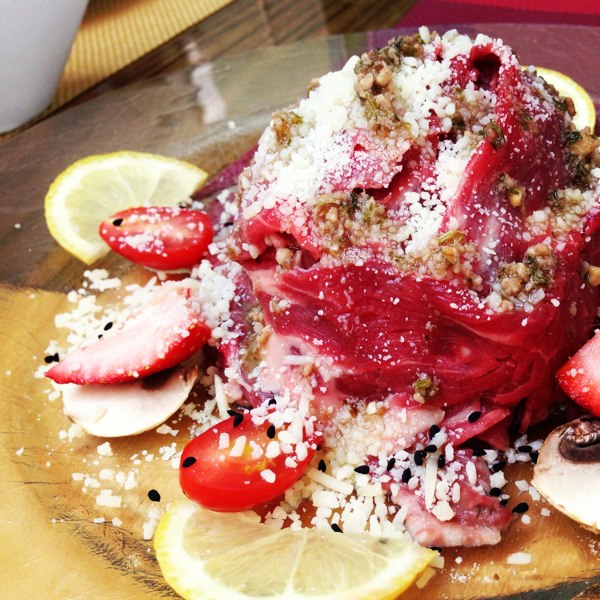 We Ordered:
Ahi Tuna: Pepper crusted Ahi Tuna served with carrot ginger salad and soya sauce

Carpaccio: Beef carpaccio layered with Arugula and Parmesan. Topped with a hazelnut Dijon dressing
Vols au Vent: Beef and mushroom with mustard, chicken curry, garlic shrimps with spicy tomato
Bresaola and grilled Halloumi salad: On mixed organic greens, and orange wedges with an orange dressing
Crave's beef burger: 220g of Australian black Angus beef with grilled onions and tomatoes with a light green pepper
Shawarma pizza: Beef shawarma, lettuce, homemade tomato sauce, mozzarella cheese, light mayo garlic dressing
Trio of flavored Ashta ice cream: Strawberry, chocolate and mango
Crispy Grand Marnier Asmalyeh: Grand Marnier creme brulee layered with crispy vermicelli topped with caramelized bananas and a light coconut creme Anglaise
Lunch started with honey Zaatar mankouche. Thin dough, lightly chewy, nicely oily, with a sweet taste and a soft non acidic Zaatar, cut in eight distinctive small pieces. Yummy.
The culinary experience:
Ahi Tuna: A very nice plate, beautifully presented in a glass plate and full of tropical colors. Tuna, carrots, mango and ginger perfectly mixed together. A plate I recommend
Bresaola and grilled Halloumi salad: Lettuce, orange, Parma ham, strawberries, grilled halloumi that is a bit salty, cherry tomato, black seeds. I ate it without sauce and loved it. A great invention.
Carpaccio: A must try. Thin slices of meat, layered one over the other generously, wrapping rocket leaves with lemon, strawberry slices and tomato covered with Parmesan and fresh mushroom. The hazelnut sauce adds a hint of tasty fusion. It does not have a minimal finesse like average Carpaccios but this one is tasty and a must try.
Shawarma Pizza: A thin crunchy dough covered with tomato, mozzarella, shawarma, onions and Lebanese lettuce. I would definitely remove the bitter lettuces that have nothing to do in here and in my opinion, the shawarma meat needs to be less seasoned. The shawarma taste is too peppery covering on all the other ingredients. Please think of adding a bit more sauce as the overall mix feels dry.
Crave Burger: A mess... A disaster. An unacceptable plate
Vols au Vent: Felt like eating a supermarket piece of pate feuilletee filled with three different toppings. Nothing extraordinary
Ashta Ice Cream: A beautiful presentation in a flower shape with strawberry couli and covered with nuts. The taste is good not great
Crispy Grand Marnier Asmalyeh: 1- It's not crispy, cooked the day before it's more of chewy. 2- It is not tasty at all. 3- In my opinion Grand Marnier does not blend with Asmalyeh even though I am a big fan of this premium alcoholic beverage.
The burger deserves a moment:
This burger, to start with is too bulky and looks cheap.
A thick chewy Lebanese condensed burger bread that fills your mouth with every bite. Moulin D'or's bread is tastier
We ordered the meat medium and received it super over cooked.
Angus beef? It tastes less than a piece of low quality piece of hard over-dried meat
What is Crave's problem with the cheap Lebanese green lettuces. These are not made for proper dining cuisine. They look bad, turn to a black color, crunch unpleasantly and most of the time have a bitter taste... And on top of that, used in a burger! Come on!
Wow! The thick raw piece of onion is disgusting
The piece of thick tomato disappears in a single bite. Either find bigger tomatoes or add more slices
The coleslaw salad reminded me of the one we used to eat in scout camps. The hand cut pieces of cabbage mixed with unneeded corn and drowned with mayonnaise blocks your appetite
The fries are chewy. Not the best I have had
Look at the picture below, it says all
The Pluses:
On the menu you can read: "Please let your waiter know about any allergies you might have! Your well being is important to us. Thank you."

The idea of Fusion cuisine is nice and a must try
The plates are appetizing with their many colors
I like strawberries, even though they are used in almost all dishes
Plates are generous
The price is extremely affordable
The minuses:
The music is unacceptable. A perfect migraine recipe. It makes you want to eat less and leave quicker
The waiter needs training and surely a warning before he continues doing his job
The plates are too complicated and lack some finesse
One single person was assigned for the job today, this same person was answering phone calls, serving and welcoming guests. Please invest in 2 more people... maybe that's why he was in a bad mood
We were three, not four. The fourth cutlery on the table was kept on the table until we left. It should have been removed from the minute we sat down.
When done, the waiter asked about the experience. We answered:"The burger is unacceptable, it has nothing good, neither the meat nor the side orders." This same burger was charged like nothing happened and the waiter answered unprofessionally: "But everybody likes it."
A bizarre place and a bizarre experience. I didn't feel welcomed to start with and the culinary experience kept me perplex. It is special indeed but way too complicated and sophisticated. No special tastes remains printed in your memory. Weirdly enough, Crave has not left the urge in me to come back and try other creations. I would love to hear your opinion.