It's small, a bar, two high tables and a cashier. The ambiance is heavy, people don't seem happy around here... stand in line to order, try to find a place to sit, which is not easy to do, and wait for someone to shout your name from behind the kitchen door. A long mirror, a bar with bread displayed in wooden boxes, the big coffee machine and lots of wood. I didn't feel good... and I really can't say why!
The breakfast choices are restrained: loaves, toast and spreads, bakery, breakfast gougère and egg sandwiches. Staying or leaving, your food will be handed over in a paper bag. Coffee is served very hot - above acceptable limits, it's kind of unpleasantly bitter.
Anyway, let's try the food; the egg and bacon sandwich is exceptional! Sunny side up egg with a flowing yolk, juicy whites with thick and tender bacon. The sandwich is heavy and full of fat and I like it as it is. It also hosts a slice of melted cheese that holds the ingredients together.
Come here for the cinnamon cruller! This exceptional rolled pastry looks like a donut but is in fact way more than that. A twister donut covered with cinnamon and crunchy brown sugar, fried dough loaded with butter offering a moist and soft heart that melts under the palate. It really is so good, the heart of this crunchy creation feels as if it was stuffed with pastry cream, the light crunch, the sugar, the intense flavors... yummy!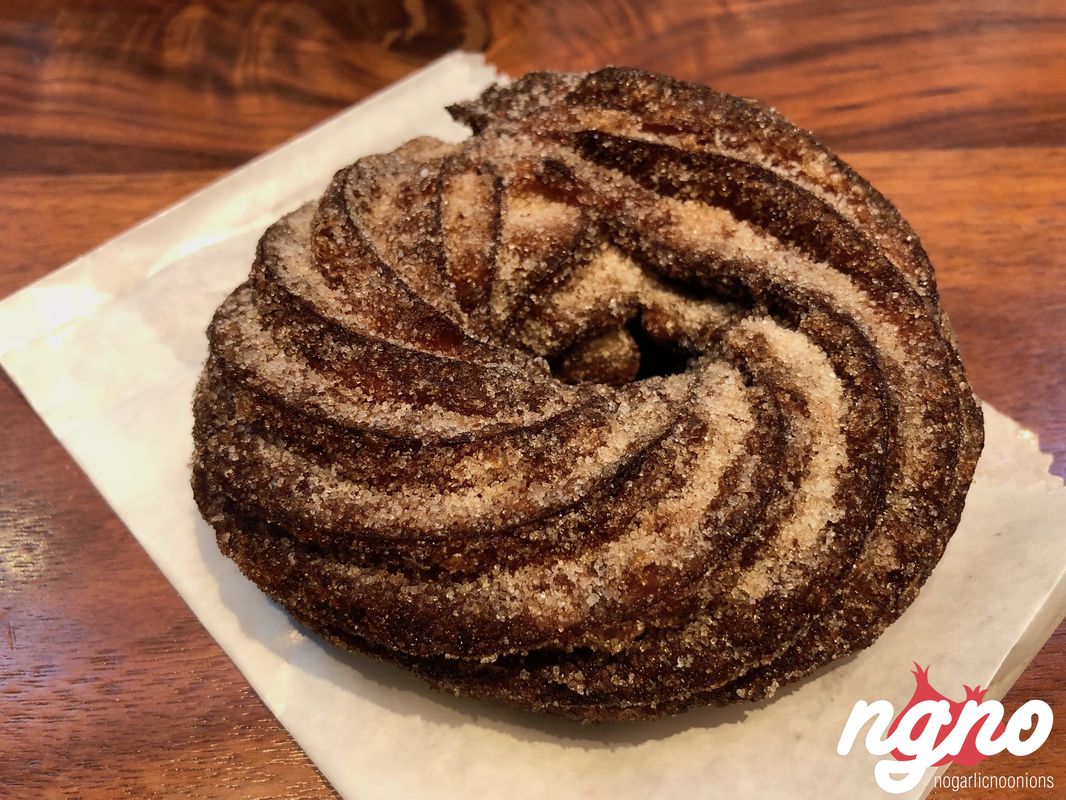 The 'everything croissant' feels more like an onion bagel with a little bit of cream cheese in the middle. Not as good as a croissant should be, not flaky enough, not light enough and not stuffed enough. From a bakery that does such a good cruller, this is a failure.
I like one item here, I'll come back to pick it up and eat it while walking the streets of New York. Otherwise I didn't like the ambiance, especially for a Sunday morning!