Last week a new pizzeria opened in Metn that claims to have Lebanon's biggest Pizza, the 60 centimeter. Although I know off Charbel in Hasroun who serves a 70 centimeter pizza… In any case I had to try it to believe it.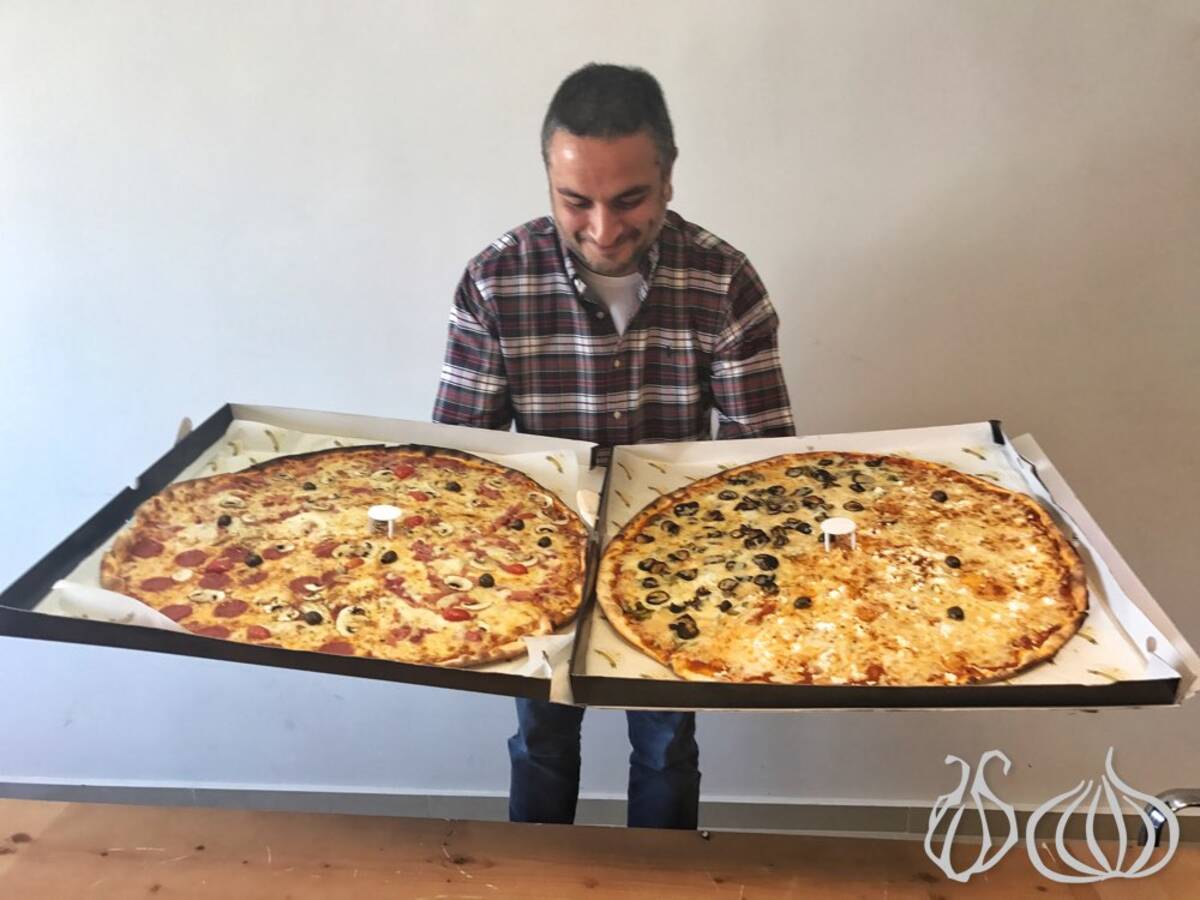 I've been to Don Baker in Badaro and remember eating one of the country's best dark chocolate pizzas. The pizza was unique with its tasty tomato sauce, fresh dough and crunchy crusts. You can check my previous review's photos and enjoy their mouth watering colors. It's neither a thick pizza nor a bun one, something in between prepared the Don Baker way.
With a new branch in Mazraat Yachouh, I placed an order for a pizza at 12:32pm and waited. I had some trouble placing the order as the staff member who answered the phone was a bit lost with the names and ingredients of each pizza. I'm not sure whether the owners are aware of this, but they should be, especially that they have newly opened. It took a reasonable 30 minutes delivery time.
Receiving the pizzas, expect to be amazed! Huge! 60 centimeters is something huge indeed! Two very big boxes stuffed with a gigantic pizza in each. I ordered two, each with two different flavors.
Good to know before we start:
The pizzas are so generous and are worth every penny. A load of cheese, lots of ingredients, juicy tomatoes, premium cheese and pepperoni.
For only LBP40,000 you will get a huge pizza with eight slices, each can be considered as a meal. One slice of pizza is like a medium pizza at Pizza Hut.
I loved how the olives are kept, as is, a whole olive without the heart.
Let's taste the pizzas:
La Reina, the Lebanese, is made of ham pieces, cherry tomatoes, fresh mushroom and tomato sauce. The dough is something between a mankoushe and a pizza, not crunchy and not chewy, lightly crispy but harder than I expected it to be.
The Pepperoni has mushroom and pepperoni slices, a generous load of them, lots of cheese and the same dough.
The Provençal is a pizza without ham offering slices of cooked eggplant and zucchini. An amazing pizza indeed, three millimeters of cheese, a juicy zucchini and a load of eggplant rings. Really excellent.
The Fromagère has white cheese, whole olives and tomato sauce. Chunks of cheese, a load of them, adding an enhanced touch of flavor and texture. It's a Lebanese version of the pizza dough.
My notes:
It's a must try before going into descriptions.
I loved the ingredients.
It's so generous and excellent value for money. You can get your pizza for LBP27,000 or choose the royal for LBP75,000.
I loved the initiative and the challenge taken to create a different kind of pizza.
I believe the dough can be cooked a little bit less to lessen its chewiness.
Bravo for creating a big pizza in the region; it's good, rich, generous and worth ordering again...